Address:

20 Nassim Road
Singapore 258395


Tel:

  6737 3977   Fax: 6733 9544

 Email:

singapore.pe@dfa.gov.ph / php@philembassysg.org


National Day:

Independence Day 12 Jun
2019 Embassy Activities Round-Up
Memorable Golden Jubilee for Philippine-Singapore Ties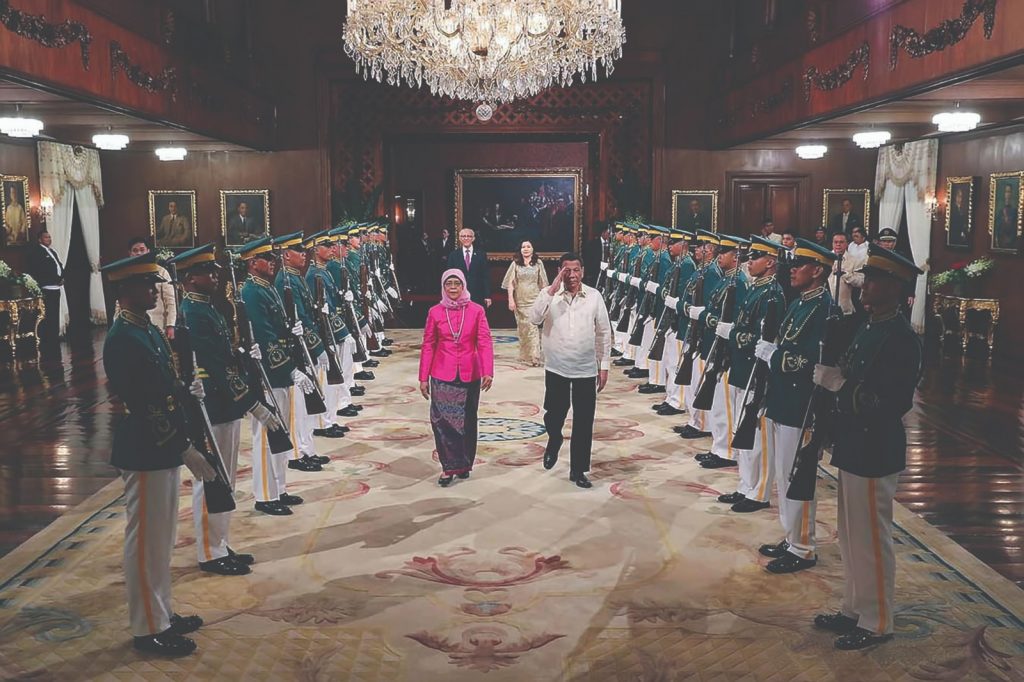 The Philippines and Singapore celebrated their Golden Jubilee anniversary of diplomatic ties in 2019. One memorable highlight was Singapore's President Halimah Yacob's 5-day state visit to Philippines in September. The visit zeroed in on many aspects of the ties between the two nations, while at the same time drawing attention to the opportunities of deeper engagement with regard to business, infrastructure development and people-to-people connectivity.
President Halimah met Filipino President Rodrigo Duterte in Manila, and later did a quick side trip to his home city of Davao in Mindanao. Madam Halimah is the third head of state to visit Mindanao since Mr Duterte took power, after Japanese Prime Minister Shinzo Abe and Indonesian President Joko Widodo in 2017. During her visit to Davao City, Madame Halimah enjoyed her tour of the Philippine Eagle Center where she encountered the Philippine Eagle, a critically endangered bird of prey, which is an important part of the Philippines wildlife heritage. As part of a conservation and breeding programme a pair of Philippines Eagles is on a 10-year loan to Singapore.
Singapore Events Highlights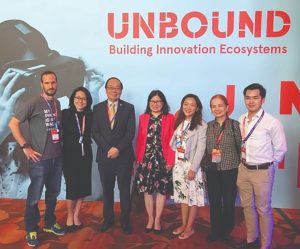 In June the Philippine  Ambassador to the Republic of Singapore, HE Joseph Del Mar Yap, hosted a diplomatic reception at the John Jacob Ballroom of the St. Regis Singapore to jointly celebrate the 121st Anniversary of the Proclamation of Philippine Independence and the Golden Anniversary of Philippines-Singapore Diplomatic Relations. Around 300 guests joined the ambassador at the grand reception including  Guest of Honour was Mr Lawrence Wong, Singapore's Minister for National Development
There was also a slew of events that kept the conversation on business, trade and entrepreneurship vibrant and exciting all year round. In June there was Innovfest Unbound 2019 held at Sands Expo and Convention Centre, Singapore, is an annual event of Smart Nation Innovations that resonated with edgy interactions on one of the most important business platforms – Start-ups.  The  Department of Trade and Industry Undersecretary Rafaelita M. Aldaba and executives of Filipino Start-up enterprises shared their views on the Philippine Start-up Ecosystem during the conference. The Filipino Start-up executives included Ms. Joan Yao, Vice President of Kick Start Ventures, Ms. Katrina Chan, Director of QBO, and Mr. Ron Hose, Founder and CEO of Coins. According to Undersecretary Aldaba the Philippine Start-up ecosystem is relatively young but is full of potential and embedded capabilities.
Philippine IT companies and Start-ups had also started conversations at ConnecTech Asia 2019 in June at Sands Expo and Convention Centre. The annual trade exhibition on blockchain, artificial intelligence, Internet of Things and smart data analytics, saw the presence of 12 technology companies from the Philippines, which is becoming increasingly active in this field. Leading the delegation was former Department of Communications and Information Technology (DICT) Usec. Monchito Ibrahim and DICT Director Emmy Lou V. Delfin. The delegation was met by Philippine Ambassador to Singapore Joseph Del Mar Yap. DICT is the lead Philippine government agency that assists Filipino IT, infotech business processing management companies, enterprises and start-ups participate in key regional conferences and trade exhibitions.
The Philippine Embassy in Singapore also helped to show insights and raise awareness of the enormous opportunities for intrepid investors available in the Philippines when it held a financial literacy forum on "Getting a Franchise in the Philippines," with Mr. Armando Bartolome, who shared his findings with an audience of about 120 overseas Filipinos, on considerations for getting a franchise.
A major initiative that was the first for Singapore was the Philippines-Singapore Business & Investment Seminar held in October organised by the Embassy here at the Shangrila Hotel. Philippines Ambassador to Singapore, HE Joseph Del Mar welcomed an almost full capacity ballroom of business leaders and potential investors who wanted to know more about the current and potential prospects of the country as well as identifying in which sectors and regions are opening up for growth. The Embassy assembled a formidable team that included Cabinet Secretaries and high-level officials. They included HE the Governor of the Central Bank of the Philippines Benjamin Diokno,  HE Ernesto M Pernia, the Secretary for Socio-Economic Planning. Insights were also gleaned from specific areas of infrastructure development, transportation and the digital economy with presentations by HE Arthur P. Tugade, the Secretary of the Department of Transportation. Enterprise Singapore also weighed in with a talk by Mr Darren Lee, its Regional Director, Southeast Asia Division, who expressed confidence and recommended potential investors to look at the Philippines if they are considering expanding overseas.  Several entrepreneurs and representatives from SMEs, corporations and as well as Singapore companies currently operating there were also represented on panels that endorsed the view that the Philippines more than qualifies as a preferred destination for doing business.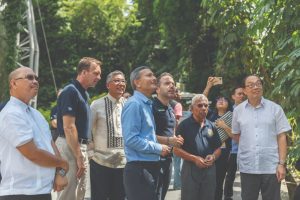 Following a landmark agreement between the Philippines and Singapore, a pair of critically endangered eagles were loaned to Singapore as part of a 10-year renewable conservation breeding plan. Singapore' Foreign Minister Dr Vivian Balakrishnan was at the launch at the Jurong Bird Park for the Philippine Eagle Exhibition in November. Also at the launch were Ricardo Calderon, Assistant Secretary, Department of Environment and Natural Resources and Ambassador Joseph Del Mar Yap (below).