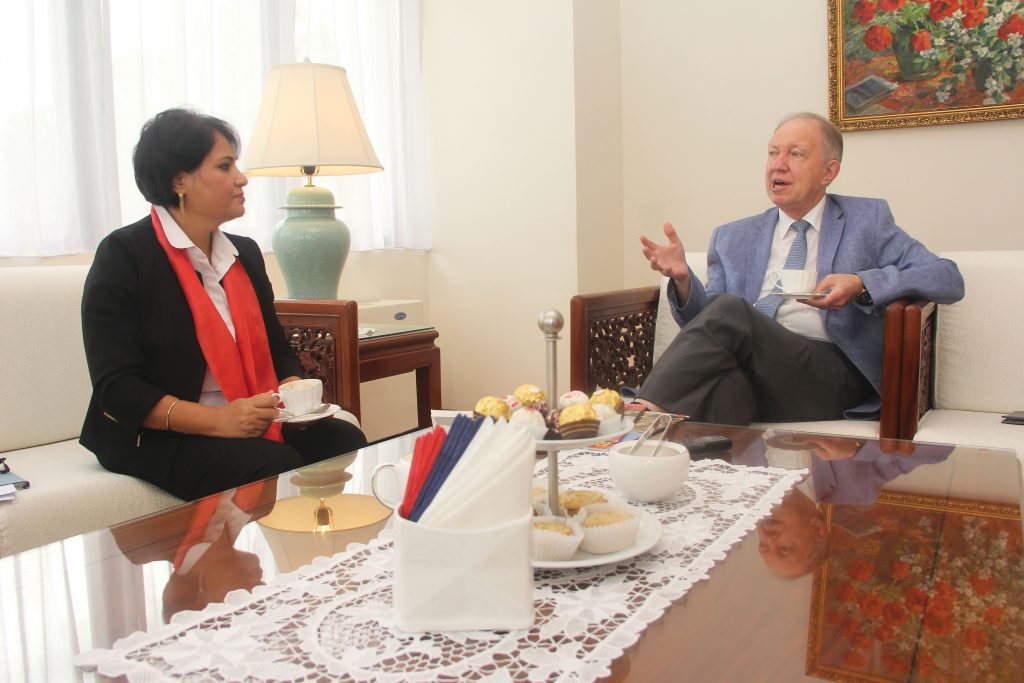 H.E. Andrey Tatarinov the Ambassador of the Embassy of the Russian Federation in Singapore was interviewed by Editor-in-Chief Nomita Dhar on the current 'extraordinary' situation with COVID-19 and highlights of Russia and Singapore bilateral ties during his five-year term here
Your Excellency, 2020 is turning out to be a very special year. I have interviewed you many times in the past but this is the first time we are meeting under these very special circumstances as the whole world has almost come to a standstill and humanity is trying to cope with the COVID-19 pandemic. What do you feel about this?
It is an extraordinary situation. There was something similar about 100 years ago called the Spanish Flu (influenza). It took millions of lives and it seemed something like that could not be possible in the 21st century. But here we are in the midst of another pandemic. The whole world is engulfed in the 'flames' of COVID-19. I can't leave Singapore and fly to Moscow as airports and borders are closed. And I feel as if globalization has come to a halt!
I've been watching the situation very closely, sending reports to my government about the situation in Singapore; about the measures the government here is taking to combat COVID-19 and how it is mitigating the economic consequences of this pandemic. I hope that joint efforts between both our countries will contribute to bringing this 'thriller' story to a happy ending.
Apart from travel, how else has it impacted your diplomatic work? Other embassies have had to repatriate many of their citizens and was that the case with you as well?
It is not a secret that COVID-19 pandemic and various restrictions imposed by the governments of almost all countries dramatically affected many spheres of life including the world's air connections. As the situation developed, those Russian citizens, who remained in Singapore at the end of March, realized that they were not able to get back home as their flights, including connectiing flights, were cancelled.
We did our best to provide them with all possible assistance. The Consular section of the Embassy remained open (with all precautionary measures taken, of course) even during the Circuit Breaker period. The diplomats helped our tourists, including those who were in Singapore in transit, to get on board special repatriation flights organized by the Russian Government from those international hubs, where it was possible. Those, who required financial support, received it from the Government.
As of today, we have repatriated as many people as we could, and the work is ongoing.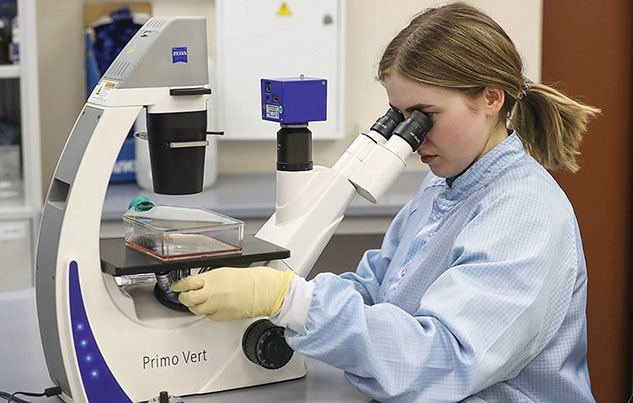 How well has Russia handled the crisis so far?
I'd say that Russia has been handling the crisis well. Due to timely preparation work that started from the very beginning of January after the WHO and the Chinese government informed us about the outbreak. We started necessary preparations and measures were taken in the large Russian cities and surrounding regions. After the first two cases in Russia were registered at the end of January (both were Chinese nationals) we did not have a single case for months and it gave us time to prepare the hospitals, the ICU facilities and medical staff. That enabled us to react well, although initially we did not feel so optimistic as there were more than 200,000 Russians abroad, and they were in the midst of returning to Russia!
We had a big flow of imported cases. There were about 240,000 people who returned to Russia, and at least 120,000 of them were in transit at Moscow, so the city rapidly became the largest cluster in Russia. And for a month or so, up to 60% of infected cases were concentrated in Moscow. Then the epidemic went to the regions. Moscow began this fight earlier than other places and we have succeeded. Now the rate of growth for infection is very low, less then 2%, which enabled us to now start opening the country. And, of course, we learn from the experience of other countries, including Singapore. We share many similar measures to fight the spread. However, given the size of the country and population of Russia at 146 million, it will take time.
We see some positive trends today and in an optimistic scenario, we hope by the end of July to be able to return to a 'new normal'. Of course, it is understood that until we have an effective vaccine and treatment therapy we will have to follow the mask wearing regime; wearing gloves when shopping or taking public transport etc. These measures will all be the new normal in Russia.
Russia currently has civil and military research institutes working on the vaccine and some are already undergoing clinical testing, so I think that a vaccine is possible by the end of the year.
On the subject of medical and health diplomacy, what are the areas of collaboration between Russia and Singapore?
Russia has sent humanitarian aid to many countries. Italy was one of the first as it was hit by the pandemic badly and it was followed by several CIS (Commonwealth of Independent States) member states. We've also provided humanitarian assistance to Laos and Cambodia, which included personal protective gear, and medicine. We also have a framework for collaboration with ASEAN.
Four years ago, in Sochi, a comprehensive plan of action to promote cooperation between ASEAN and Russia was adopted at the commemorative Russia-ASEAN summit. A major part of this document included a section titled "Help in Pandemic Preparedness and Response". The objective was to work together to enhance our preparedness and capacity in responding to communicable and emerging infectious diseases, including pandemics, other potential public health and biological threats. Preparedness, prevention, control measures and capacity building would include among others, the strengthening of areas on surveillance, laboratory networking, human resource capacities and information sharing. This was confirmed in our statement in the Russia-ASEAN Strategic Partnership, adopted in Singapore in 2018. And following this arrangement last year, we have tabled similar initiatives for the next East Asia Summit too. Last year, the first group of ASEAN experts underwent training in Vladivostok. We are prepared to receive more experts from the ASEAN countries to work together. We have done this because we understand that such infectious diseases will be with us for a long time.
There have been other initiatives too. During their co-chairmanship in ADMM-Plus Expert's Working Group on Military Medicine (2014-2016), Russia and Thailand initiated the establishment of the ASEAN Center of Military Medicine (ACMM) in Bangkok to enhance coordination and cooperation among the Military Medical Services of the ASEAN Member States and Plus Countries. Today, the ACMM facilities, if necessary, can also be used to fight COVID-19. So we have a deep engagement with many countries in the field of public health and combating infectious diseases. (See box story below – Pandemic Preparedness and Response)
As we near the end of your term as Ambassador in Singapore, we note that you have had a very colourful and busy tenure here. For example, we witnessed the first time the Russian President's visit to the Republic. What are the other highlights for you during your posting in Singapore?
This morning, I went through several past issues of your IN Diplomacy publications, which helped to remind me about our Golden Jubilee celebrations in 2018, and President Putin's visit among other events. Time flies, and looking back I see how my tenure was very busy and I believe successful in terms of developing relations, friendships and cooperation between Russia and Singapore in many fields. I have mentioned the commemorative Russia-ASEAN Summit in Sochi 2016, and on this occasion, Prime Minister Lee Hsien Loong's working visit to Russia where he met President Putin and Prime Minister Medvedev.
In 2018, President Putin was in Singapore for a State visit in commemoration of the 50th anniversary of our diplomatic relations. And, of course, I was happy to see our top leaders meet. And besides that, there were many, many visits and interactions between Russia and Singapore. Many members of the Singapore government visited Russia on different occasions, be it the sessions of intergovernmental commission, co-chaired by Deputy Prime Ministers of Russia and Singapore, or at other international fora held in Russia.
Another area I wish to emphasise on is that we have established a very good and very productive dialogue on security issues. We had two rounds of dialogue on this subject held in Singapore in 2016 and 2019, when the Secretary of our Security Council, General Patrushev visited Singapore and met the Senior Minister and Coordinating Minister, Teo Chee Hean, and last October, when Minister Teo also visited Russia and had meetings at the Security Council and other agencies of the Russian Federation engaged in security issues. We had also started a dialogue on cyber security. Two rounds of these dialogues took place on the sidelines at the International Singapore Cyber Week, and I hope this will continue.
Our military relations are on a very positive track. In April 2016 Singapore Defence Minister Ng Eng Hen participated in the V Moscow Conference on International Security. Subsequently the Senior Minister of State for Defence Dr Mohamad Maliki Osman and also Senior Minister of State for Defence Heng Chee How made visits to Moscow on similar occasions. Russia participates in the Shangri La Dialogue meetings regularly, which also enable us to have bilateral meetings on the sidelines at the Dialogue. Russian Minister of Defense, General Shoygu visited Singapore for the ADMM-Plus meeting in October 2018. Dialogue on security issues and military-to-military links are very important, and I hope that regular visits of Russian Navy ships to Singapore in recent years will be followed someday by visits to Russia's Far East by the Singaporean navy!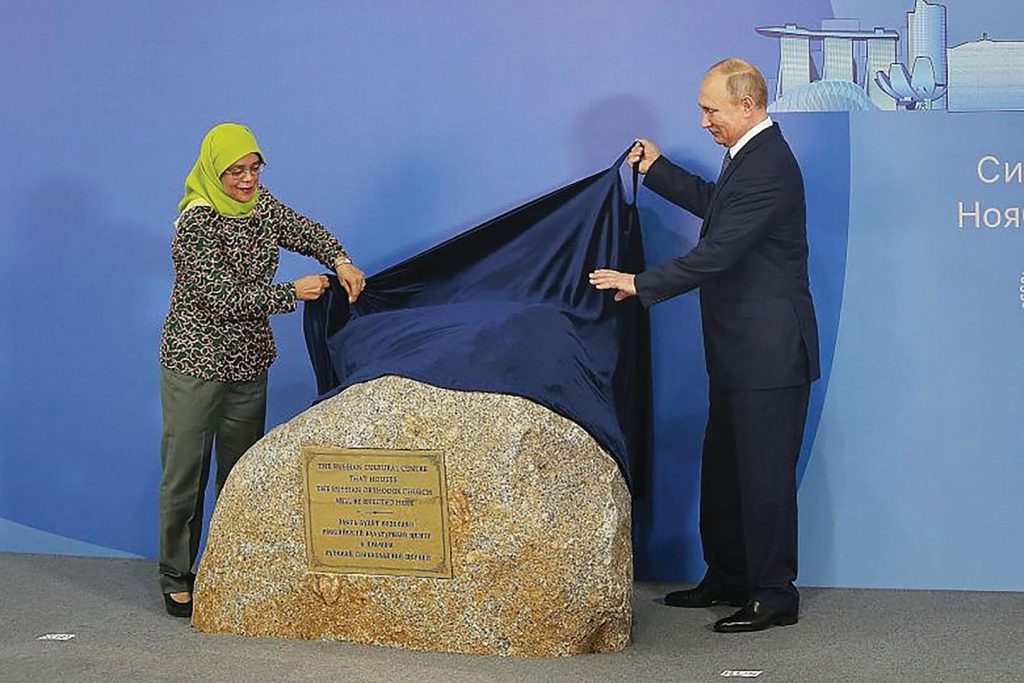 There have been so many events. Each of them is a highlight. One of the most significant is the laying of the foundation stone for the Russian Cultural Center. I hope that by the end of this year or early next year at the latest, the construction work will begin. It's very important because this cultural center will bring new opportunities for the people-to-people contacts between Russia and Singapore. It will enable us to promote the Russian language and culture. I think it will become a very popular place with many Singaporeans who have a growing interest in many things Russian.
You have seen Singapore at very close quarters in the last five years. What's your biggest impression of the island?
I arrived in Singapore on the 7th of April 2015. It has been a long, long time but sometimes I feel that I have just arrived! I spent four years in New Zealand in my previous assignment and those four years seemed to last longer. Here it's been five years, but it feels like one year!
Speaking of previous assignments, many might not know that you speak Vietnamese!
Yes, I spent many years in Vietnam in different capacities. During my tenure here, I am still happy to have an opportunity to visit Vietnam from Singapore whenever I can. Vietnam is a different story but in the context of COVID-19 I was there when SARS hit Asia. Altogether it's been more than 14 years.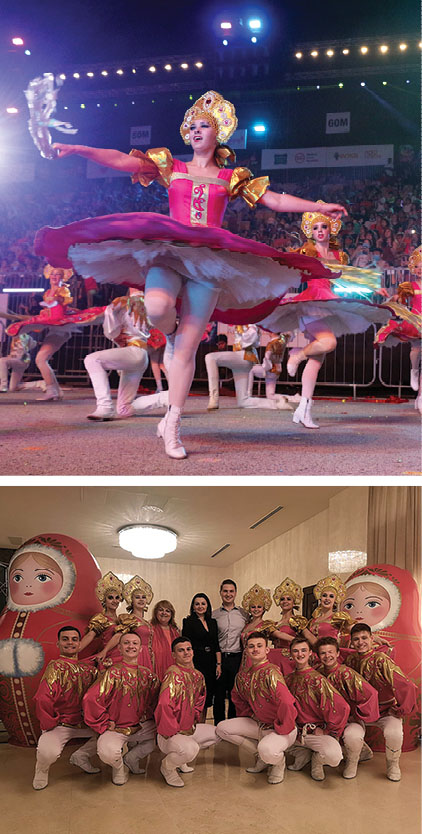 My wife and I enjoy being in Singapore. It's a very nice, vibrant place with friendly people, with beautiful landscapes and with a lot of opportunities in terms of cultural life, concerts and exhibitions. And we have many friends in Singapore. Of course, we will miss them. Moscow is different. In terms of population, it has more than 12 million people – that's two and a half times more than Singapore. There are many things which cannot be replicated given the nature and the size of these cities, but we should take the opportunity to learn from each other. Moscow and Singapore have close relations including cultural links. In 2016 we even had the Moscow Cultural Festival in Singapore. The COVID-19 crisis though has affected plans in the short term. Russia did manage to participate in the Chingay Parade. We have participated for the last four years and it has become one of the crowd favourites in Singapore's largest street festival.
Last November, we held a Moscow business session in Singapore which attracted a good turnout with about 100 people attending. The delegation included participants from Moscow's construction and public transport sectors. So we learnt from Singapore's experience as well as shared our experiences in these areas. We have gone further than Singapore in some areas and learnt from Singapore in other areas.
So in which areas do you think there will be opportunities for better cooperation?
I think public transport is a good area of cooperation between Singapore and Moscow and also St Petersburg. After President Putin's visit here, there was an agreement signed with St Petersburg to look into Smart Urban Transport systems. They have problems in terms of traffic congestion and want to learn from Singapore. The other areas for closer cooperation are in the education and cultural sectors. Generally, there are many areas where we have common interests and good understanding. I think that after the pandemic, we will move faster in developing them with greater exchanges between Singapore and Moscow. We have to change our plans to adjust to the new situation.
Every country's supply chain for the movement of goods is of great significance during these difficult times. How has it affected Russia, a country with huge internal resources, and its exports? Are there any new initiatives for procurement between Singapore and Russia right now?
We do not face any problems in terms of food security and agriculture is not a critical issue in Russia; for example, we are the world's largest wheat exporter. But of course, we are interested in increasing our trade with Singapore in the areas of food and products. Presently bilateral trade is mostly related to energy – oil and liquefied natural gas will be increasing. But we can play our role in securing food supplies to Singapore. Trade opportunities in foodstuffs have already been started several years ago, and our countries exchanged several teams of experts to inspect the food production lines in Moscow. There is interest in buying Russian meat and we are interested in buying seafood from Singapore. So I think after the pandemic we will start seeing more Russian products on Singapore's supermarket shelves, much more than what can be seen today. And maybe more caviar supplied by the Russian Caviar House in Singapore!

What are your future plans after Singapore?
I'm sad to inform you that I will retire after going back to Moscow, after a long, long diplomatic career, having been in the service for 47 years. I have spent almost 30 years in the Asia Pacific altogether now, 14 years in Vietnam, five years in Thailand and four years in New Zealand.
That sounds as if you're more Asian than Russian!
I feel that too. I sometimes feel more comfortable in Asian countries, and I have many good Asian friends and, of course, I will miss them.
My plans are to spend more time with my family. My first and only grandson turned four years old in this June and my family needs me. The older generation, my mother who is 93 and mother-in-law who is 90, need our attention and care. And maybe I will write my memoirs about my life in Asia.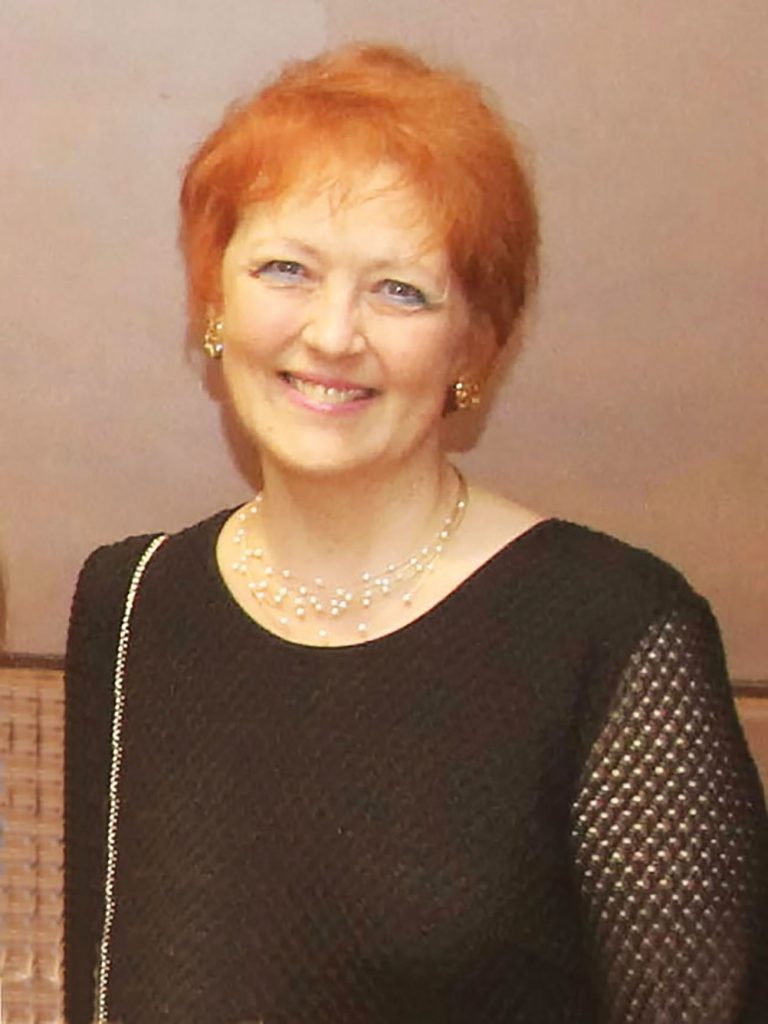 You have a very successful long marriage and your wife has been with you throughout these postings. In your opinion how easy has it been for her to be a diplomat's wife?
Being a diplomat's wife is a very difficult job, and my wife has done a lot to support me in all my endeavours, to be hostess of many events, to promote the image of Russia and of Russian women. Diplomats' wives have to sacrifice their own careers for family life and their husbands' dreams. It is difficult to overstate the contribution of my wife, Natalia, to my success, to the success of my missions in different countries. We have been married for 38 years, and she has always shared the hardships, ups and downs of a diplomat's life. There have been many concerns, success, joy and grief. Thank you very much for touching upon this issue, I value her contribution, and I hope she will play her part in writing my memoirs too!
You are a seasoned diplomat who has lived through the period when the country was the USSR. Now things have changed. How has diplomacy changed over the years? What is your advice to new diplomats and what do you think they should do to make the most of their careers?
Of course, diplomacy in the 21st century is different from 20 years ago. Russian diplomacy today is different. For example, it gives more opportunities to young people in terms of honing their skills from a younger age. In my time, there were certain things that I was allowed to do only after much experience and promotion up the diplomatic ladder to the rank of a First Secretary or Counsellor. Today younger people have more opportunities in terms of showing their initiatives, being 'loud' – not keeping ideas to themselves. My younger colleagues may come to me at any time to voice what they think we have to do in this or that area. Before juniors were not recommended to run too fast, but times have changed. Now we appreciate the initiative from the young people, and we trust them more. It's no longer that only seniors have a right to speak aloud.
You know looking back, much has begun to change after Gorbachev came into p ower in 1985. We became less conservative, more advanced looking. The Russia of today is a very different country compared to the Soviet Union. Today I am grateful that I as well as younger Russian diplomats are given more freedom in our work and have more opportunities to promote the interests of our country, which is good. But, of course, the experience and expertise of the older generation are also indispensable. This is why I always try to share my experience with my colleagues on some specific issues and different situations. I wish sometimes I was younger, but I do not regret anything. I have lived through a very interesting and challenging period of history.
BOX STORY


Pandemic Preparedness and Response
"Russia has a huge experience in mitigation of outbreaks of infectious diseases, like smallpox, anthrax etc. Because of this, our health experts are well-prepared and equipped with a wide range of quarantine and sanitary tools as well as with the curing schemes.
We are open to any cooperation with the countries all over the world and are ready to share the knowledge, experience and best practices in case the other side is interested. The position of the Russian Government is to extend help to whatever extent possible to every country which is in need of it.
Russia provides assistance in different spheres (from test-kits to large-scale medical operations, involving military health personal, providing of laboratories, disinfection equipment etc, like it has been done in Italy and Serbia) to some countries, including China, the USA, and to our partners within the EAEU and CIS.
We examine closely every request of assistance from abroad. Now we are looking into ones from Algeria, Egypt, Qatar, Kuwait, Libya, Lebanon, Yemen, Syria, Morocco, Palestine, Sudan and Tunisia. We are also working closely with the WHO, providing financial support to this Geneva-based UN body. Russia has recently donated US$1 million to enhance WHO field operations in Central Asia, especially in Tajikistan and Turkmenistan.
In Southeast Asia, Russia is now providing some assistance to Indonesia, including medical supplies and consultations on care strategy for COVID-19 patients. We are also ready in case any other ASEAN Member State (including Singapore) requests Russian aid.
We are open to cooperation with ASEAN as one of Russia's strategic partners. In October 2019 Russia had already conducted one round of training for ASEAN experts on infectious diseases and is looking forward to continue such practices, now with emphasis on COVID-19.
Russia as a member of the East Asia Summit (EAS) is actively pushing the topic on cooperation in epidemics prevention. Two Senior Officials Meetings have already taken place in Moscow in 2017 and the other in Bangkok in 2019. As a follow-up of these activities Russia has also proposed (with the support from China and Indonesia) a draft EAS Leaders' Statement on Strengthening Collective Capacity in Epidemics Prevention and Response that we hope will be adopted by the 15th EAS later this year. The document will focus predominantly on capacity building of national health systems and sanitary agencies, as well as sharing best practices. Russia has also invited ASEAN Member States to the high-level dialogue on the COVID-19 topic, which we expect to start in the near future."
We are open to cooperation with ASEAN as one of Russia's strategic partners. In October 2019 Russia had already conducted one round of training for ASEAN experts on infectious diseases and is looking forward to continue such practices, now with emphasis on COVID-19.
Russia as a member of the East Asia Summit (EAS) is actively pushing the topic on cooperation in epidemics prevention. Two Senior Officials Meetings have already taken place in Moscow in 2017 and the other in Bangkok in 2019. As a follow-up of these activities Russia has also proposed (with the support from China and Indonesia) a draft EAS Leaders' Statement on Strengthening Collective Capacity in Epidemics Prevention and Response that we hope will be adopted by the 15th EAS later this year. The document will focus predominantly on capacity building of national health systems and sanitary agencies, as well as sharing best practices. Russia has also invited ASEAN Member States to the high-level dialogue on the COVID-19 topic, which we expect to start in the near future."
Publication Note: The above also appears in Opportunity Russia 2020. To read the whole issue click here
For the flipbook version please click here