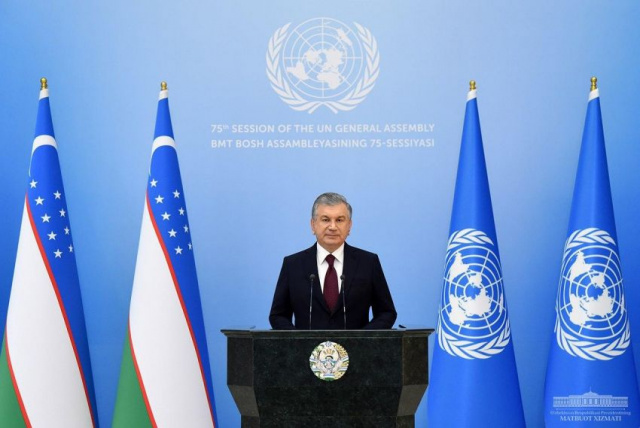 At yesterday's 75th (online) Session of the United Nations General Assembly (UNGA), the President of Uzbekistan Shavkat Mirziyoyev presented a set of 12 initiatives to tackle several important issues that addresses problems on national, regional and global levels. They covered peace and security, sustainable development, human rights, climate change, food security and poverty reduction.
IN Diplomacy reader, Mr T. Chandroo, the Chairman of Singapore Indian Chamber of Commerce and Industry and CEO of Modern Montessori International, shares his thoughts on the highlights of the speech and impact of the initiatives if adopted by the UN.
I would like to emphasise that over last few years Singapore Indian Chamber of Commerce and Industry (SICCI) and Modern Montesorri International (MMI) has established strong and mutual beneficial cooperation ties with Uzbekistan.
Since December 2016 when Mr. Shavkat Mirziyoyev elected as Uzbekistan's President, comprehensive and revolutionary politico-economic reforms devoted for the opening the country to International arena, creating favorable social and economic conditions within the country and deepening friendly relations with foreign states has been taken and continuing in Uzbekistan.
Due to above reforms going on in the country, members of SICCI and MMI have been able to went into deep discussion for implementing projects in various economic industries of Uzbekistan.
As a result of large-scale political and economic modernization is the formation of a new Uzbekistan. Democratic transformations have become irreversible.
The parliamentary elections on December 2019 demonstrated the increased political activity of the population and parties, the role of civil society institutions, the influence and importance of the media.
Gender policy – the role of women in public administration is increasing. In the new Parliament, the number of women deputies has doubled.
The human rights situation has changed. Forced and child labor has been eradicated. National Human Rights Strategy adopted. The Uzbekistan Public Chamber was created.
In 2020, 50 thousand stateless persons was granted Uzbekistan citizenship.
The situation in the country has improved dramatically ensuring freedom of conscience and religion.
Interethnic harmony and interfaith tolerance are maintained. Large-scale reforms are underway to ensure the independence of the judiciary and the rule of law.
The uncompromising struggle is raised to a new level corruption with the establishment of the Anti-Corruption Agency.
Much is being done to ensure that every young person can take a worthy place in society and realize his potential. There are youth parliaments and the Agency for Youth Affairs in Uzbekistan.
Reforms in the economic sphere continue. The Uzbekistan President declared his determination to reduce poverty, which fully meets the Sustainable Development Goals.
To this end, measures have been taken to support the development of entrepreneurship and create new jobs, improve the investment climate and business environment, and provide targeted social assistance.
Under the leadership of the Uzbekistan President country conducting an open, pragmatic and deeply thought-out foreign policy that meets the national interests.
All Initiatives of Uzbekistan President has been supported and approved by UN GA and within the frameworks of UN Institutions over last four years and this endeavors' continuing nowadays.
In order to strengthen cooperation among foreign countries on current important issues facing by all International community Uzbekistan Leader announce during 75th United Nations General Assembly session on 23 September 2020 following 12 new initiates: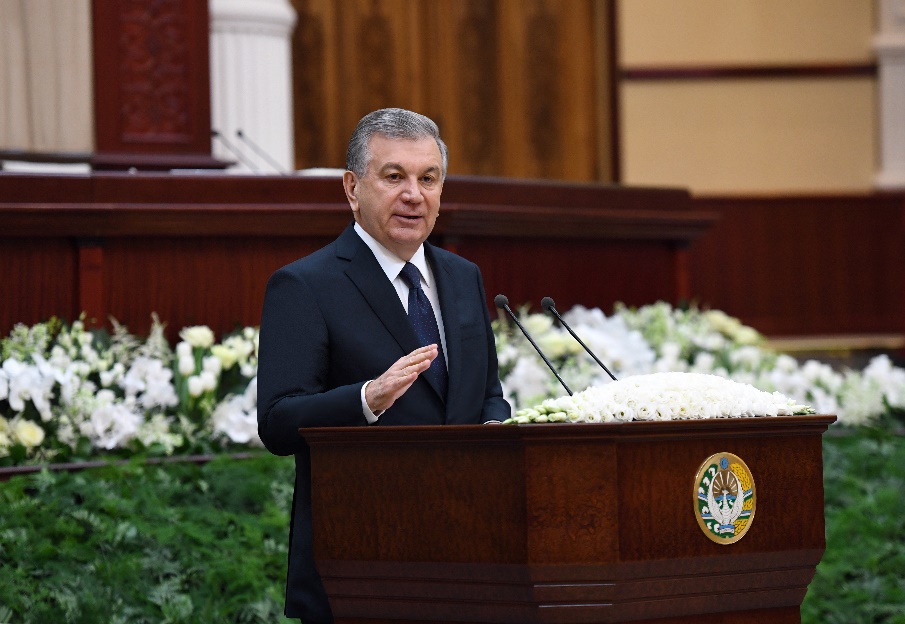 1. Develop and adopt an International Code on Voluntary Commitments of States during a Pandemic;
2. Support the promotion of the UN Convention on the Rights of Youth;
3. To create a new format of international cooperation on Afghanistan – to create a permanent committee at the UN;
4. Define the issue of poverty eradication and poverty reduction as one of the main topics of the upcoming session of the UN General Assembly, as well as hold a Global Summit on these issues;
5. Adopt a special resolution of the UN General Assembly on declaring the Aral Sea region a zone of environmental innovations and technologies;
6. Establish International Day of Defense and restoration of ecological systems;
7. Establish a Regional Center for the Development of Transport and Communications Connectivity under the auspices of the United Nations;
8. To hold in Tashkent the International Conference dedicated to the 10th anniversary of the Joint Action Plan of the Central Asian countries for the implementation of the Global Counter-Terrorism Strategy;
9. Conduct with UNESCO in Khiva in 2021, the International Forum "Central Asia at the Crossroads of World Civilizations";
10. Adopt a special resolution of the UN General Assembly on enhancing the role of parliaments in achieving the Sustainable Development Goals and ensuring human rights;
11. Support for the proposal of the UN Secretary General H.E. Mr. A. Guterres to convene the Summit on Food Systems in 2021;
12. Support for international initiatives by wide admission to the results of the development of necessary drugs and vaccines against coronavirus.
Noting importance of all above mentioned initiatives, I would like to underline the significance of following initiatives named:
1. Establishing a Regional Centre for the Development of Transport and Communications Connectivity under the auspices of the United Nations – which deepen International collaboration and efforts in smoothing of supply chains for goods and services in this challenging time for every nation.
Speaking of the benefits of establishing a Regional centre for the Development of Transport and Communications Connectivity, I believe that this will contribute to the member-companies of SICCI to take part and in effective utilization of new transport connectivity and diversified transport corridors, using Singapore and Uzbekistan as International transport hubs to enhance the movements of cargo volumes from/to promising Central Asia, Eurasia markets and ASEAN and Asia markets.
2. Define the issue of poverty eradication and poverty reduction as one of the main topics of the upcoming session of the UN General Assembly, as well as hold a Global Summit on these issue. This topic become very crucial for all developed and developing nations, where they respective Governments are drafting and implementing all necessary measures to safe work places and secure as much as possible wages for those who lost they jobs due to pandemic of Covid-19.
The economic impact of the COVID-19 pandemic could increase global poverty by an additional 1.5 billion people, or 8% of the world's total population. According to UN experts, developing countries may be exposed to the greatest socio-economic risk during – and after – a pandemic. In particular, according to UNDP, income losses in developing countries are expected to exceed $ 220 billion, and approximately 55% of the world's population will be left without access to social protection, which will have an impact on education, food security and nutrition.
Being as a Chairman of Modern Montessori International which specializes in preschool education, I firmly believe that overcoming poverty in the world primarily depends on possibilities obtaining qualified education, starting from preschool level, which afterword may lead for sustainable economic development of the country by highly educated leaders.
And therefore I believe that poverty eradication and poverty reduction initiative of Uzbekistan President, is very timely proposal and alarm for any nations to seriously though and draft all necessary measures to solve it.
I hope that initiatives of Uzbekistan President announced on 75th UN GA will be approved and dully implemented for the benefits of all nations.
T.Chandroo
Chairman of SICCI,
Chief Executive of MMI