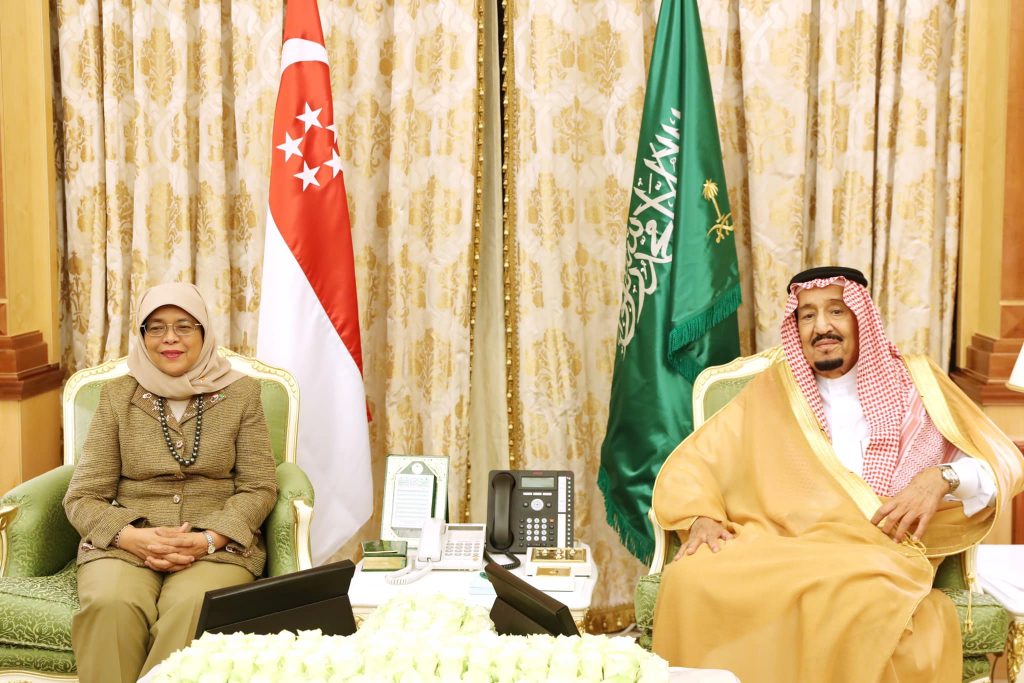 In an Exclusive Interview, President H.E. Halimah Yacob talked to Ms Nomita Dhar, Publisher and Editor in Chief of the publication, and shares her thoughts with the readers of

Saudi Arabia Gateway to the Middle East Special G20 Edition

, on the closeness of ties between Singapore and KSA. Her State Visit was also a diplomatic success marked by several important initiatives and outcomes at various levels for both nations
BILATERAL RELATIONS
Could you share with us the highlights of your visit to the Kingdodm?
I visited Saudi Arabia in November 2019 at the invitation of His Majesty King Salman Bin Abdulaziz Al Saud, Custodian of the Two Holy Mosques. As Singapore's first State Visit to Saudi Arabia, it was a milestone that highlighted the warm, longstanding and diverse relations between Singapore and Saudi Arabia. It was also a strong signal of our commitment to fortify bilateral ties.
I was grateful to King Salman for his gracious hospitality. We had an excellent exchange of ideas on how to deepen bilateral cooperation, including two concrete proposals on the creation of a ministerial-level Joint Committee on economic cooperation and the reactivation of the Saudi-Singapore Business Council. I also reaffirmed Singapore's support for Saudi Arabia's Vision 2030 transformation plans. It was a great honour to receive the King Abdulaziz Medal from King Salman, which reflected our strong bilateral relationship. King Salman was also very kind in granting me access to the Holy Kaaba in Makkah and the inner sanctum of the Raudhah in Masjid Nabawi in Madinah. As a Muslim, these places hold a special significance in my heart, and were one of the most unforgettable aspects of my visit to Saudi Arabia.
I also treasured the opportunity to meet with the vibrant and diverse Singaporean community in Saudi Arabia and learn about their experiences of living and working in the Kingdom. Singapore has a good reputation in the region and many Singaporeans have found good jobs there. They act as goodwill ambassadors for our country.
Considering the long history and ties between Singapore and Saudi Arabia, why is this only the first State Visit from Singapore to Saudi Arabia? Did it mark a particular development in relations between both countries?
Singapore and Saudi Arabia have enjoyed regular government-to-government exchanges since diplomatic relations were established in 1977 and frequent people-to-people exchanges even before that. My State Visit had been preceded by numerous high-level visits on both sides. Mr Lee Kuan Yew, Mr Goh Chok Tong, Prime Minister Lee Hsien Loong and Senior Minister Tharman Shanmugaratnam have at various times visited Saudi Arabia. The leaders of our two countries also meet often at the sidelines of international fora, including the G20 Summit. These interactions have frequently been underpinned by initiatives that bring our countries closer together.
My visit is an important milestone to mark what has been done thus far. I am confident that there will be more exchanges in the years ahead, especially as the international community works together to combat COVID-19. I also hope that King Salman and His Royal Highness Crown Prince Mohammad Bin Salman Bin Abdulaziz Al Saud will visit Singapore soon, at a mutually convenient time.
ECONOMIC COOPERATION
Singapore and Saudi Arabia have strong economic ties. Diplomatically, what do you hope the visit achieves for bilateral ties?
I am happy that an MOU on environmental cooperation was concluded during my State Visit. This is an important area of cooperation given the need for all countries to work together on environmental sustainability and resilience. I am glad that since my State Visit, progress has also been made on the Singapore-Saudi Joint Committee, which King Salman had proposed during our meeting. Our business associations are also looking forward to reinvigorating the Singapore-Saudi Business Council as soon as the situation permits. The two respective governments will continue to support and facilitate cooperation between our peoples and businesses, especially as we weather the COVID-19 pandemic. I also hope that the Saudi Government will continue to look upon our request for a higher Haj quota for Singaporean pilgrims favourably.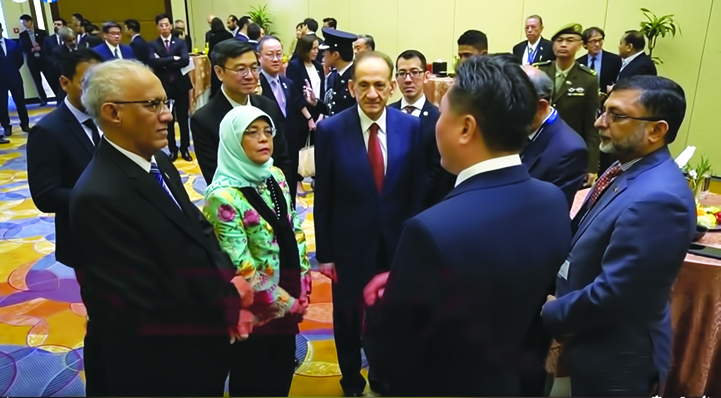 Can you tell us about some projects that Singaporean companies have been working on in Saudi Arabia in recent times?
Singapore companies are actively involved in Saudi Arabia's transport and logistics sector, which is also a priority sector under Vision 2030.
In January this year, SATS Saudi Arabia Company, a unit of Singapore's SATS, was awarded a 25-year cargo terminal concession in King Khalid International Airport in Riyadh. Upon completion, the terminal will be able to handle up to 600,000 tonnes of cargo annually. This is SATS' second project in Saudi Arabia, following the award of the air cargo facility in 2016 for King Fahd International Airport.
In April, Saudi Global Ports, a joint venture between Singapore's PSA International and Saudi Arabia's Public Investment Fund, signed a deal with the Saudi Ports Authority (Mawani) to consolidate the operations of seaport terminals at King Abdulaziz Port in Dammam, in Saudi Arabia's Eastern Province.
Beyond the transport and logistics sector, Singaporean companies are also keen to explore further opportunities in Saudi Arabia, in areas such as in the tourism, digital solutions, education, and oil and gas sectors. I look forward to more of such partnerships going forward.
What would be your message to encourage Saudi Arabian companies to use Singapore as a regional hub?
Singapore has a pro-enterprise and business-friendly environment. Singapore is the world's most competitive economy and among the easiest locations in the world for doing business. Singapore is also home to many of the world's top MNCs and Asian enterprises. This allows companies setting up shop here to easily plug into a strong network with an established base of customers and exchange new solutions and ideas easily. Singapore's strategic location in Southeast Asia, which has one of the world's fastest growing economies and is home to a highly skilled and enterprising population, also makes us an ideal hub from which to access the region and its growing consumer market.
I welcome Saudi companies interested in setting up their business in Singapore to get in touch with Singapore's Economic Development Board and Enterprise Singapore. Enterprise Singapore has an office in Riyadh which can put companies in touch with the relevant agencies to kickstart the process.
G20-2020
Prime Minister Lee received an invitation from King Salman in October 2019 to participate in the G20 Summit in Riyadh. Can you comment on Singapore's participation and contribution to the Summit? Do you have a wish / message for Saudi Arabia about the Summit?
Singapore is honoured by the invitation to attend the G20 Summit in Riyadh, and I conveyed our gratitude for this to King Salman. As we have done at previous G20 Summits to which we were invited, Singapore has been and will continue to work closely with Saudi Arabia to achieve a successful outcome at the G20 Summit in November 2020. This includes assisting to promote stronger engagement between the G20 and the Global Governance Group (3G), of which Singapore is the Convenor, as well as with the wider UN membership. In this regard, Singapore commends Saudi Arabia's efforts to reach out to non-G20 members to reflect a broad and inclusive range of international interests and perspectives.
For Singapore, the COVID-19 pandemic has made the theme of the Saudi Presidency, "Realising Opportunities of the 21st Century for All", even more relevant. As the global community grapples with the impact of the COVID-19 pandemic, international cooperation has become ever more crucial. Singapore commends Saudi Arabia for its leadership in galvanising international efforts to address the challenges posed by the pandemic, which included the convening of the G20 Extraordinary Virtual Leaders' Summit in March 2020. We also commend Saudi Arabia for ensuring that the important work of the G20 has continued through virtual meetings as travel is still not possible during this period.
Apart from the immediate priority of tackling the health and safety consequences of the COVID-19, Singapore hopes that the G20, as the premier international economic forum, will send a strong message of support for the rules-based multilateral order as well as global trade and supply chain connectivity at the upcoming G20 Summit in November 2020.
WOMAN POWER
What are your views on Saudi Arabia's initiatives and opportunities to empower women?
For Singapore, empowering women and supporting them in the pursuit of their dreams and ambitions is critical to our success. I am happy to see that Saudi women are eager to work and contribute to their nation's success and have readily taken up jobs in all levels of society including in government. For example, Princess Reema Bint Bandar Al Saud is the distinguished Saudi Ambassador in Washington DC as well as the first Saudi woman to be an elected member of the International Olympic Committee. I was also pleased to note that one of the Saudi officials coordinating and facilitating my visit was a capable young lady.
CULTURAL ENRICHMENT
On a lighter note, were you able to do much outside the official programme such as any shopping, visit local craft centres? Where did you go and what did you buy?
In Riyadh, I was happy to visit the King Abdulaziz Historical Center, which provided me with a detailed overview of the development of Saudi Arabia. Given its rich history and cultural diversity, Saudi Arabia is an archaeologist's dream come true. I look forward to more work being done to showcase the rich and beautiful history of the Kingdom and its people in the years to come.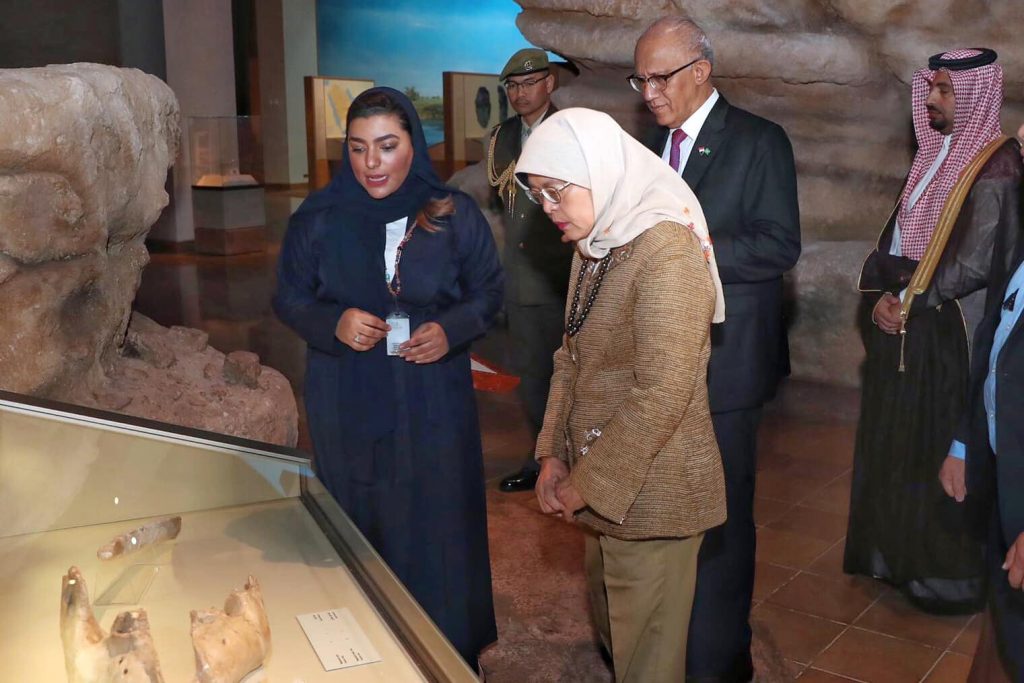 To view or download the pdf of Saudi Arabia Gateway to the Middle East Special G20 Edition click here.
To view the FlipBook version please click here