THE programme and duties of the Dean of the Diplomatic and Consular Corps (DCC) of Singapore continues even with the COVID pandemic (pardon the pun) hanging in the air. Unfortunately COVID restrictions have meant the suspension of the Corps' traditional meet and farewell lunch gatherings. But the ever indefatigable Dean and Ambassador of Mongolia H.E. Lkhagvadorj Tumur was still able to welcome newly arrived diplomats as well as personally bid the departing ones goodbye with farewell souvenirs. They included (pictured top row from left): the new Ambassador of Angola H.E. Daniel Antonio Rosa and new Ambassador of Turkey H.E. Mehmet Burçin Gönenli; the outgoing South Korean Ambassador H.E. Ahn Youngjip and Vietnamese Ambassador H.E. Tao Thi Thanh Huong.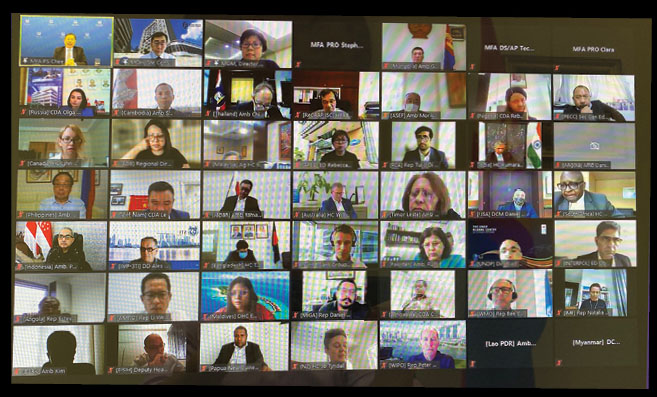 On 20th May 2021 Singapore's Ministry of Foreign Affairs (MFA) invited all of the heads of missions and representatives of international organisations (see video capture photo left) to the fourth briefing via video conference on Singapore's response to the pandemic. It was conducted by MFA's Parliamentary Secretary Mr Chee Wee Kiong.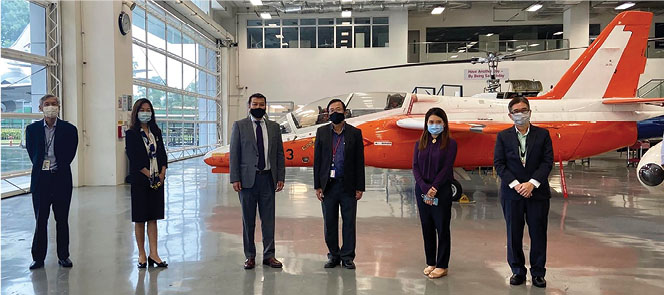 Members of the Corps were also invited to visit ITE (Institute of Technical Education) College Central at Ang Mo Kio for a closer look at the training and facilities that included (pictured left) its Aerospace Hub located within the ITE's School of Engineering. The tour was organised by the Singapore Business Federation on 6th May 2021.
Finally (pictured below) are some candid snaps taken from the DCC sports calendar – the annual tennis tournament that was held on 10th December 2021.