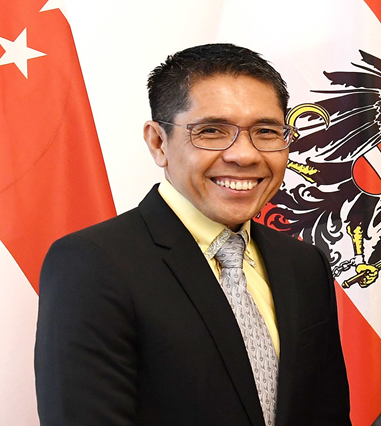 Let me first congratulate Bangladesh for assuming the Chairmanship of IORA for the next two years. Under your Chairmanship, I have every confidence that IORA will continue to grow as an organisation and achieve new heights.
I would also like to express my sincerest appreciation to the UAE, our Chair for the past two years. Despite the challenges posed by COVID-19, the UAE has done a commendable job in successfully sustaining the momentum of IORA's important work.
In a few months' time, it will be two years since the international community started grappling with the COVID-19 pandemic. It has stretched on for longer than anticipated.
Many IORA Member States are dependent on Blue Economy sectors, which include travel, tourism, maritime transport, and fisheries. These are severely disrupted by the pandemic.
The international travel and tourism sector has faced unprecedented challenges. The World Tourism Organisation called 2020 the "worst year in tourism history", during which international travel fell by 74% year-on-year. 
As we approach the end of 2021, we are starting to see some positive developments.
Many of our countries, including Singapore, are beginning to open up for global travel in a safe and calibrated manner. We will gradually recover from disruptions to global economic activity.
The World Bank has estimated that global growth will accelerate to 5.6% this year. Growth among emerging markets and developing economies is expected to reach 6%.
This is encouraging as we continue to vaccinate our populations against the COVID-19 virus. International trade and travel with an endemic COVID-19 can only take place effectively with higher vaccination rates across countries. 
Bangladesh's theme for its Chairmanship, "Harnessing the opportunities of the Indian Ocean sustainably for inclusive development", is timely.
The Indian Ocean is a major conduit for international trade. It is an important source of fishing and mineral resources. The region is densely populated and comprises some of the world's fastest growing economies.
The pandemic has transformed how we think about our economies and societies. Rapid globalisation has meant that our fates are more interlinked now than ever before.
As we learn to live with COVID-19 and make steady progress towards a new normal, we must take care not to leave anyone behind. In this context, I would like to make the following two points. 
First, climate change and the need for sustainable development remain existential issues for many of us.
The recently concluded 26th UN Climate Change Conference, or COP-26, has injected fresh urgency for global climate action. More countries have committed to ambitious Nationally Determined Contributions and Long-Term Low-Emissions Development Strategies.
But much more needs to be done if we are to effectively limit global warming, which is critical to avoid the most severe effects of climate change. The Paris Agreement remains our best hope for a collective solution to this global challenge, and Parties must press on with the full implementation of the Paris Agreement Work Programme.
I am glad to see that IORA is also doing its part, spearheading sustainable development efforts, including through the IORA Blue Carbon Hub initiative, which was launched at the Third IORA Ministerial Conference on the Blue Economy in Dhaka two years ago.
Singapore agencies have benefitted from relevant workshops organised by the IORA Blue Carbon Hub. For instance, Bangladesh's Institute for Water Modelling co-hosted the webinar on nature-based solutions for coastal risk reduction with the IORA Blue Carbon Hub in May this year. The webinar provided useful insights into some of the blue carbon projects around the world.
There is no one-size-fits-all solution when it comes to tackling the effects of climate change. Climate action requires international partnerships. Singapore looks forward to working with our friends in IORA on sustainable solutions.
This leads me to my second point, on multilateralism. 
We have seen how international cooperation on numerous fronts has been crucial in strengthening our capacities and delivering results for our peoples.
For instance, the COVAX Facility allowed more than 180 countries, including many IORA members, to benefit from a fairer and more equitable access to COVID-19 vaccines. Several IORA members, including Singapore, have also made contributions to the COVAX Facility. Such contribution is critical to help all of us overcome the challenges brought about by COVID-19.
Amidst growing geopolitical uncertainty, IORA must continue to champion its relevance as a credible multilateral platform. This is premised on a rules-based international order.
Singapore is committed to supporting multilateralism and fostering an open and inclusive regional architecture.
Part of that commitment is evident in our efforts to encourage the sharing of experiences in capacity building through the Singapore Cooperation Programme, or SCP.
As a small island state, Singapore is a strong proponent of human resource development. It is key to any country's sustainable development and progress.
In this connection, I am pleased to note that Singapore's second virtual capacity building course for IORA Member States and the Secretariat, offered under the SCP on the topic of Project Management, was held successfully from 25 to 29 October 2021. 
Our support for the development needs of IORA Member States through the SCP started ten years ago, and we will continue to do so even amidst the pandemic. Relevant SCP courses include those under the Climate Action Package and those related to the UN's Sustainable Development Goals, such as Pandemic Management, Industry 4.0, and e-Commerce. IORA members enjoy full sponsorship for these courses that are now conducted virtually. 
On that note, allow me to conclude by thanking Bangladesh for hosting this Council of Ministers meeting. Singapore looks forward to working closely with you to usher in a new post-COVID-19 era for IORA and build a more resilient future for our communities. Thank you.
. . . . .