The visit signified restoration of bilateral and regional connectivity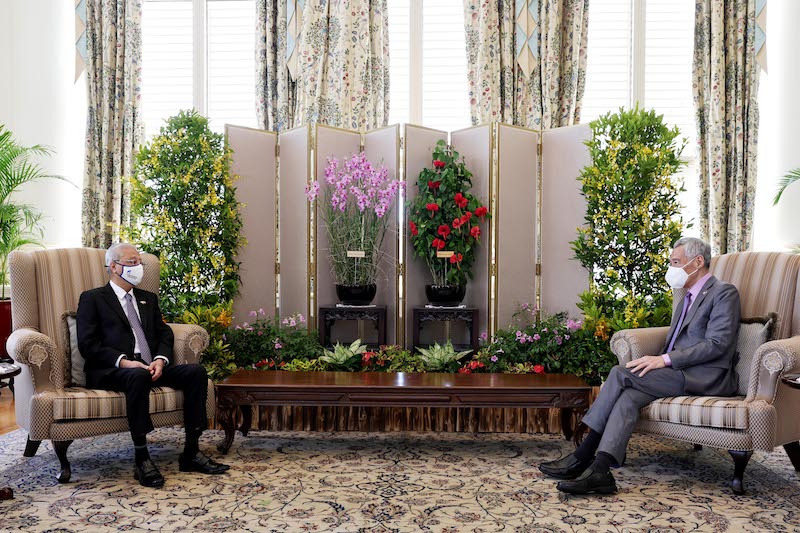 THE Prime Minister of Malaysia, Dato' Sri Ismail Sabri Yaakob, made his first Official Visit to Singapore in his official capacity on 29th November 2021. Prime Minister Lee Hsien Loong and PM Ismail Sabri jointly witnessed the launch of the Vaccinated Travel Lane (VTL) across the Causeway between Singapore and Malaysia, a significant step towards the restoration of bilateral and regional connectivity.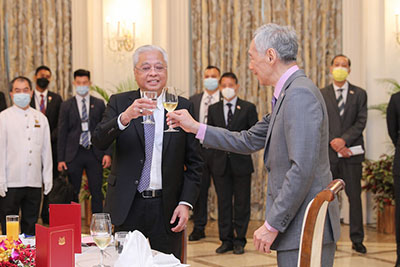 Following the launch of the VTL, PM Ismail Sabri attended a Welcome Ceremony at the Istana where he called on President Halimah Yacob. Prime Minister Lee also hosted an official lunch in honour of the Malaysian PM. PM Ismail Sabri also had a new orchid hybrid named in his honour during a ceremony at the Istana. PM Ismail Sabri was accompanied by Malaysian Senior Minister of International Trade and Industry Dato' Seri Mohamed Azmin Ali, Malaysian Minister of Foreign Affairs Dato' Saifuddin Abdullah, Malaysian Minister of Transport Datuk Seri Ir. Dr. Wee Ka Siong, Menteri Besar of Johor Dato' Hasni Mohammad, and senior officials.
According to a Singapore Ministry of Foreign Affairs media release President Halimah congratulated Prime Minister Ismail Sabri on his appointment, and underscored the need for Singapore and Malaysia to continue to build on their deep-rooted ties of kinship, culture and history.
During their meeting, Prime Minister Lee and Prime Minister Ismail Sabri affirmed the longstanding bilateral relations and close people-to-people ties that Singapore and Malaysia have forged over decades of mutual trust and cooperation. They noted with satisfaction that both sides have cooperated closely during the COVID-19 pandemic, including establishing the Reciprocal Green Lane (RGL) for official and business travel, the Periodic Commuting Arrangement (PCA) for workers, and facilitating compassionate travel via the Death and Critical Illness Emergency Visits (DCEV) scheme. Singapore and Malaysia have also worked closely together to ensure that supply chains were unaffected throughout the pandemic.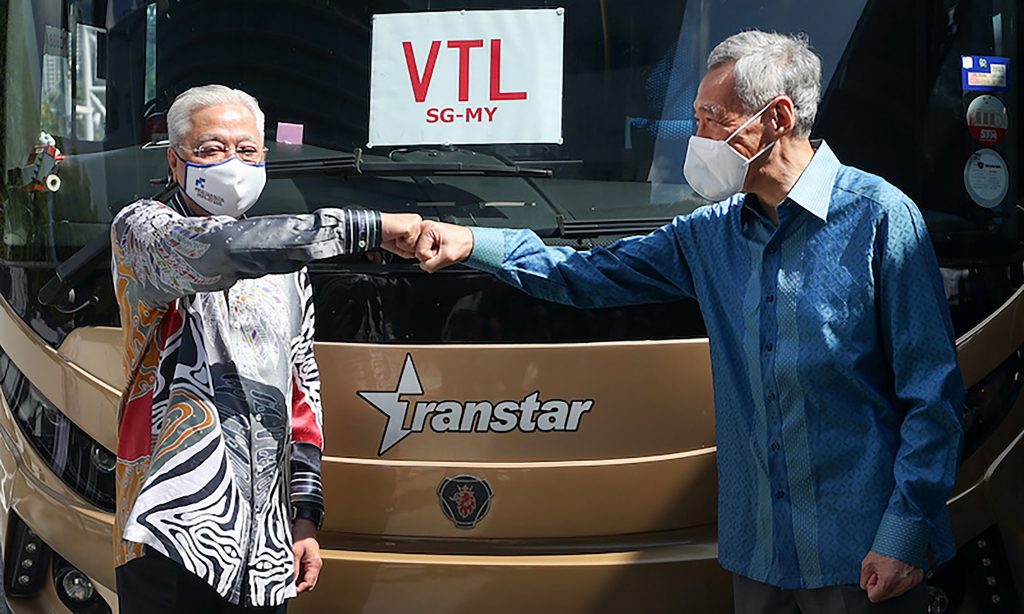 With the good progress made by both countries in bringing the COVID-19 situation under control, Prime Minister Lee and Prime Minister Ismail Sabri welcomed the timely launch of the Singapore-Malaysia Vaccinated Travel Lanes (VTL) on 29 November 2021 for travel by air and across the Causeway. The VTLs will reunite families and loved ones who were separated during the pandemic. They will also play a vital role in restoring Singapore and Malaysia's bilateral and regional connectivity, as both countries adapt to COVID-19 endemicity. Both sides agreed to work towards gradually scaling up the capacity of the VTLs, and including more types of travelers from around mid-December 2021, taking into account the public health situation. Singapore and Malaysia will also work towards a VTL (Sea), and resuming port calls by cruise ships from Singapore to Malaysia.
Prime Minister Lee and Prime Minister Ismail Sabri also discussed other opportunities for collaboration that would be mutually beneficial to both peoples and economies in the longer term. This included the Johor Bahru-Singapore Rapid Transit System (RTS) Link Project, which would enhance connectivity by providing a faster and more convenient option for travelers to commute between Singapore and Johor Bahru.
Prime Minister Ismail Sabri also accepted Prime Minister Lee's invitation to visit Singapore again for an in-person Leaders' Retreat in the first quarter of 2022.
---
Interview: Dr Azfar M. Mustafar
High Commissioner of Malaysia to Singapore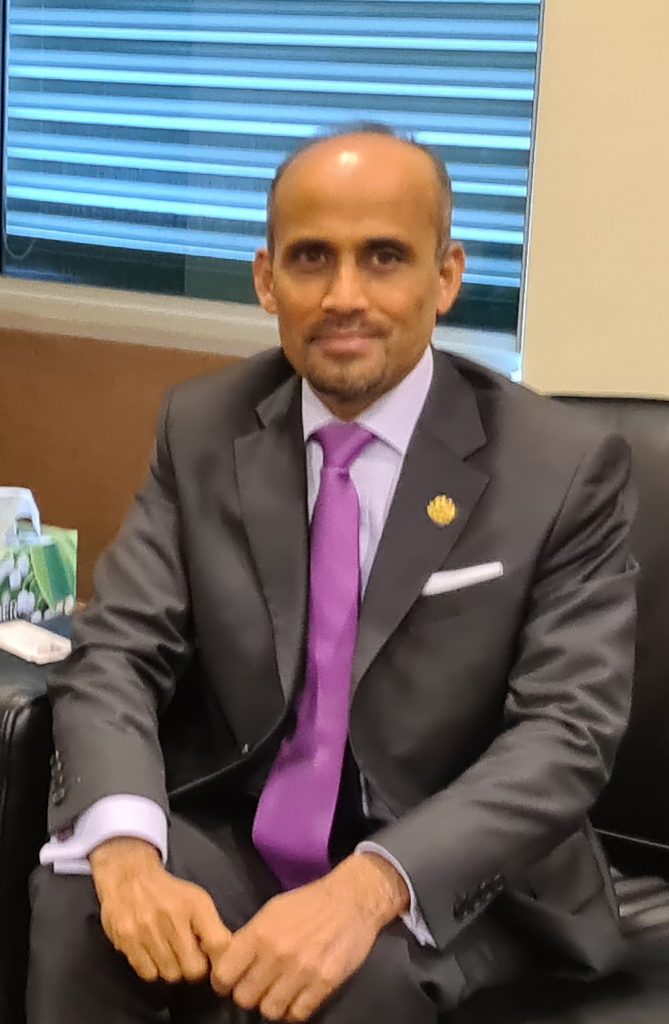 What went behind the scenes to implement this much awaited step towards normalcy?
The land borders between Malaysia and Singapore at the Causeway and Tuas Second Link have been closed since March 2020. Both sides acknowledged the importance of gradual reopening of the borders between Malaysia and Singapore. Both Prime Ministers spoke on the telephone on the gradual reopening of the borders, and officials of both sides followed up and discussed the matter. Both sides quickly came to an agreement on the reopening of the borders to enable people from both sides to travel, meet and reconnect with their families whom they have not been able to meet since March 2020. VTL is a quarantine–free travel arrangement, and therefore saves the time and money for people to meet their families either in Malaysia or Singapore.
What were the highlights of the visit?
Apart from the official programme highlights (see story above) PM Dato' Sri Ismail Sabri also met with the staff of the High Commission before returning to Malaysia in the evening.
How is the VTL going on so far? What is the next stage of the process? How will it further open?
The VTL has been well received by peoples of both countries. VTL Air will be expanded in the future in terms of flight frequency and destination. The expansion will be subject to prevailing health situations in Malaysia and Singapore. Likewise, VTL Land will be expanded to include other categories of travellers, such as tourists, etc. It would also be expanded to include private vehicles and so on. The expansion will be done in a step–by–step manner, and will be announced by both sides from time to time.
Singapore's Foreign Minister Dr Vivian Balakrishnan also visited Johore recently; do you see this visit opening up more opportunities and doors?
The Malaysia–Singapore relation is multi–faceted, broad and comprehensive. Foreign Minister Vivian, accompanied by officials from the MFA, met with Duli Yang Maha Mulia Sultan Ibrahim ibni Al–Marhum Sultan Iskandar, Sultan of Johor, Duli Yang Amat Mulia Tunku Ismail ibni Sultan Ibrahim, Crown Prince of Johor, and Chief Minister of Johor on 2nd December 2021.
During the visit, FM Vivian presented a letter from PM Lee Hsien Loong inviting His Majesty Sultan Ibrahim to undertake a State Visit to Singapore in the near future; he also delivered Singapore's donation of vaccine to Johor, apart from exploring new areas of cooperation between Singapore and Johor. The visit reflected the long–standing and warm relations between Singapore and Johor and will definitely open up more opportunity for cooperation and collaboration between Singapore and Johor.
There are plans to start the Johore Economic Tourism & Cultural Office in Singapore in 2022. Have any dates been fixed so far and what can Singaporeans expect from this new entity?
The plan to open the Johore Economic, Tourism and Cultural Office in Singapore was first mentioned in 2019, and it is still on the table and on track. However, due to COVID–19, there is no date being fixed on the opening of the Office in 2022. The Office is expected to facilitate the promotion of Johor's economic, tourism and cultural including investment opportunities in Singapore.
---

For latest updates on Vaccinated Travel Lanes (AIR and LAND) please visit:

https://safetravel.ica.gov.sg/