The presentation of credentials by the new mission heads of the People's Republic of China, Republic of Fiji and Republic of Ecuador to President Halimah Yacob at the Istana on 31st May 2022
H.E. Sun Haiyan, Ambassador of the People's Republic of China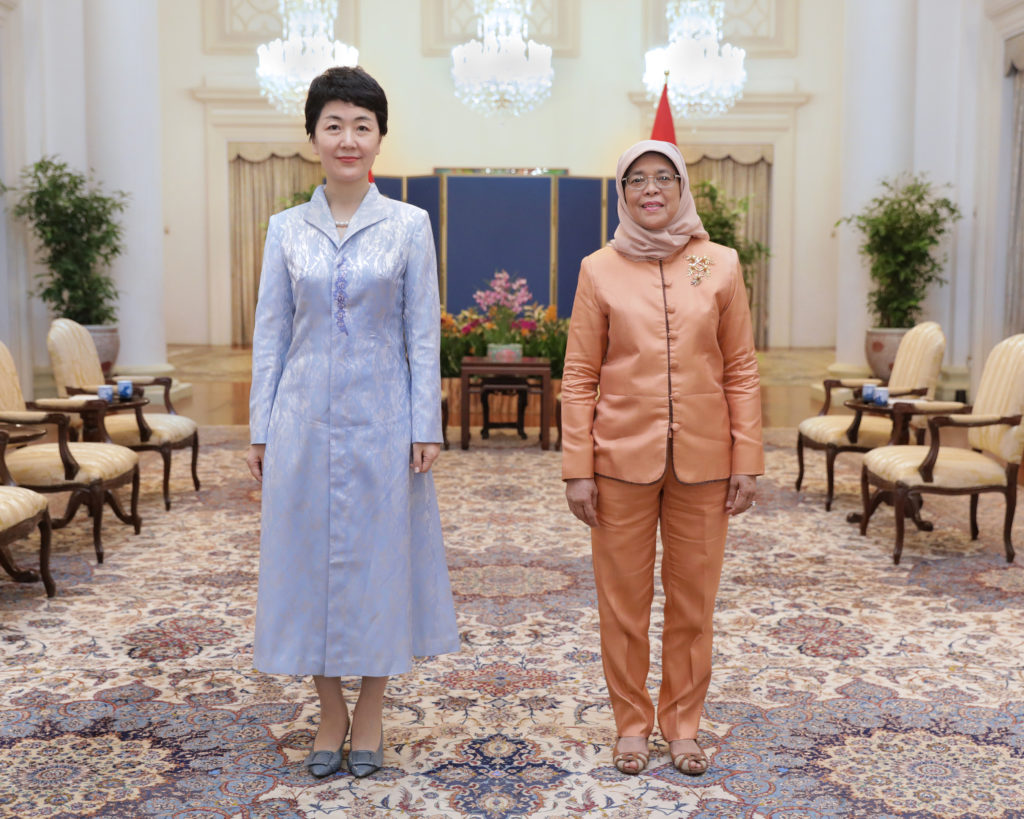 PRIOR to her posting to Singapore Ambassador Sun Haiyan was the Director-General of the Bureau I of CPCID responsible for exchanges with South and Southeast Asian countries.
Ambassador Sun Haiyan was born in 1972 in Hebei Province, China. She joined the International Department of the Central Committee of the Communist Party of China (CPCID) in 1997, where she served in various capacities including as Director of the Research Office, Director-General of the China Centre for Contemporary World Studies, and Director-General of the Public Information and Communication Bureau and concurrently CPCID Spokesperson. During her career, she also worked in Zibo City, Shandong Province. Ambassador Sun graduated with an LL.D. degree from Peking University. She is married with one daughter.
H.E. Amenatave Vakasavuwaqa Yauvoli, High Commissioner of the Republic of Fiji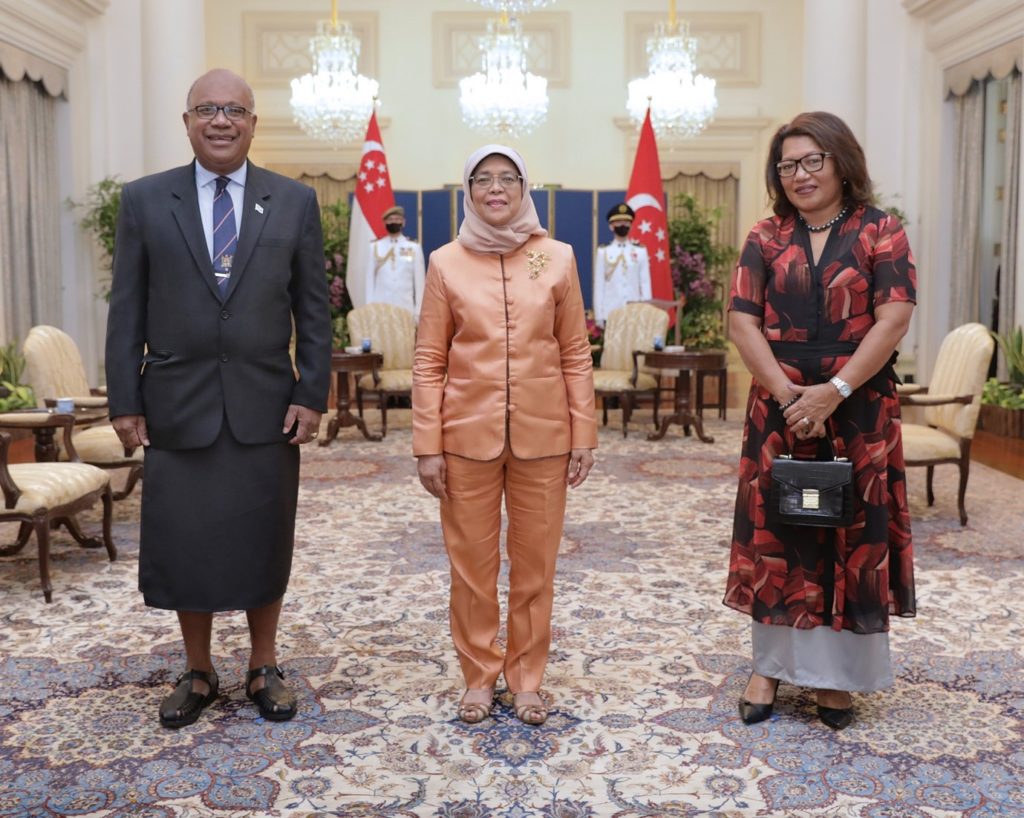 PRIOR to his appointment to Singapore, High Commissioner Yauvoli holds concurrent accreditation to Singapore, Malaysia and Thailand. He is also the Permanent Representative of Fiji to the United Nations Economic and Social Commission for Asia and Pacific. He has more than 30 years of experience as a civil servant and diplomat, including as the Permanent Secretary for the Ministry of Foreign Affairs (2013-2014), Interim Secretary General of the Pacific Islands Development Forum (2015), Ambassador for Climate Change & Oceans (2015-2016) and Director General/CEO of the Melanesian Spearhead Group (2016-2020).
High Commissioner Yauvoli holds a Bachelor's Degree in Economic and Management from the University of the South Pacific in Fiji and a Master's Degree in Commerce (Development Economics) from the University of Wollongong, Australia.
High Commissioner Yauvoli is married to Ruci Yauvoli and has five children and seven grandchildren.
H.E. Santiago Chávez Pareja, Ambassador of the Republic of Ecuador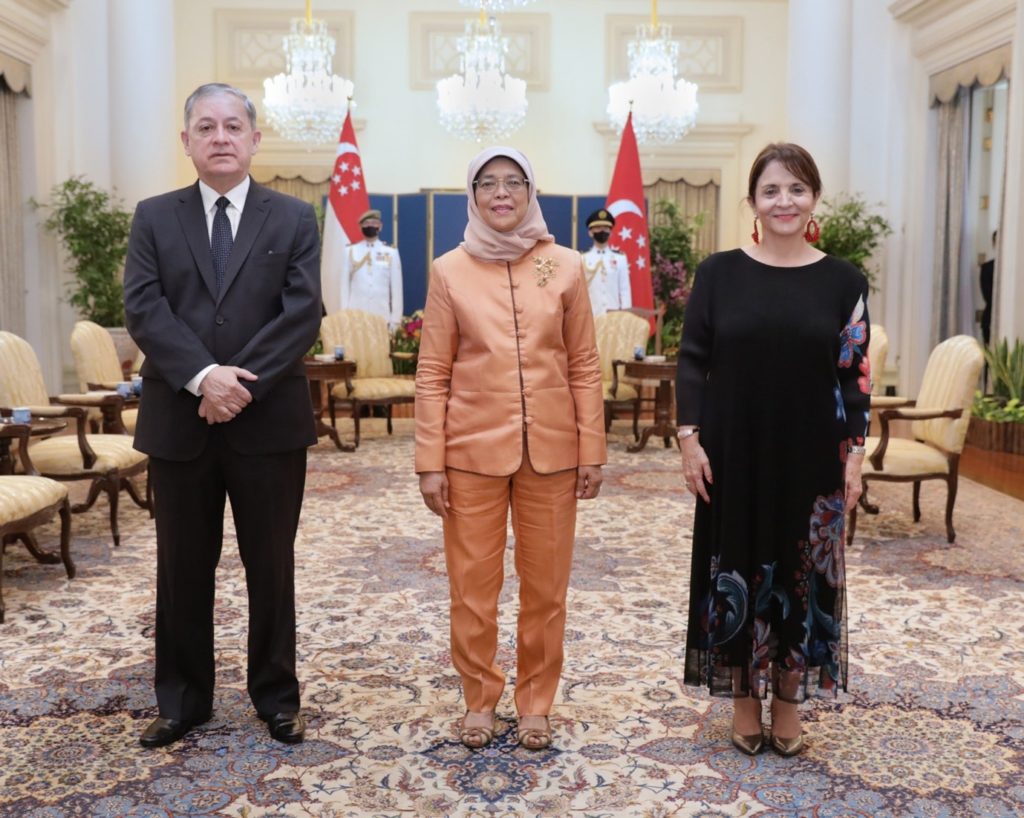 PRIOR to his accreditation to Singapore, Ambassador Santiago Chávez has held various Ecuador diplomatic appointments to the Republic of Korea, Belgium, the European Union, Luxembourg, Venezuela, the World Trade Organization (WTO), the United States of America, Venezuela and Brazil.
A career diplomat, Ambassador Santiago Chávez began his work at the Ministry of Foreign Affairs and Human Mobility in 1981. In June 2018, he was appointed Vice-Minister of Human Mobility and in the same year he undertook the Presidency of the Global Forum on Migration and Development 2019.
Ambassador Chávez has a Master's degree in Security and Development with a mention in Public Management and Business Management from the Institute of Higher National Studies. He also has a degree in Legal Sciences from the Pontifical Catholic University of Ecuador (PUCE). He has participated in several specialization courses and internships in areas of International Relations in Italy, China, Japan, USA and Switzerland. He was a Lecturer on Legal Settlement of WTO Trade Disputes and Latin American International Relations at the School of Law and the School of Human Sciences at PUCE, respectively.
Ambassador Chávez is married to María Augusta Hidalgo Chiriboga and has two children.
Photos: Singapore Ministry of Culture and Information