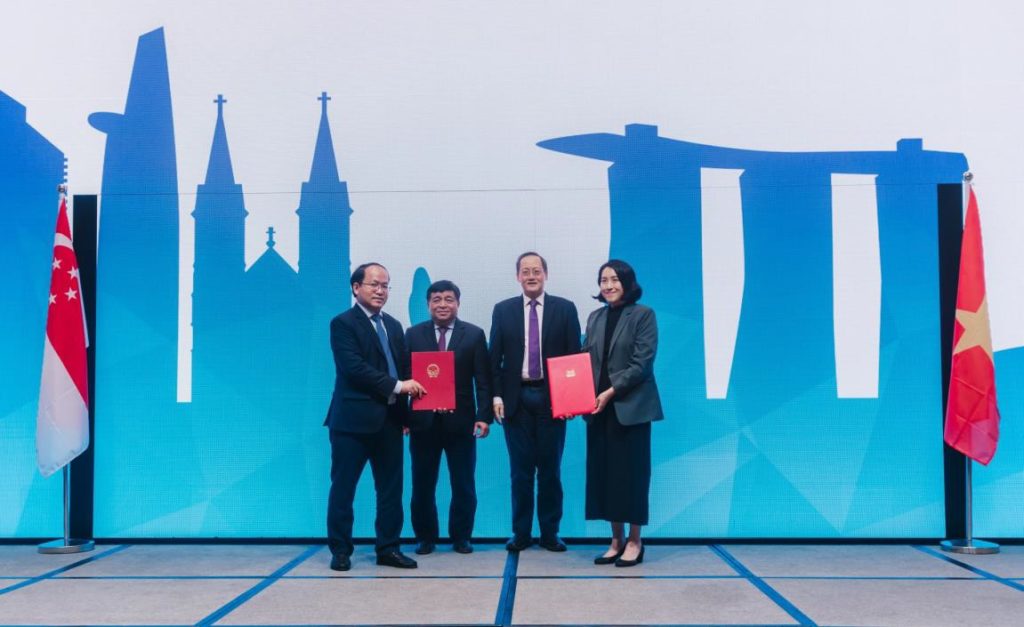 Second Minister for Trade and Industry Dr Tan See Leng co-chaired the 16 th Singapore-Vietnam Connectivity Ministerial Meeting (CMM) with Vietnam's Minister of Planning and Investment Nguyen Chi
Held in Singapore, the meeting reviewed the good progress across 9 areas of economic cooperation namely: (i) investment; (ii) digital economy; (iii) finance; (iv) trade and services; (v) education and training; (vi) transportation; (vii) innovation; (viii) energy; and (ix) sustainability. Both sides discussed closer partnership in trade and investments, and potential opportunities in emerging areas such as innovation, renewable energy, carbon credits and digital economy collaboration.
Both Ministers witnessed the signing of a Memorandum of Understanding (MoU) on the establishment of the Singapore-Vietnam Innovation Workgroup between the Ministry of Trade and Industry and the National Innovation Centre (NIC)1 under Vietnam's Ministry of Planning and Investment. The MoU aims to strengthen linkages between both countries' innovation ecosystems through partnership between government entities, Institutes of Higher Learning and private sector companies on both sides.
Minister Tan said, "Singapore and Vietnam share robust and longstanding economic ties. I am glad that we are able to convene the 16th CMM physically in Singapore since our borders re-opened. Apart from affirming our commitment to deepen cooperation in existing areas, we have also broadened our cooperation to include new areas like innovation, energy and sustainability, where there is strong growth potential in Southeast Asia. I look forward to closer partnership between Singapore and Vietnam, as our countries mark the 50th anniversary of bilateral relations and 10th anniversary of the Strategic Partnership next year."
Singapore and Vietnam share strong bilateral economic ties, with bilateral trade growing steadily over the past decade, reaching S$26.9 billion in 2021. As of May 2022, Singapore is the second-largest cumulative investor into Vietnam, with investments totalling S$94.46 billion (US$68.68 billion). In 2021, Singapore was the largest source of foreign investment into Vietnam that year, with investments of nearly S$15 billion (US$10.7 billion). In October 2022, Singapore and Vietnam signed two MoUs to collaborate on energy and carbon credits on the sidelines of President Halimah Yacob's State Visit to Vietnam.
Established in 2006 under the Singapore-Vietnam Connectivity Framework Agreement, the CMM is a cornerstone of bilateral economic relations between Singapore and Vietnam, strengthening bilateral ties and facilitating trade and investment flows between both countries. The 16 th CMM was attended by officials from the Ministry of Trade and Industry, Ministry of Education, Ministry of Foreign Affairs, Ministry of Transport, Civil Aviation Authority of Singapore, Energy Market Authority, Enterprise Singapore, Infocomm Media Development Authority, Monetary Authority of Singapore, National Climate Change Secretariat, Singapore Food Agency, and Singapore Tourism Board.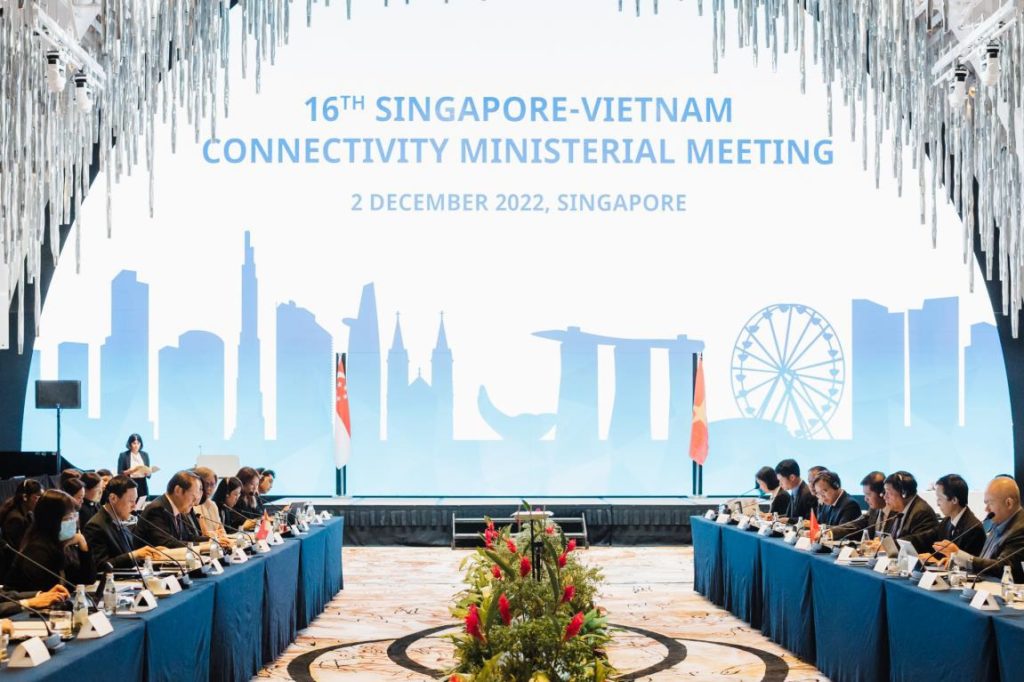 MINISTRY OF TRADE AND INDUSTRY