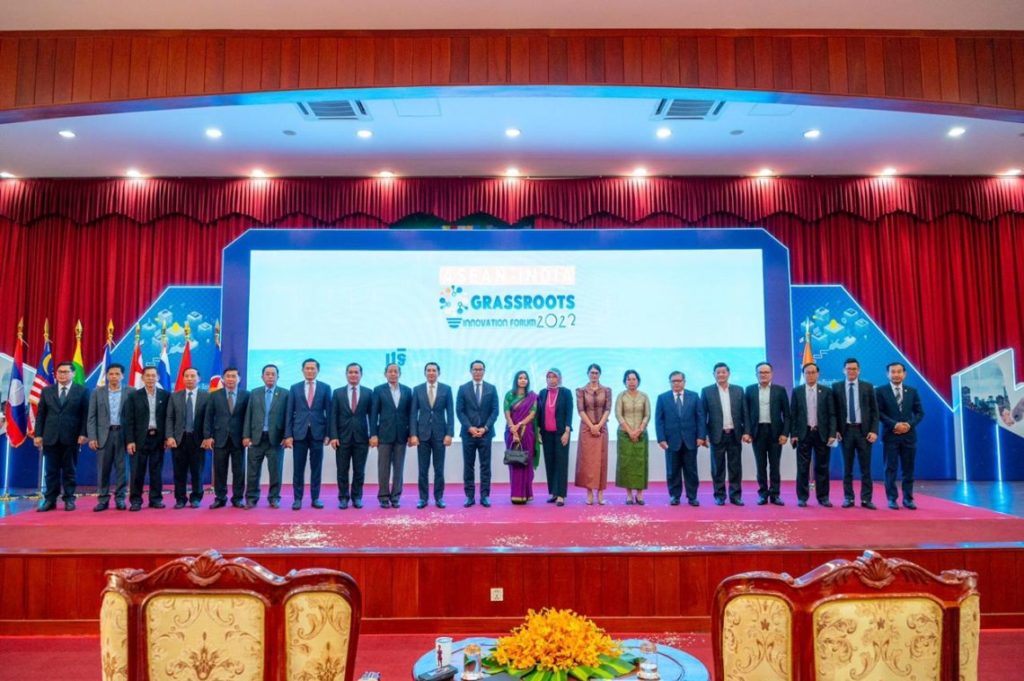 On December 19, 2022, the third ASEAN-India Grassroots Innovation Forum 2022 was officially launched by the ASEAN Committee on Science, Technology, and Innovation (COSTI), the Government of India's Department of Science and Technology (DST), and the National Innovation Foundation (NIF).
The launch takes place from December 19–21 at the Institute of Technology of Cambodia in Phnom Penh, Cambodia. Additionally, the forum commemorates the 30th anniversary of the ASEAN-India Friendship Year.
Satvinder Singh, the ASEAN Economic Community's deputy secretary-general, emphasized the crucial role that grassroots innovators play. "Grassroots innovators often operate as informal businesses and contribute to the informal economy," he said." In 2021, the informal economy will account for 15% of the GDP in advanced economies and 35% of the GDP in low- and middle-income nations. Regarding this, both public and private institutions must comprehend the sociocultural dynamics of grassroots innovation and promote it, especially in order to advance the circular economy. "Policymakers, especially the local government, must acknowledge grassroots innovators as valuable contributors to creativity, employment, and productivity," he added.
Meanwhile, DST Secretary Dr Srivari Chandrasekhar pointed out, "India attached high importance to grassroots and student innovations in our science, technology, and innovation policy as these are not just integral to it but also its significant driving forces. I urge our friends in ASEAN Member States (AMS) to continue their commitment towards social innovations and collectively ensure that tomorrow is better than today for each one of us. It is heartening to note a similar thrust amongst AMS, hence, it is one of the finest instances of like-mindedness that nations could think of in today's world as the benefits of such policies cumulatively touch a billion lives in Asia alone."
"Cooperation in Science, Technology and Innovation holds much importance in contemporary times. It has a key potential to accelerate our march towards our developmental goals. It has an inherent potential to bring people together; countries together and in our case today, India and the ASEAN Member States together." said Dr. Devyani Uttam Khobragade, ambassador of the Republic of India to the Kingdom of Cambodia.
Dr. Kan Channmeta, Secretary of State of the Ministry of Industry, Science, Technology and Innovation (MISTI) Cambodia, further addressed, "The 3rd ASEAN-India Grassroots Innovation Forum 2022 is an international pioneer event in Cambodia organised not only to promote science, technology, innovations, entrepreneurship and the development of the IR 4.0 but also to create opportunities for students and grassroots innovators to learn from each other's innovation during competitions. He wishes to have more opportunities to grow together, aligned with "Shared values, common destiny" approach that India and ASEAN have been advocating in recent times for strengthening the relationships. "
The three-day forum allows participants to share their experiences and best practices in grassroots innovation between ASEAN and Indian communities.  The event includes seminar sessions,innovation competitions, and an exhibition. This forum offers a platform to encourage and strengthen the development of the grassroots innovation ecosystem by bringing together key players, including government officials, grassroots innovators, student innovators, academics, business actors, and the larger community.