Participating companies will offer opportunities abroad and provide structured progression pathways to attract and groom top local talent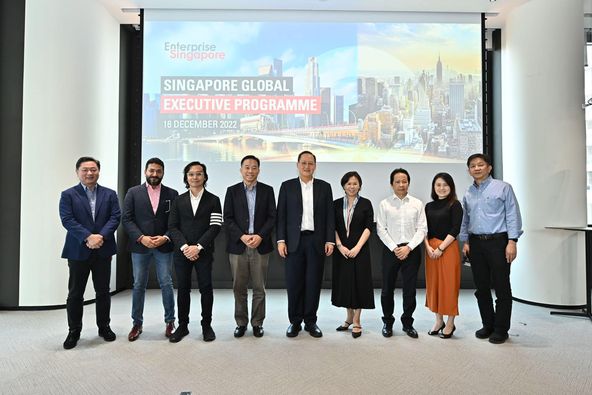 Enterprise Singapore (EnterpriseSG) has launched the Singapore Global Executive Programme (SGEP), which is targeted at helping homegrown companies with global presence to ramp up talent development in line with their growth ambitions. Participating companies will work with EnterpriseSG's partners to co-design and implement a customised human capital roadmap, to attract and groom local talent that will be critical in advancing their business growth plans.
First announced at Budget 2022, the new programme is part of the government's ongoing efforts to strengthen the core capabilities of high-potential Singapore companies and support their growth under the Enterprise 2030 strategy. Up to 20 Singapore companies will be onboarded to SGEP over the next three years. This was shared by Minister for Manpower and Second Minister for Trade and Industry Dr Tan See Leng, who was the Guest of Honour at the launch event for SGEP earlier today.
The first two batches of companies to participate in SGEP comprise Castlery, Commonwealth Capital, Sing Fuels (Batch 1) and AEM, Durapower and Rigel (Batch 2). Besides having a strong track record, these companies also have a clear long-term business growth strategy and are committed to invest in talent across diverse areas – such as data and analytics, digital transformation, business development and product research – to support their global expansion plans. More companies will be onboarded to SGEP progressively in the second half of 2023
Said Mr Png Cheong Boon, EnterpriseSG's Chief Executive Officer, "Companies that want to scale up into global enterprises need to focus on grooming talent and develop deep leadership bench. SGEP aims to strengthen Singapore enterprises' talent development capabilities, help them attract young talent, and groom them into globalready leaders."
SGEP companies will receive comprehensive training and consultancy support to help them intensify their talent development efforts. They will work with experienced industry partners such as Heidrick & Struggles (H&S), LinkedIn, the Institute for Human Resource Professionals (IHRP) and Procter & Gamble (P&G) to expand their know-how in employer branding, talent assessment and analytics, as well as talent acquisition and development, so that they can develop a human capital roadmap tailored for their business growth plans. With the support of EnterpriseSG, the companies will also strengthen their in-house human resource team, with a dedicated talent manager to oversee the human capital roadmap.
Young local talent looking to join SGEP companies can look forward to structured career progression pathways, which will prepare them for potential global leadership positions. They can expect to build their industry expertise through job rotations across core business functions, receive one-on-one mentorship from company leaders, and go on overseas work attachments to gain global business insights. This, in turn, will enable SGEP companies to build a skilled leadership pipeline for their global expansion.
Local companies with a strong track record of growth, high commitment to nurture young talent and the ambition to scale globally, can find out more about SGEP at www.enterprisesg.gov.sg/SGEProgramme. Fresh and recent graduates with an entrepreneurial spirit and keen to join a local company on its internationalisation journey can visit www.enterprisesg.gov.sg/SGEP for more information.
Source : Enterprise Singapore
Photo Credit : Ministry of Trade and Industry, Singapore