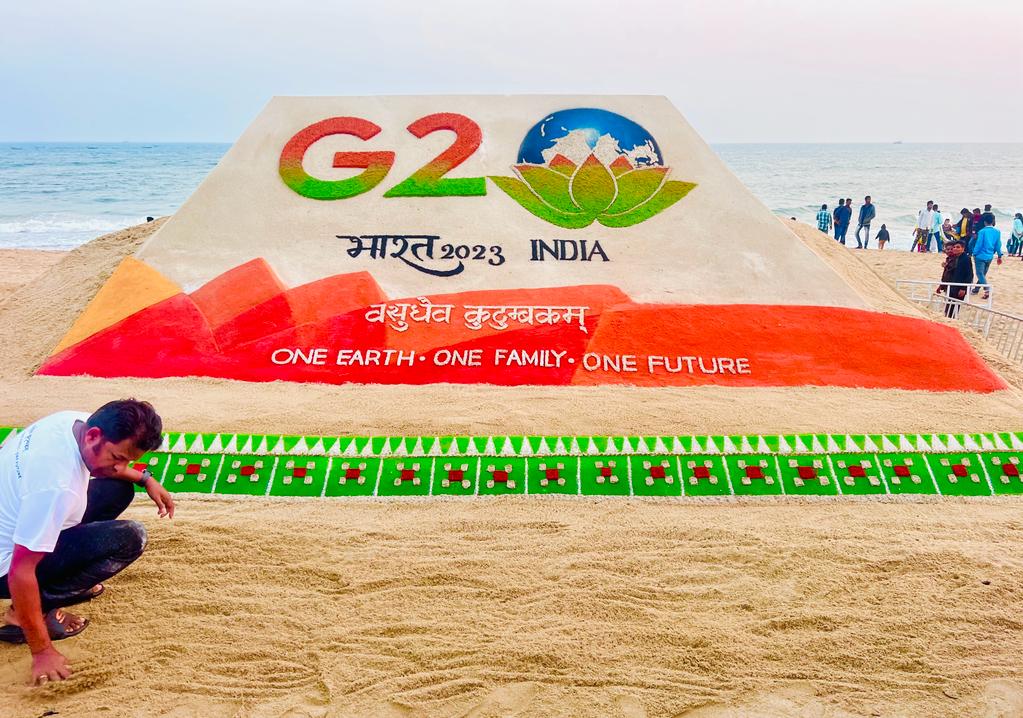 On November 26, 2022, a briefing for the Resident Heads of Mission of the G20 member countries, invited guest countries, and International Organizations was held in Swaraj Dweep, Andaman & Nicobar Islands, in preparation for India taking over the G20 Presidency on December 1, 2022. The program drew participation from over 40 missions and international organizations. G20 Sherpa Shri Amitabh Kant and Chief G20 Coordinator Shri Harsh Vardhan Shringla provided them with in-depth explanations of the substantive, operational, and logistical aspects of various G20 interactions during India's Presidency.
The theme of India's G20 Presidency, "Vasudhaiva Kutumbakam," or "One Earth, One Family, One Future," served as a reminder to the Heads/Representatives of Missions of Prime Minister Shri Narendra Modi's vision for India's G20 Presidency. India's Presidency will be "inclusive, ambitious, decisive, and action-oriented," the G20 Sherpa recalled the Prime Minister saying at the G20 Bali Summit. The briefing covered shared priorities in areas like (i) public digital goods and digital infrastructure; (ii) climate action, climate finance, and technology collaborations; (iii) clean, sustainable, just, affordable, and inclusive energy transition; (iv) accelerated progress on sustainable development goals; (v) women-led development; and (vi) multilateral reforms. All of these issues were discussed in the context of the numerous challenges the world faces today.
Missions were briefed by the Chief G20 Coordinator on the extensive preparations made for the G20 meetings taking place all over India as well as the procedures for delegate participation. The 14th anniversary of the Mumbai terrorist attacks and India's Constitution Day are also observed on this day, he recalled, underscoring the significance of uniting to confront common challenges around the world.
The representative of the Department of Economic Affairs also gave a summary of the current discussions on the finance track and their methodology.
Following the briefing, the OSD for Operations, Shri Muktesh Pardeshi, and the AS for the G20, Shri Abhay Thakur, responded to a number of questions from Missions regarding travel, visas, protocol, security, and participation of invitees.
Chief Secretary Shri Keshav Chandra gave a thorough presentation to heads of missions on the development, history, and cultures of the Andaman and Nicobar islands. The intricate plans the Union Territory put in place to ensure the success of the meeting were praised by the delegates.
Along with the briefing, the delegates participated in yoga and then a beach cleanup activity to demonstrate their support for the environment, sustainable living, and the One Earth philosophy. Delegates also went to Port Blair's historic Cellular Jail, which served as a prison for many of our unsung heroes during the struggle for freedom. A cultural program featuring regional artists marked the end of the visit.
The visiting Heads/Representatives of Missions expressed their appreciation for the diplomatic briefing in the stunning and historic Swaraj Dweep of the Andaman & Nicobar Islands as the G20 Presidency moves to India from their neighbor across the Andaman Sea.