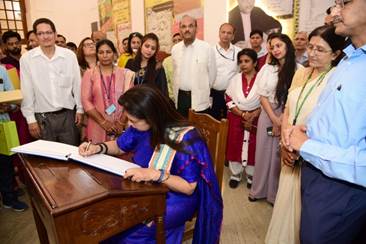 Minister Meenakashi Lekhi inaugurates exhibition celebrating India's linguistic diversity and showcases ancient Gilgit Manuscripts at the National Archives of India.
Minister of State for Culture, Smt. Meenakashi Lekhi, inaugurated a captivating exhibition today at the National Archives of India in New Delhi. The exhibition, titled "Hamari Bhasha, Hamari Virasat" (Our Language, Our Heritage), is a remarkable initiative under the Azadi Ka Amrit Mahotsav (AKAM) to commemorate the 75th International Archives Day.
The primary objective of this exhibition is to celebrate and showcase the cherished heritage of India's linguistic diversity as a nation. India is blessed with an extraordinary array of languages, making it one of the most linguistically diversified countries in the world. Out of the 7,111 languages spoken globally, approximately 788 are spoken in India alone. This linguistic richness places India alongside Papua New Guinea, Indonesia, and Nigeria as one of the four most linguistically diverse nations.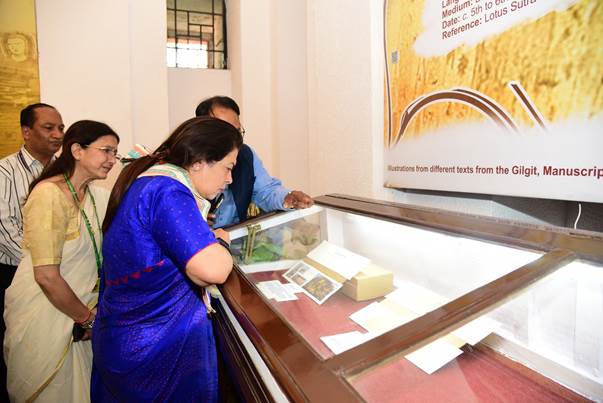 During the inauguration ceremony, Minister Meenakashi Lekhi expressed her delight at the occasion of International Archives Day. She highlighted that the National Archives of India has made available the Gilgit Manuscripts, dating back to the 5th and 6th centuries CE, which are the oldest surviving manuscript collection in the country. These manuscripts, written on birch bark folios found in the Kashmir region, contain both canonical and non-canonical Jain and Buddhist works. Minister Lekhi emphasized the importance of introducing the younger generation to these historical manuscripts.
Moreover, she commended the National Archives of India for their efforts in making over 72,000 manuscripts accessible through digitization. This digitization process will allow these invaluable documents to reach people worldwide and provide younger generations with an opportunity to explore and learn from them.
The exhibition features a curated selection of original manuscripts from the National Archives of India, including the birch-bark Gilgit manuscripts, Tattvartha Sutra, Ramayana, Srimad Bhagwad Gita, and other significant texts. It also includes official government files, proscribed literature from the colonial era, private manuscripts of eminent personalities, and a collection of rare books housed in the NAI Library.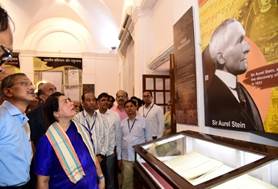 The Gilgit Manuscripts, discovered in the Naupur village of the Gilgit region, are among the oldest in the world. They were first announced by archaeologist Sir Aurel Stein in 1931. The exhibition provides insights into the vast corpus of archival records representing the diverse languages spoken across India.
As India celebrates 75 years of independence, this exhibition pays tribute to the linguistic diversity that defines the nation. The languages of India have fascinated not only those who speak them but also foreign scholars who have conducted extensive studies, such as the Linguistic Survey of India. The exhibition will be open for public viewing until July 8, 2023, from 10:00 am to 5:00 pm, including Saturdays, Sundays, and national holidays.
The National Archives of India, originally known as the Imperial Record Department, was established on March 11, 1891, in Kolkata (formerly Calcutta). Following the transfer of the capital to Delhi in 1911, the present building of the National Archives was constructed in 1926, designed by Sir Edwin Lutyens. The transfer of all records from Calcutta to New Delhi was completed in 1937. As the nodal agency for the implementation of the Public Records Act, 1993, and Public Record Rules, 1997, the National Archives of India safeguards and manages an extensive collection of records. This collection includes files, volumes, maps, presidential assented bills, treaties, rare manuscripts, oriental records, private papers, cartographic records, Gazettes and Gazetteers, census records, assembly and parliament debates, proscribed literature, travel accounts, and more. A significant portion