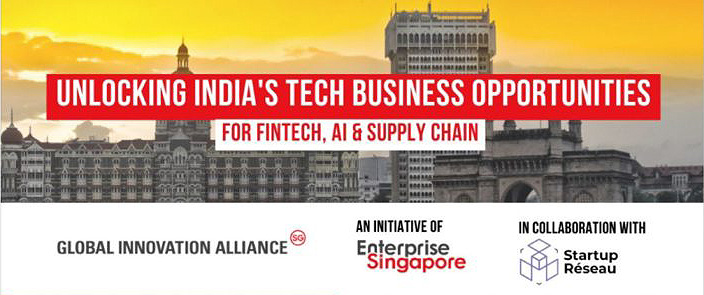 The GIA Mumbai Acceleration Program, an initiative of EnterpriseSG and powered by Startup Reseau, shows how Singapore-based companies can enter India's rapidly expanding digital markets, such as supply chain, artificial intelligence, and finance.
Looking for IT business opportunities in India? Your entry into India's rapidly expanding digital industries, such as artificial intelligence (AI), fintech, and supply chain, can be accelerated through the Global Innovation Alliance (GIA) Mumbai Acceleration Program that is starting on 9th March 2023 which is powered by Startup Réseau.
Participants will be able to gain knowledge about the business climate and opportunities in India from this event, as well as business advice from influential figures in the field like Maersk and HDFC Bank. Attendees will also be able to comprehend how the GIA Program can assist them to generate business leads and facilitate entry into India.
The following two sessions will be held on 9th March 2023:
Session 1 (Fintech)
Time: 2.30 PM to 4 PM SGT
Session 2 (AI and Supply Chain)
Time: 4.30 PM to 6 PM SGT
Visit https://form.gov.sg/63eb1ef813cac1001284a6c for additional details on the program and how to apply.
Sourced from EnterpriseSG India's LinkedIn Post