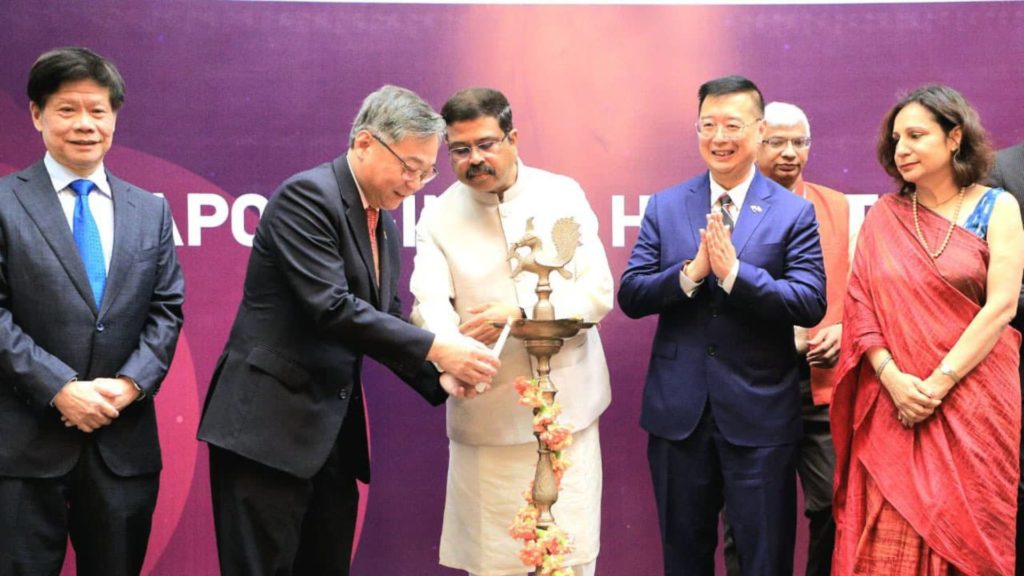 Young innovators from both countries will be using the Singapore-India Hackathon as a platform for solution finding and fostering collaborations
MR Dharmendra Pradhan, India's Minister of Education, Skill Development and Entrepreneurship along with Mr Gan Kim Yong, Singapore's Minister for Trade and Industry, launched the Singapore-India Hackathon (SIH) 2023 competition at New Delhi. The SIH 2023 is being held in India as part of the G20 activities, marking its return after the COVID-19 pandemic. It is a special initiative of Singapore to support the building goodwill and bilateral education cooperation in innovation and entrepreneurship between start-ups and students in both nations.
The finals of the Hackathon competition will be held in Gandhinagar, Gujarat on the side-lines of the G20 Finance Minister's Meeting from 3rd to 4th August 2023, in partnership with the High Commission of the Republic of Singapore in New Delhi, the Monetary Authority of Singapore (MAS), Confederation of Indian Industry (CII), Enterprise Singapore, SGInnovate and NTUitive. SIH 2023 would seek to advance the model of Singapore's and NTU's triple helix framework of government, industry, academic partnership.
SIH 2023 aims to foster collaboration between students and start-ups from both countries in the areas of fintech, sustainability and ESG. More than 200 participants from both nations will collaborate and work together in teams to develop impactful solutions for addressing climate change, financial connectivity and inclusion.
The first SIH was launched in Singapore by the Prime Minister of India Shri Narendra Modi and the Prime Minister of Singapore Mr Lee Hsien Loong in 2018 to harness and showcase the innovation potential of youth of the two countries. SIH continued in 2019 in India hosted by IIT Madras, conducted by Nanyang Technological University (NTU) and All India Council for Technical Education (AICTE).
SIH was envisioned by both prime ministers to provide a platform to young innovators to collaborate and find solutions to the most pressing challenges. The Hackathon offers a unique opportunity for Singapore and India to forward their economic development through collaboration in education, science and technology, and exchange of thoughtful leadership. Working and collaborating on projects involving varied skilled individuals helps develop cross country bonds and learn from each other's strengths as well as get acquainted with each other's culture, values and work ethics.
Sourced from High Commission of India in Singapore Facebook post, Singapore-India Hackaton dan PR Newswire site