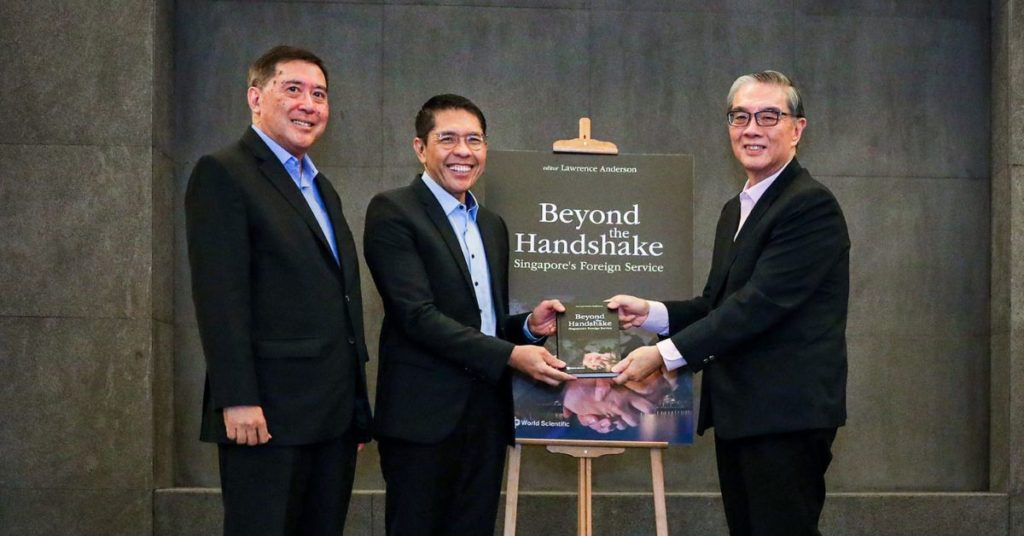 "Beyond the Handshake: The Singapore Foreign Service" Book Launch by Dr Mohamad Maliki Bin Osman, Second Minister for Foreign Affairs
'Beyond the Handshake: The Singapore Foreign Service' Took three years in the making. It is a lively record of the voices of 21 MFA colleagues who served with distinction to safeguard and advance Singapore's national interests since it gained independence in 1965.
Singapore achieved our independence in a different manner as compared to other new countries; It was "thrust upon us", so to speak, following our separation from Malaysia. We were required to immediately look into our security, defence, and economic development needs, with neither natural resources nor hinterland, only our wit and our people" said Dr Mohamad Maliki Bin Osman, Second Minister for Foreign Affairs while launching the book.
Elaborating further the minister said: "At the same time, we had to focus on ensuring our security, as well as building up the country, and catering to the needs of our people at home. We had to gain international recognition of Singapore as an independent sovereign state, and rely on our ability to attract foreign investments, trade, management and technical skills to help create jobs for Singaporeans.
The credit for our successful transition from those early days to what we are now – a vibrant and world-class city-state – is often attributed to the leadership of our founding fathers and leaders who followed later. Less well-known is the part played by the men and women of our foreign service.
So, 'Beyond the Handshake', the book that we are launching today, tries to close that gap by sharing what some of them did to protect and advance Singapore's interests. The names of the contributors might not be familiar to most Singaporeans, but I have met and worked with many of them, and have full respect for them, during my tenure here at the Ministry of Foreign Affairs, first as Senior Minister of State and now as Second Minister. They are extraordinary people, dedicated Singaporeans, and I am happy to see several of them in the audience today.
I want to commend RSIS for coming up with the idea of publishing this book, and bringing it to fruition. All the contributors have spent many years working overseas and in Singapore to fulfil their respective missions, and it was illuminating to read their stories and reflections. I am sure you will find it as illuminating too.
This book is timely because it traces how foreign policy has evolved alongside Singapore's transformation through the years.
We all know, a career in MFA is very challenging, to say the least: long hours, urgent demands, frequent travel, extended time away from home, and heading into or staying put even when the situation or environment in foreign lands worsen. All these take a toll on personal lives, way beyond the demands of most jobs. We are grateful for the unwavering dedication and personal sacrifices of generations of MFA officers."
Sourced from Ministry of Foreign Affairs site