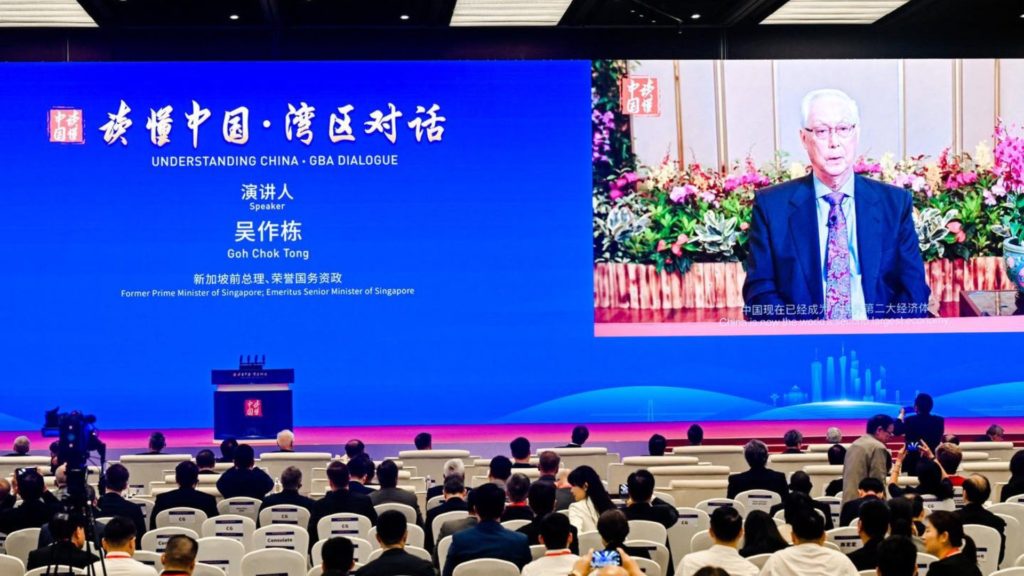 Emeritus Senior Minister (ESM) Goh Chok Tong highlighted opportunities for ASEAN-China cooperation and expressed concern over US-China strategic tensions at the Understanding China-Greater Bay Area Dialogue in Guangzhou
ESM Goh Chok Tong delivered pre-recorded remarks at the opening ceremony of the Understanding China-Greater Bay Area Dialogue organised by the China Institute for Innovation and Development Strategy in Guangzhou on 19th April 2023. The theme of the Dialogue was "Chinese Modernization and New Opportunities for the World". In his address, Mr. Goh highlighted the significant role Singapore played in China's modernization journey and the opportunities for ASEAN countries to deepen their ties with China for mutual benefit. He also expressed concern over the growing strategic tensions between the US and China, which could lead to a bifurcation in the technological and economic systems.
As China continues to develop and open up to the world, ASEAN countries are well-positioned to seize the opportunities for "win-win" outcomes. ASEAN is home to 680 million people, with a growing middle class and vast consumer market. Collectively, ASEAN is the 5th largest economy in the world, and ASEAN and China are now each other's biggest trading partners. Two-way investment flow between ASEAN and China exceeds US$340 billion, and there is still potential for ASEAN and China to deepen their ties.
Moreover, ASEAN and China can also expand their cooperation to emerging sectors, such as in the digital economy. The size of China's digital economy more than doubled in the last six years, and it now makes up about 40% of its GDP. Similarly, ASEAN is the fastest growing internet market in the world, and there is scope for both sides to cooperate in this area, including through inter-operability of e-commerce platforms and further facilitation of cross-border trade, among others. Therefore, ASEAN and China can deepen their ties in the digital economy for mutual benefits.
Sourced from Singapore MFA