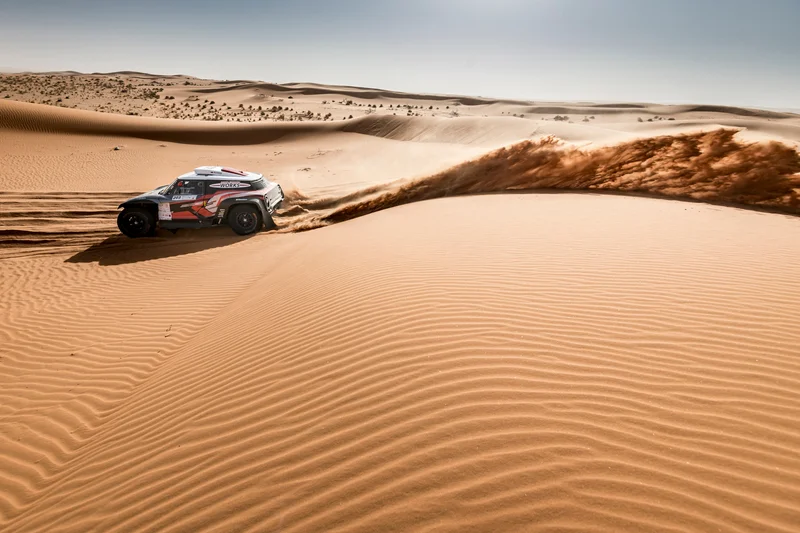 Prince Fahd bin Sultan bin Abdulaziz inaugurates the Tabuk-NEOM Rally, an adrenaline-fueled desert race set to captivate automotive enthusiasts globally.
Prince Fahd bin Sultan bin Abdulaziz, the Governor of Tabuk Region, alongside Prince Khalid bin Sultan bin Abdullah bin Faisal, the Chairman of the Board of Directors of the Saudi Automobile and Motorcycle Federation (SAMF) and the Chairman of the Board of the Saudi Motorsports Company, kick-started the highly anticipated Tabuk-NEOM Rally today. This inaugural edition of the rally serves as the second round of the esteemed 2023 Saudi Toyota Desert Rally Championship, meticulously organized by SAMF.
The illustrious launch took place at the prestigious King Khalid Sports City in Tabuk, creating a fitting backdrop for the adrenaline-fueled event. Prince Khalid bin Sultan graced the ceremony with an inspiring speech, praising the monumental achievements realized under the patronage of the Custodian of the Two Holy Mosques and His Royal Highness Prince Mohammed bin Salman bin Abdulaziz Al Saud, the Crown Prince and Prime Minister. Prince Khalid also acknowledged the unwavering support provided by the Tabuk governor in facilitating rally activities within the region. Esteemed guests, including the Undersecretary of Tabuk Region for Security Affairs, Ahmed bin Mabrouk Al-Hujaili, and representatives from various government sectors in the region, were present to witness the momentous occasion.
The show stage commenced shortly after, featuring an impressive lineup of 23 cars, 12 motorcycles, and three four-wheeled "Quad" motorcycles. Each participant successfully underwent rigorous technical examinations and administrative documentation processes to ensure compliance and safety. The show stage, spanning an exciting distance of 3.52 kilometers, served as a captivating prelude to the thrilling subsequent stages scheduled for the following day.
The Tabuk-NEOM Rally stands as a testament to the harmonious collaboration between the event's organizers, the Ministry of Sports, official sponsor Abdul Latif Jameel Motors, and strategic sponsor Saudi Investment Bank (SAIB). By joining forces, these influential entities have created a platform for both seasoned and aspiring motorsport enthusiasts to indulge in their shared passion for exhilarating desert racing.
As the rally unfolds, the anticipation continues to build, attracting the attention of high-end market aficionados from around the world. With its awe-inspiring landscapes, cutting-edge technology, and a star-studded lineup of participants, the Tabuk-NEOM Rally promises to captivate the imaginations of automotive enthusiasts and thrill-seekers alike.
Stay tuned for more updates and prepare to witness the unrivaled spectacle that is the Tabuk-NEOM Rally, where motorsport prowess and the splendor of the desert converge to create an unforgettable experience for all.
Sourced by Saudi Press Agency