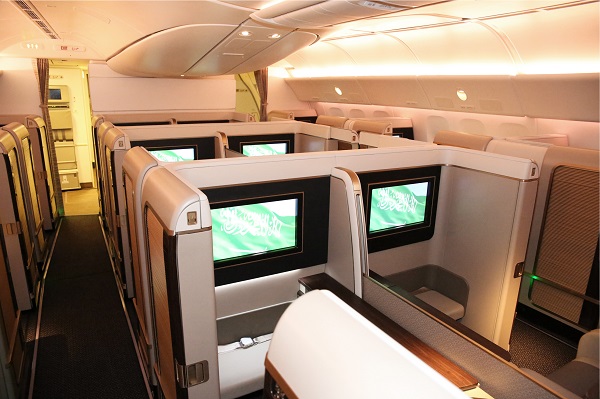 SAUDIA takes flight to Singapore, unlocking a world of vibrant culture, stunning architecture, and culinary delights for eager travelers.
SAUDIA (Saudi Arabian Airlines), the national airline of Saudi Arabia, is set to provide even more travel opportunities for tourists and international travelers with its enhanced services to Singapore. This bustling city-state is a popular destination known for its vibrant culture, stunning architecture, and world-class attractions.
Starting from October 29, SAUDIA will increase its weekly flights from Jeddah to Singapore. Currently operating three frequencies per week, the airline will add one more flight, bringing the total to four. This expansion allows travelers to experience the enchanting charm of Singapore more frequently, making it easier than ever to explore its diverse neighborhoods, iconic landmarks, and delectable cuisine.
Passengers flying from Jeddah to Singapore will enjoy a comfortable and luxurious journey onboard SAUDIA's state-of-the-art Boeing 787-900 Dreamliner. This modern aircraft features lie-flat seats in Business Class, ensuring a restful and rejuvenating experience for discerning travelers. In addition, the spacious Guest Class (Economy) seating provides ample legroom and comfort for all passengers.
As you embark on your journey to Singapore, prepare to be captivated by the city's awe-inspiring sights. Marvel at the futuristic skyline dominated by architectural marvels like the Marina Bay Sands and Gardens by the Bay. Explore the vibrant neighborhoods of Chinatown, Little India, and Kampong Glam, where you can immerse yourself in the rich cultural heritage and indulge in mouthwatering culinary delights.
Singapore's world-renowned attractions are not to be missed. Take a stroll along the iconic Orchard Road, a shopper's paradise offering a plethora of high-end boutiques and retail outlets. Discover the enchanting world of wildlife at the Singapore Zoo and the Night Safari, where you can get up close and personal with exotic animals. Unwind and relax in the tranquil oasis of the Botanic Gardens, a UNESCO World Heritage Site, or soak up the sun at the pristine beaches of Sentosa Island.
SAUDIA's increased frequency to Singapore allows travelers to take full advantage of everything this vibrant city-state has to offer. Whether you're a food enthusiast, shopaholic, nature lover, or history buff, Singapore has something for everyone. The city's efficient public transportation system makes it easy to navigate and explore all the attractions, ensuring a seamless and memorable travel experience.
SAUDIA takes pride in providing exceptional service and comfort to its passengers. With its modern fleet, including the Boeing 787-900 Dreamliner, the airline ensures a pleasant and enjoyable journey for travelers from Jeddah to Singapore and beyond. Passengers can look forward to experiencing SAUDIA's renowned hospitality, state-of-the-art inflight entertainment, and the convenience of onboard WiFi.
Don't miss the opportunity to discover the captivating allure of Singapore with SAUDIA. Plan your trip and immerse yourself in the vibrant culture, tantalizing flavors, and extraordinary experiences that await you in this remarkable city-state. SAUDIA's additional seat capacity and frequencies make it easier than ever to embark on an unforgettable journey to Singapore.