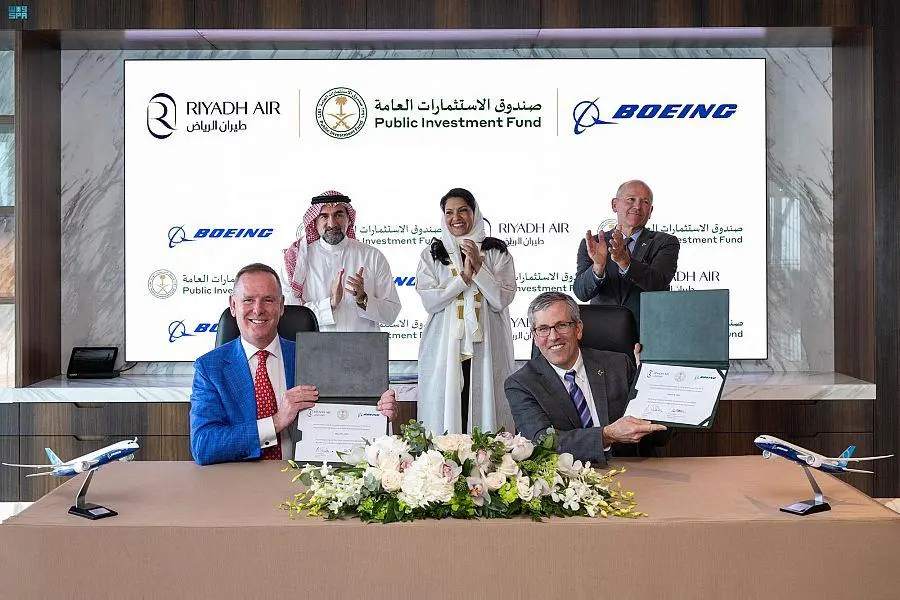 Riyadh Air's monumental Boeing order propels Saudi Arabia towards global aviation dominance, captivating tourists with its commitment to sustainability and unrivaled hospitality.
Riyadh Air, the new world-class airline launched by the Public Investment Fund (PIF), has placed an extraordinary order for up to 72 Boeing 787-9 Dreamliner airplanes. This multi-billion dollar deal signifies Saudi Arabia's determination to become a global aviation hub.
Saudi Arabia's strategic plan to transform into an aviation hub gains momentum with this unprecedented order, totaling 121 787 Dreamliners. The goal is to serve 330 million passengers and attract 100 million visits by 2030, bolstering the country's tourism sector.
The economic impact of the deal is significant, supporting nearly 100,000 jobs in the United States and adding $20 billion to non-oil GDP growth in Saudi Arabia. Riyadh Air's focus on sustainability and compliance with noise regulations aligns with the country's environmental goals.
Riyadh Air, based in the vibrant capital city of Riyadh, aims to connect millions of travelers to over 100 destinations worldwide by 2030. With a commitment to digital innovation and authentic Saudi hospitality, the airline strives to offer an exceptional guest experience.
Yasir Al-Rumayyan, Governor of the PIF and Chairman of Riyadh Air, expressed excitement about enhancing Saudi Arabia's connectivity, while Stan Deal, President and CEO of Boeing Commercial Airplanes, emphasized the long-standing partnership between Boeing and Saudi Arabia.
Tony Douglas, CEO of Riyadh Air, highlighted the airline's commitment to digital innovation and authentic Saudi hospitality, creating a seamless travel experience. The first deliveries of the new fleet are scheduled for early 2025.
The establishment of Riyadh Air aligns with the PIF's mandate to diversify Saudi Arabia's economy, supporting the Saudi Aviation Strategy and the National Tourism Strategy, which aims to attract international tourists and create new jobs.