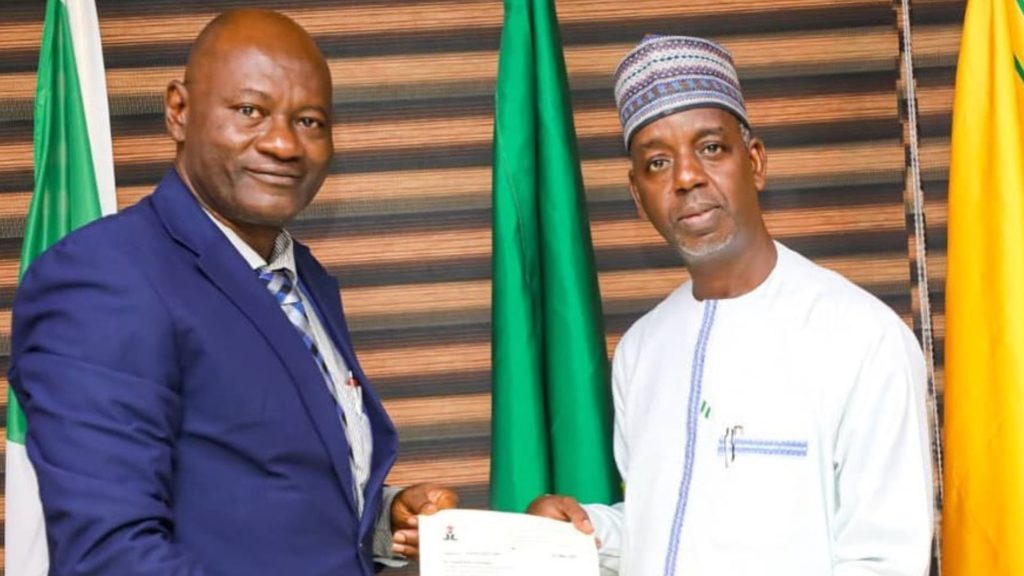 Dr. Joseph Peter Ochogwu appointed as the new Director General of the Institute for Peace and Conflict Resolution, bringing vast experience and innovative approaches to Nigeria's peacebuilding efforts.
In a significant development in Nigeria's peace and conflict resolution landscape, Dr. Joseph Peter Ochogwu has been appointed as the new Director General of the Institute for Peace and Conflict Resolution (IPCR). The Permanent Secretary of the Ministry of Foreign Affairs, Ambassador Adamu Ibrahim Lamuwa, presented Dr. Ochogwu with the Letter of Appointment on 31st May, 2023. This appointment comes after the tenure of Bakut Twah Bakut came to an end.
Dr. Ochogwu brings a wealth of experience to his new role. Prior to becoming the Director General, he served as the Director of Research and Policy Analysis in the Institute. His expertise and innovative approach have been evident throughout his career, particularly in areas such as policy making, conflict resolution, peacebuilding, and countering violent extremism. His vast experience in research and program design, training, and program monitoring and evaluation make him well-equipped to lead the IPCR.
The newly appointed Director General has a distinguished background in academia and has been widely published on peacebuilding, security, democracy, and governance. He has been recognized for his contributions with various fellowships, including the prestigious British Government Chevening Fellow and the UN University of Peace/IDRC Africa Programme Doctoral Fellow. Dr. Ochogwu is also actively involved in the academic community, serving as a Visiting Associate Professor at the Nile University of Nigeria and Bingham University, as well as a Facilitator and Examiner with the National Open University of Nigeria (NOUN).
Moreover, Dr. Ochogwu's expertise is sought after by numerous international development partners in Nigeria, including the British Council, United States Institute for Peace, and the Konrad Adeneur Foundation. His extensive consulting work further underscores his influence and the recognition of his expertise in the field of peace and conflict resolution.
With his impressive track record and diverse experience, Dr. Joseph Peter Ochogwu is poised to lead the Institute for Peace and Conflict Resolution into a new era. His appointment marks a significant step in strengthening Nigeria's efforts towards peacebuilding, conflict resolution, and creating a more harmonious society. The nation can expect his leadership to foster innovative approaches and impactful initiatives that will contribute to sustainable peace and stability in the country.