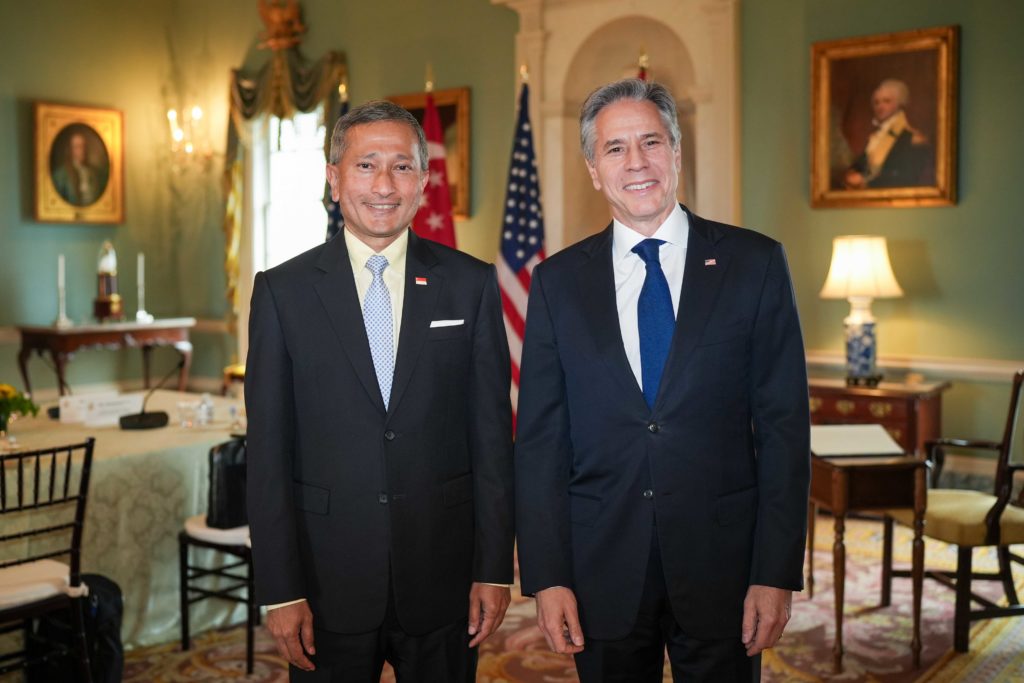 Singapore's Minister for Foreign Affairs, Dr Vivian Balakrishnan, met with US Secretary of State Antony J. Blinken to reaffirm their strong partnership, discuss regional challenges, and emphasize their commitment to a stable international order.
Minister for Foreign Affairs Dr Vivian Balakrishnan met US Secretary of State Antony J. Blinken on 16 June 2023. Both officials reaffirmed the excellent, long-standing, and close partnership between Singapore and the US, emphasizing their commitment to a stable, rules-based multilateral order. They welcomed new areas of bilateral cooperation in cybersecurity, climate change, and space. Minister Balakrishnan appreciated the US' engagement with the region and ASEAN, while Secretary Blinken expressed hope for a constructive visit to China.
During the Joint Press Availability, Minister Balakrishnan and Secretary Blinken announced the Updated US-Singapore Climate Partnership (USCP), which aims to intensify efforts in various areas of collaboration. The partnership focuses on regional energy transition, low- and zero-emission technologies, nature-based solutions and carbon markets, urban decarbonization and resilience, as well as capacity building. The Updated USCP demonstrates the ongoing commitment of both countries to address climate change.
In their discussions, Secretary Blinken mentioned his upcoming visit to China with three objectives: establishing open and empowered communication to manage the US-China relationship, advancing US interests and values while cooperating on transnational challenges, and exploring potential areas of cooperation. He emphasized the importance of Southeast Asian nations, including Singapore, in achieving a free, open, prosperous, secure, connected, and resilient Indo-Pacific.
Minister Balakrishnan highlighted the robust economic relationship between Singapore and the US and their expanded cooperation in areas such as cybersecurity and the Artemis Accords. He commended the US' regional engagement and expressed support for ASEAN centrality. They also discussed the ongoing conflict in Ukraine and the military coup in Myanmar, with Singapore condemning the coup and expressing concern for the ongoing violence.
The officials recognized the importance of the Indo-Pacific Economic Framework for Prosperity (IPEF) and the substantial progress made in its negotiations. They emphasized the critical role of the US in anchoring strategic engagement in the region. Minister Balakrishnan acknowledged the US' contributions to stability, peace, and economic growth in the Indo-Pacific, and expressed confidence in Secretary Blinken's visit to China.
During the question-and-answer session, Minister Balakrishnan addressed Singapore's position on engaging with Myanmar's military junta, stating that re-engagement at the summit or foreign minister level would be premature. He emphasized the need for reconciliation and dialogue while urging a reduction in violence. He also acknowledged concerns regarding arms shipments to Myanmar but highlighted that there were no indications of Singapore's involvement in such activities.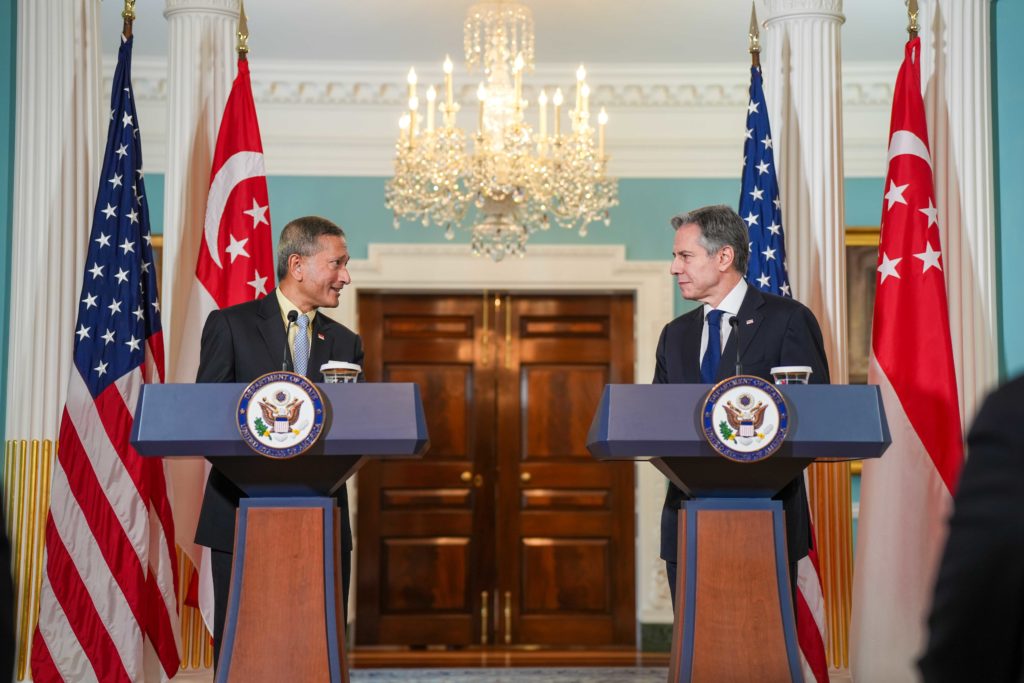 Secretary Blinken, when asked about ASEAN nations' role in stopping violence in Myanmar, emphasized the US' condemnation of the coup and ongoing support for sanctions against those perpetrating atrocities. Regarding Thailand, he expressed concerns about the Thai military's attempt to cling onto power despite election results and reaffirmed the US commitment to democracy and human rights.
In summary, the meeting between Minister Balakrishnan and Secretary Blinken highlighted the strong partnership between Singapore and the US, their cooperation in various areas, and their shared commitment to a stable and rules-based international order. They discussed regional and global challenges, including the situations in Ukraine and Myanmar, as well as the upcoming visit to China by Secretary Blinken.