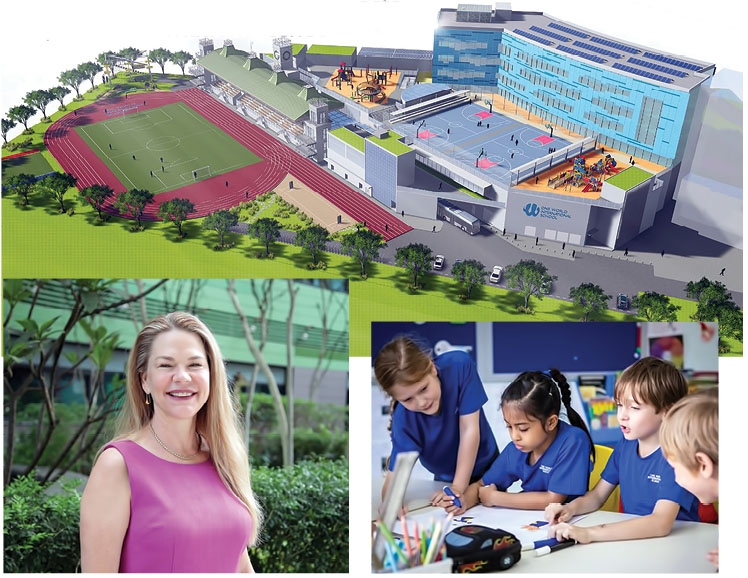 One World International School (OWIS) is set to open doors for its Digital Campus* in Punggol this August 2023 — a state–of-the-art campus spread over 20,000 square metres of land with a student capacity of 1,500. Designed by Japanese architects, this stunning campus will offer an exceptional international school environment and cutting-edge infrastructure
IMMERSING students in a world of limitless possibilities, OWIS Digital Campus* embraces cutting-edge infrastructure and innovative design concepts. Each space within the campus has been thoughtfully planned not only to facilitate the learning process but also to nurture collaboration, ignite creativity and cultivate the holistic development of students, shaping them to be compassionate, responsible and thoughtful global citizens.
With an unwavering commitment to educational excellence, OWIS ensures that this new futuristic campus provides an unparalleled learning experience. Every aspect, from the technology-enabled classrooms to the well-equipped studio labs and smart libraries, has been carefully crafted to foster an optimal environment for knowledge acquisition and exploration.
Future-Focused Classrooms
To ensure students have access to the latest resources and applications, the upcoming campus will boast smart classrooms that are outfitted with next-generation educational technology. From interactive LED screens to advanced audio and visual systems, outstanding classrooms will provide students with a holistic learning experience.
World-Class Sports Facilities
The Digital Campus* will proudly showcase a magnificent stadium which can accommodate seating over 1,000 spectators for large-scale events. From this vantage point, students can enjoy a panoramic view of various sports facilities, including the oval running track, football field, sprint track, cricket practice pitch, archery range and other sports fields. Additionally, students will get to enjoy a 1400-seat multi-purpose hall that can be transformed into two spacious indoor basketball courts.
Recreational Spaces
A well-equipped fitness centre and an expansive recreation area will be provided for students to work out, play, relax and connect with friends. There will also be play areas carefully partitioned into four playground zones — Early Years Discovery Zone, Pirate's Cove, Creative Playground and Adventure Park — these play spaces are all designed to cater to different age groups.
Innovative Skills Studios
The campus will also feature the finest skills studios designed to help students hone their talents, gain practical knowledge and build new skills across a wide range of disciplines. The STEM labs will provide students with hands-on experience in areas such as science, technology, performing arts, visual arts, engineering, electronics, robotics and mathematics. These dedicated studio labs will provide an immersive learning environment where students can explore, experiment and enhance their skills under the guidance of expert instructors.
Pioneering Sustainability for a Greener Future
Recognising the urgent need to protect the environment and create a sustainable future, OWIS Digital Campus* will cater to sustainability in all aspects of its operations. The building itself has been awarded Gold by the BCA Green Mark scheme for its sustainability features. It will implement eco-friendly practices such as urban farming, vertical gardens, renewable energy and energy-efficient features.
Carrying Forward the Legacy of OWIS
The campuses of OWIS have consistently been associated with a commitment to educational excellence and a nurturing atmosphere. In line with OWIS Suntec and OWIS Nanyang, OWIS Digital Campus* will embrace a set of core values that permeate every aspect of student education — multiculturalism, collaboration, learning, service and relationships. By nurturing these core values, OWIS empowers students with the skills and knowledge essential for thriving in a rapidly changing world.
"At OWIS Digital Campus*, we will create a personalised learning approach to meet the learning needs of every child," says Mrs Angela Henderson, Principal of Lower School. "We take pride in practising kindness and inclusivity, and we will encourage students to undertake service projects within and outside of the campus to help them gain a great appreciation of how every small act of kindness can make a difference in the world."
OWIS Digital Campus* would like to extend a warm welcome to young learners in Early Childhood through Grade 8, covering ages 3 to 14 years. With plans to expand up to Grade 12; OWIS aims to provide a comprehensive educational journey for students.
OWIS corporate and community partners also enjoy an exclusive discount under its Corporate Connect Programme. To know more please contact corporate.connect@owis.org
Launch note: The proposed site for the international school that that is scheduled to open in August 2023 is still subject to regulatory approvals.