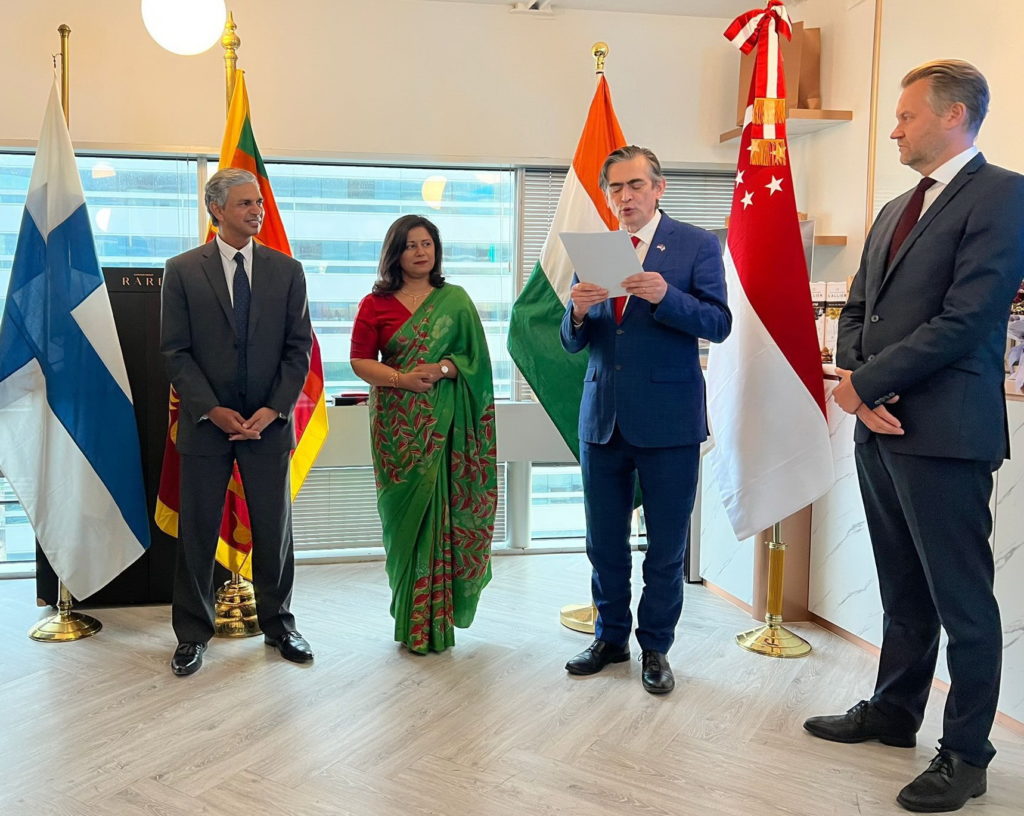 (Second from right): Dean and ambassador of Mexico H.E. Agustin Loaez read the citations and presented mementos to (from left) H.E. Periasamy Kumaran (India) and H.E. Sumadhurika Sashikala Premawardhane (Sri Lanka) and (far right) H.E. Antti Tapani Vanska (Finland)
The Diplomatic and Consular Corps of Singapore (DCCS) hosted a farewell reception for the three departing heads of missions of Finland, India and Sri Lanka. The Dean of the DCCS H.E. Agustin Loaez paid tribute to the impact they have made among members of the Corps as well as the work they have done in the City-state
SINGAPORE, 18th July 2023 – The Diplomatic and Consular Corps of Singapore (DCCS) bid a heartwarming farewell to three esteemed members, the Ambassador from Finland, H.E. Antti Tapani Vanska, and the High Commissioners of India, H.E. Periasamy Kumaran, and Sri Lanka, H.E. Sumadhurika Sashikala Premawardhane. Their distinguished service to their respective nations has left an indelible mark on Singapore, and their contributions were celebrated with warmth and admiration.
As the Dean of the DCCS, H.E. Agustin Loaez, who is also the Ambassador of Mexico, lauded the departing diplomats, he emphasized their significant impact on bilateral and multilateral relationships:
"They carried their duty with wisdom, great leadership, and expertise, enhancing their bilateral relationships with the host country, plus strengthening the multilateral relationships with our countries."
To commemorate their outstanding contributions, each diplomat was awarded a special DCCS commemorative plaque during the farewell ceremony.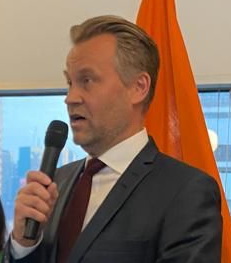 H.E. Antti Tapani Vanska, the Ambassador of the Republic of Finland (above row, far left), was praised for fostering an increase in the synergy of talent between Finland and Singapore. Ambassador Loaez highlighted the exchange of Finnish companies' activities in Singapore and Singaporean companies' growing interest in the Finnish start-up scene and investments.
H.E. Periasamy Kumaran, the High Commissioner of the Republic of India (above row middle), was recognized for his exceptional leadership, especially during the challenges brought on by the COVID-19 pandemic. His presence and dedication were particularly valued in a country with a significant number of Singaporeans of Indian descent, as well as a thriving Indian expatriate community.
H.E. Sumadhurika Sashikala Premawardhane, the High Commissioner of the Democratic Socialist Republic of Sri Lanka (above row, far right), was praised for her remarkable contributions to woman empowerment and equality. She received the Career Achievement-Public Sector Award in Sri Lanka and the Maldives and has been an enthusiastic, dedicated, and multi-talented diplomat.
During her farewell speech, H.E. Sumadhurika Sashikala Premawardhane expressed gratitude for the support she received from her diplomatic colleagues during challenging times:
"And it's been a challenging time, I would say, because of COVID and post-COVID Sri Lanka went through political, social upheavals and throughout that time I think I really appreciate the support that was given to me by my colleagues in the diplomatic corps who stood by Sri Lanka and I really appreciate each and every one of you and the friendship and the support that you gave to me personally and also to my country."
H.E. Periasamy Kumaran, reflecting on his three-year tenure in Singapore, emphasized the importance of the strong bilateral relationship between India and Singapore:
"Singapore is a very important account for India, a diplomatic account. We have a very, very large bilateral relationship that spans many areas of the economy, politics, culture, trade, etc."
Despite facing the challenges posed by the COVID-19 pandemic, H.E. Kumaran expressed his gratitude for the support and warmth received during their time in Singapore.
H.E. Antti Tapani Vanska shared his appreciation for the companionship and community within the diplomatic corps:
"What I will most remember four years in Singapore is definitely this companionship, this community, your great friendship, dear Agustin. This is the group that I belong to. I have not taken many souvenirs from Singapore to Finland, but I have very strong memories of you, each and every one of you. And you are the ones that I will be thinking of back in Finland."
In his speech, H.E. Vanska expressed his joy in returning to Finland, accompanied by the fond memories and friendships made during his time in Singapore.
The farewell ceremony was a testament to the strong ties that have been forged between Singapore and Finland, India, and Sri Lanka. The departing diplomats' dedication to fostering international relations will undoubtedly leave a lasting impact on the diplomatic community in Singapore. As they bid farewell to their posts, the Diplomatic and Consular Corps of Singapore and their fellow diplomats around the world look forward to welcoming the next generation of leaders to continue building bridges and strengthening global connections.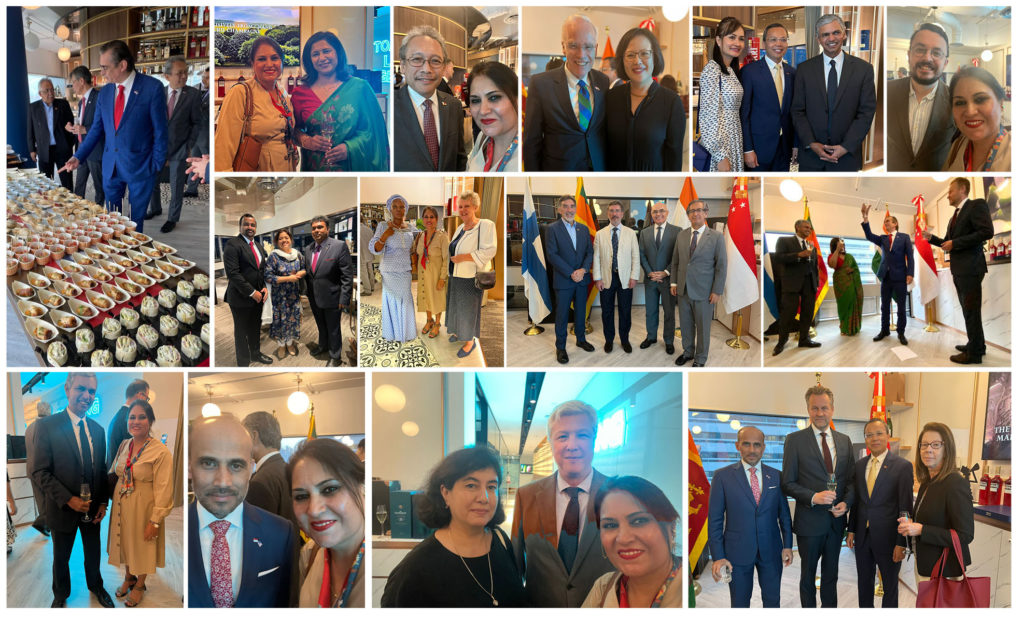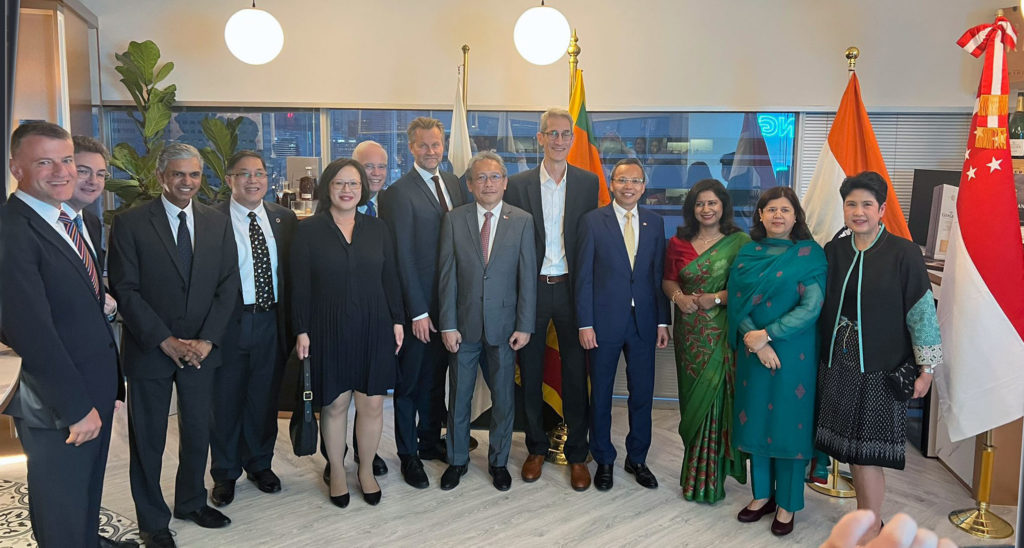 (Montage and above): Members of the diplomatic community in Singapore came together to reminisce and say "till we meet again!"