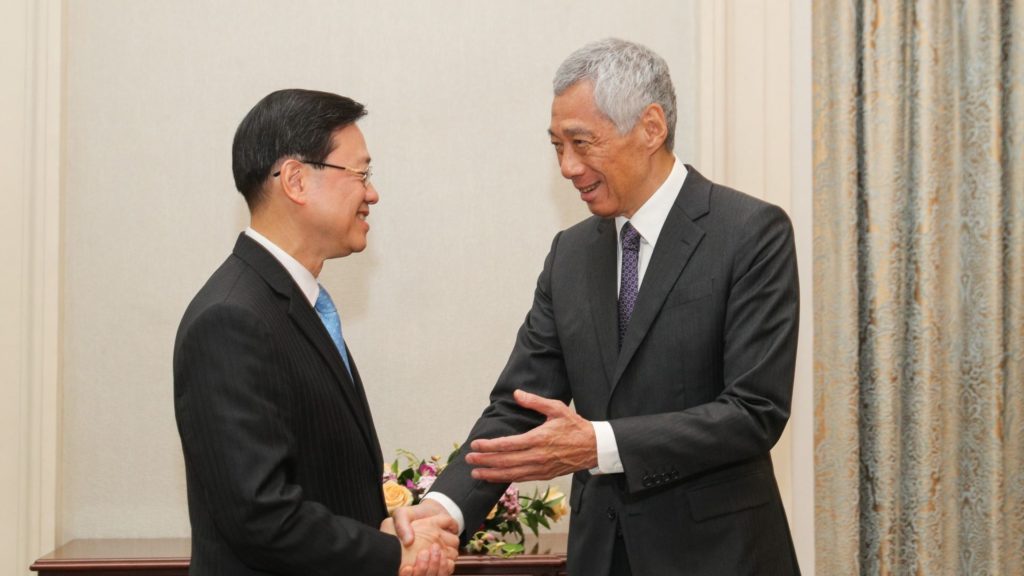 On July 24, Singapore's Prime Minister Lee Hsien Loong and Hong Kong's Chief Executive John Lee reaffirmed strong ties and explored deeper cooperation in trade, culture, innovation, and more.
A momentous meeting took place in Singapore as Prime Minister Lee Hsien Loong hosted Mr. John Lee, Chief Executive of the Hong Kong Special Administrative Region, for a lunch gathering. The primary purpose of this meeting was to reaffirm the close and longstanding relations between Singapore and Hong Kong.
During the lunch meeting, both leaders engaged in discussions and dialogues, acknowledging the challenges faced by their respective global cities. They explored ways to further deepen bilateral cooperation between the two nations.
Trade and investment were among the key topics of conversation. Prime Minister Lee and Chief Executive Lee emphasized the importance of enhancing economic ties and capitalizing on each other's strengths to promote growth and prosperity in their regions.
Art and culture also took center stage during the meeting. The leaders recognized the significance of fostering cultural exchanges between Singapore and Hong Kong, as this could strengthen people-to-people connections and create a vibrant, cosmopolitan atmosphere in both cities.
Innovation and research emerged as important areas of mutual interest. Both Singapore and Hong Kong sought to collaborate on research projects and foster innovation ecosystems, thereby driving progress and advancements across various sectors.
The meeting celebrated the resumption of exchanges between the civil services of Singapore and Hong Kong. This resumption included the prestigious Permanent Secretaries Exchange Programme, which allows officials from both administrations to share expertise and best practices, ultimately strengthening governance and administrative capabilities.
Recognizing their roles as international financial centers, Singapore and Hong Kong delved into discussions on cooperation in fintech, information sharing, and supervisory and regulatory matters. Both sides acknowledged the importance of aligning their financial systems for mutual benefits and global economic stability.
Furthermore, the leaders acknowledged the complementarity of their roles in Southeast Asia and the Guangdong-Hong Kong-Macao Greater Bay Area. By leveraging their strengths and collaborating effectively, Singapore and Hong Kong aimed to create a more robust and interconnected economic region, benefiting not only themselves but also their neighboring areas.
In addition to the lunch meeting, Chief Executive Lee was hosted to breakfast by Deputy Prime Minister and Minister for Finance Lawrence Wong. This additional meeting further underscored the warm and friendly ties between the two cities, emphasizing mutual respect and appreciation shared between the leaders and their nations.
The meeting between Chief Executive Lee and Prime Minister Lee served as a significant step in strengthening bonds and strategic planning between two globally important cities. As they explore opportunities to deepen cooperation in various areas, the prospects for a brighter, more interconnected future for Singapore and Hong Kong appear promising.