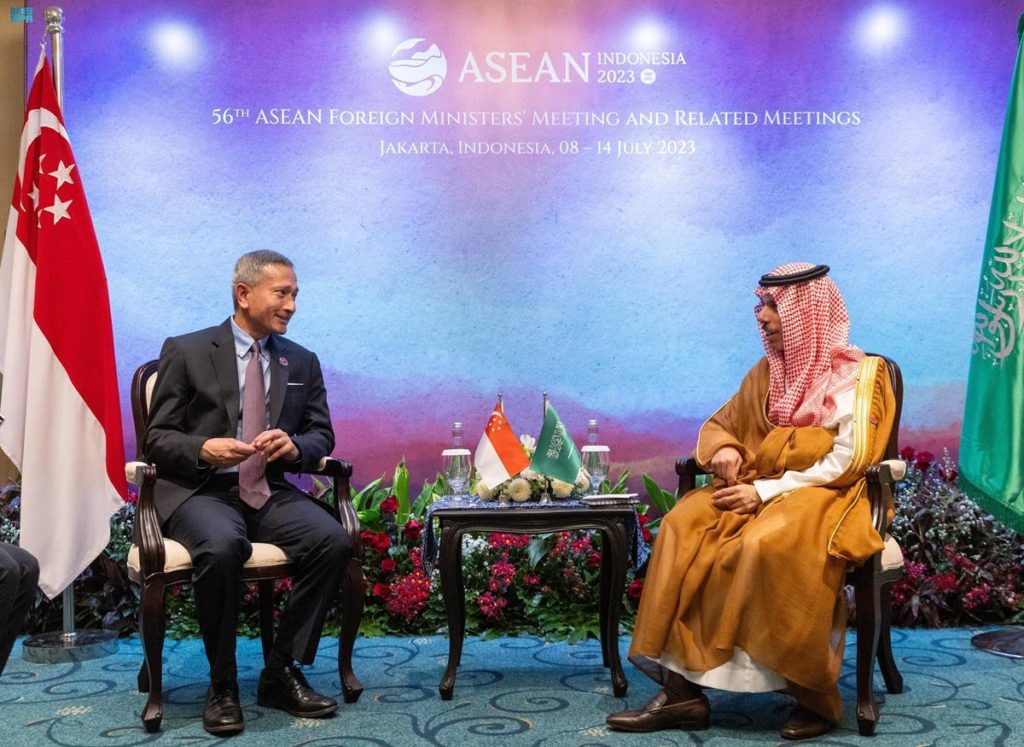 Singapore and Saudi Arabia forge stronger ties as they sign the Treaty of Amity and Cooperation, promising to elevate bilateral relations and enhance regional coordination.
In a momentous meeting on July 12, Singapore's Minister of Foreign Affairs Dr. Vivian Balakrishnan and Saudi Arabia's Foreign Affairs Minister Prince Faisal bin Farhan bin Abdullah convened in Jakarta for the signing of the instrument of accession to the Treaty of Amity and Cooperation in Southeast Asia (TAC) by the Kingdom of Saudi Arabia. The gathering marked a crucial milestone in the bilateral relations between the two nations, as they reaffirmed their commitment to strengthen ties in various areas of mutual interest. Saudi Ambassador to the Republic of Indonesia, Faisal Al-Amoudi, also present in the meeting.
During the high-level talks, the officials reviewed the existing bilateral relations, which have been cordial for decades, and explored ways to elevate them to new heights. The discussions encompassed fields such as trade, investment, culture, security, and education, with a shared focus on fostering mutual growth and prosperity. This renewed commitment to cooperation bodes well for both countries as they aim to capitalize on untapped potential and explore new avenues for collaboration.
Beyond bilateral matters, the meeting also served as an opportunity to engage in candid dialogues about regional and international issues. With Singapore's strategic position in Southeast Asia and Saudi Arabia's pivotal role in the Middle East, the exchange of perspectives proved to be enlightening and constructive. The two nations pledged to enhance coordination and communication, ensuring that their interests and concerns are aligned on critical matters affecting the region and beyond.
Looking ahead, the world can expect closer and more proactive engagement between Singapore and Saudi Arabia, driven by shared values and a vision for a peaceful and prosperous future. As the world grapples with complex challenges, this strengthening partnership signals the enduring spirit of international cooperation. With dynamic leadership and a shared commitment to making a positive impact, Singapore and Saudi Arabia stand poised to set an example for the global community, blazing new trails of cooperation and understanding.