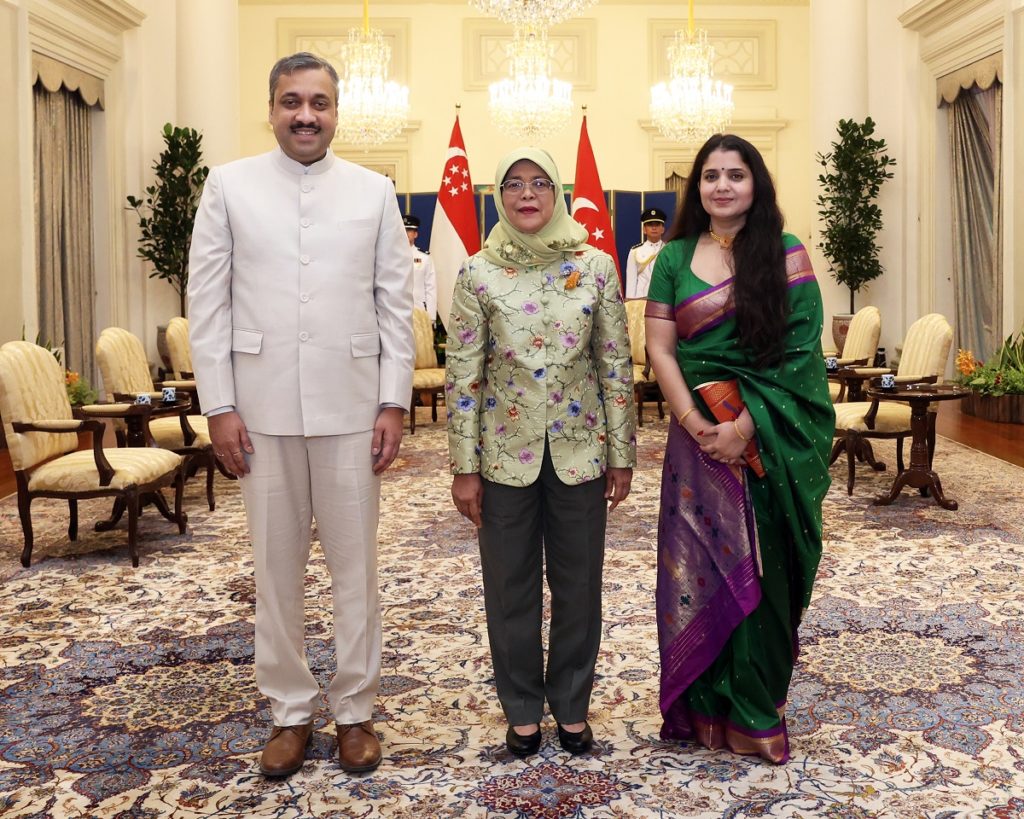 Indian High Commissioner, Dr. Shilpak Ambule, assumes diplomatic post in Singapore, bringing vast experience and expertise to strengthen bilateral ties.
Singapore, July 25, 2023 – In a ceremony at the Istana, His Excellency Dr. Shilpak Ambule presented his credentials to President Halimah Yacob, formally assuming the role of High Commissioner of the Republic of India to Singapore. The event marks the beginning of his diplomatic assignment in the vibrant island nation.
High Commissioner Ambule brings with him a wealth of experience and expertise in diplomacy and international relations. Prior to his appointment in Singapore, he served as the Head of the East Asia Division in the esteemed Ministry of External Affairs of India, concurrently holding the esteemed position of Joint Secretary in the Office of the Minister of External Affairs, in the capacity of Chef de Cabinet.
A multifaceted individual, High Commissioner Ambule's academic background is just as diverse as his professional career. He began his educational journey by studying Medicine in Pune, India, before embarking on a quest to master the art of Translation and Interpretation (Chinese-English) at the renowned Middlebury Institute of International Studies (MIIS) in Monterey, California.
His early years in the Indian Foreign Service were marked by a keen interest in the Chinese language and culture. He honed his linguistic skills by studying Mandarin in Beijing and subsequently served two stints spanning eight years in various capacities in the Embassy of India in the Chinese capital.
High Commissioner Ambule's dedication and commitment to the nation's foreign affairs were further showcased as he assumed the role of Deputy Head of the East Asia Division in the Ministry of External Affairs and later served as the Chief of Staff of India's Foreign Secretary from January 2015 to August 2018.
Having accumulated valuable expertise in diplomatic relations, he briefly held the position of Deputy High Commissioner of India in Colombo from August 2018 to July 2019. However, his exceptional abilities were soon recognized, and in September 2019, he took up the mantle in the External Affairs' Minister's Office.
Married and with a strong sense of familial support, High Commissioner Ambule is now ready to embark on his diplomatic mission in Singapore. His appointment comes at a crucial juncture in the bilateral relationship between India and Singapore, as both nations seek to further strengthen economic, cultural, and political ties.
During his tenure, High Commissioner Ambule aims to explore new avenues for cooperation and foster deeper engagement between the two countries. With his extensive experience in East Asia, coupled with his understanding of Singapore's dynamic environment, his vision for enhancing collaboration holds great promise.
The presentation of credentials ceremony not only solidifies diplomatic ties but also opens a new chapter of collaboration and friendship between India and Singapore. High Commissioner Dr. Shilpak Ambule's diverse background and expertise position him as a significant asset in furthering the longstanding partnership between these two vibrant nations. As he takes up his new responsibilities, anticipation is high for the positive impact he will bring to the bilateral relationship and the broader regional landscape.