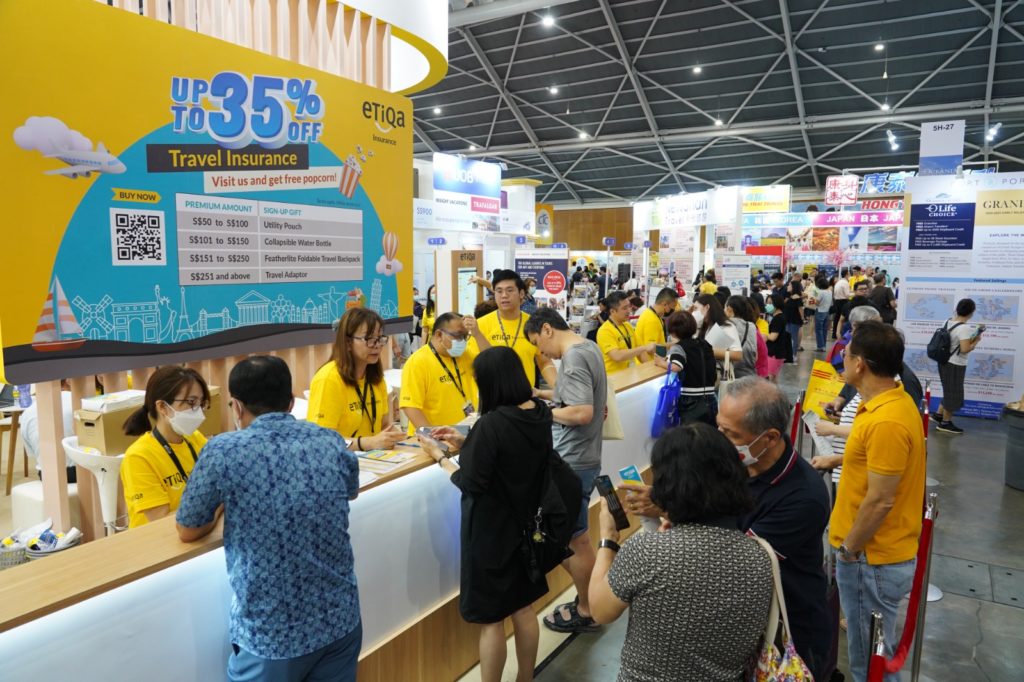 Singapore, 15 August 2023 – The 58th edition of the NATAS Travel fair was held between 11th to 13th August 2023 (Friday to Sunday), at Singapore EXPO Halls 4 and 5.
As more Singaporeans go on their much-anticipated holidays, NATAS celebrated travel rebound with
the theme "Get Out. Travel. Live the Moment!". NATAS Holidays 2023 spanned across
20,000sqm or two halls; doubling the size of NATAS Travel 2023 held earlier this year.
Consumers had a choice of more exhibitors, and a wider range of tour packages and travel
deals.
Holidays 2023 hosted over 60 exhibitors. The 3 days fair featured airlines, cruise
operators, national tourist organisations, travel agents and travel related exhibitors. This fair also welcomed a record high of 12 national tourist organisations since the resumption of the NATAS travel fairs post covid.
Gracing the Opening Ceremony of NATAS Holidays 2023 was Guest-of-Honour, His Excellency
Kakhramon Shakirov, Ambassador – Embassy of Uzbekistan to Singapore. Uzbekistan was
the title Destination Partner for NATAS Holidays 2023.
This partnership with the Ministry of Culture and Tourism of the Republic of Uzbekistan holds
great significance as Singapore and Uzbekistan celebrates its 25 years of diplomatic relations
this year. In May 2023, NATAS exchanged an MoU with their Ministry of Culture and Tourism
at the Uzbekistan-Singapore business forum in Tashkent, held in conjunction with the state
visit of President Halimah Yacob to Uzbekistan. The signing underlines both parties'
commitment to cooperate and collaborate in various aspects of tourism exchanges.
Uzbekistan elements were also displayed at the fair ranging from various craftsmen, national
dancers, and singers.
"As Singapore's largest premier travel fair, the NATAS Travel Fair attracts thousands of
visitors who are eager to travel. This is a good opportunity for any destination to showcase
their country to Singaporeans who are avid travellers. Life's an adventure, best travelled with
NATAS! Befitting this fair's theme, NATAS Holidays 2023 is your gateway to the world
through the eyes of our expert travel providers" Mr Steven Ler, President of NATAS
commented.
This year Etiqa Insurance Singapore was back as the official
travel insurer for NATAS for Holidays 2023! Travel insurance is key for protection from any
unexpected situation that may arise. Etiqa Insurance had curated special plans to meet Singaporeans
needs.
Raymond Ong, CEO of Etiqa Insurance Singapore, expressed his delight in continuing the
partnership, remarking, "We are honoured to once again serve as the official travel insurer for
NATAS Holidays. As travel takes centre stage, Etiqa Insurance Singapore remains committed
to supporting our valued travel agency partners by providing the most comprehensive insurance
plans to ensure the utmost protection for their customers. With Etiqa Insurance Singapore by
their side, Singaporeans can confidently embrace their travel adventures, knowing they have a
reliable and dependable partner dedicated to ensuring a seamless and worry-free journey."
Sourced from National Association of Travel Agents Singapore