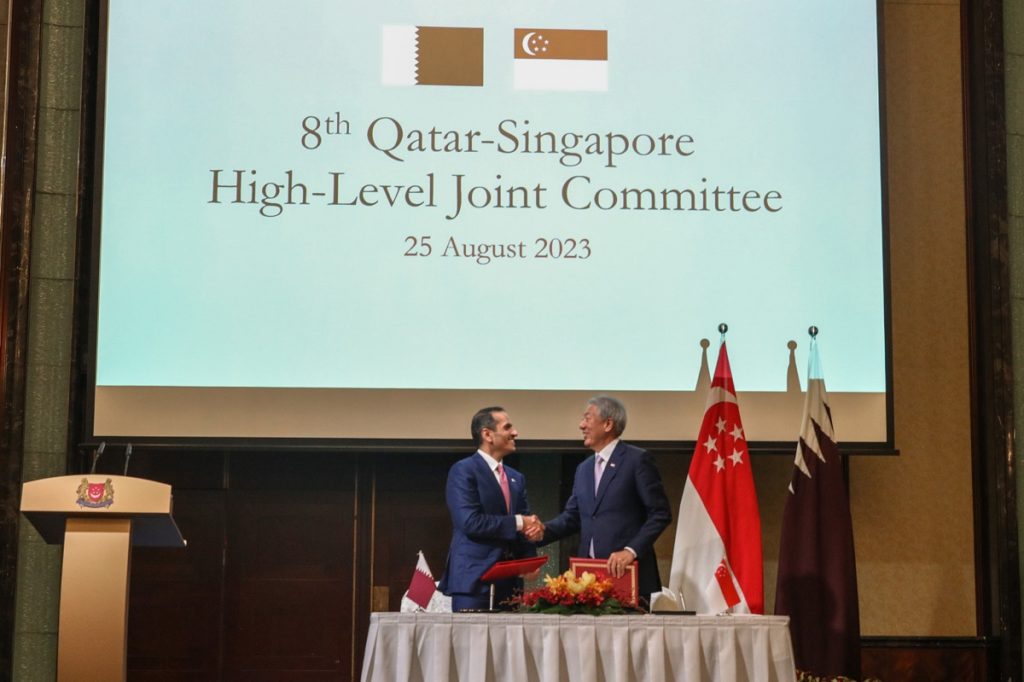 The 8th Meeting of the Qatar-Singapore High-Level Joint Committee reinforces bilateral collaboration through discussions and agreements spanning various sectors.
The 8th Meeting of the Qatar-Singapore High-Level Joint Committee (HLJC) was held in Singapore on 25 August 2023, reflecting the ongoing commitment of both Qatar and Singapore to strengthen their bilateral ties. Prime Minister of Singapore, Lee Hsien Loong, delivered the welcome address to the delegations from both nations.
Chaired jointly by His Excellency Sheikh Mohammed bin Abdulrahman Al Thani, Prime Minister and Minister of Foreign Affairs of Qatar, and Mr. Teo Chee Hean, Senior Minister and Coordinating Minister for National Security of Singapore, the meeting saw the participation of prominent ministers and senior officials from both sides.
The Qatar delegation, led by His Excellency Ali bin Ahmed Al Kuwari, Minister of Finance, and His Excellency Sheikh Mohammed bin Hamad bin Qassim Al Thani, Minister of Commerce and Industry, among others, engaged in discussions spanning various collaborative areas.
The Singapore delegation, headed by Dr. Vivian Balakrishnan, Minister for Foreign Affairs, included key figures like Dr. Tan See Leng, Minister for Manpower and Second Minister for Trade and Industry, and Dr. Janil Puthucheary, Senior Minister of State in several ministries.
In the meeting, both co-chairs reiterated their commitment to the HLJC as a platform for fostering the already robust Qatar-Singapore partnership. The conversations highlighted a mutual interest in enhancing collaboration in areas such as Economy, Trade and Investment, Energy, Security, Social Development and the Family, Education, Human Capital Development, Smart Cities Infrastructure, and AI. The two nations expressed their intention to explore further avenues of cooperation to promote growth.
Recent high-level engagements, including President Halimah Yacob's State Visit to Qatar in June 2023, were acknowledged as significant steps in strengthening bilateral ties. Both sides welcomed these interactions as demonstrations of their shared interests and commitment to advancing mutual relations.
The meeting witnessed the signing of several agreements and Memoranda of Understanding (MOUs) that underscored the diverse nature of the partnership:
MOU between the Ministry of Social Development and the Family of Qatar and the Ministry of Social and Family Development of Singapore, aimed at collaboration in the fields of Social Development and the Family.
Executive Programme on Education between the Ministries of Education of both countries, seeking cooperation in education.
MOU between Singapore's National Water Agency, PUB, and Qatar's Research Development and Innovation Council, focusing on knowledge exchange and collaboration in water-related innovations.
MOU between Enterprise Singapore and the Qatar Development Bank, aimed at promoting Enterprise Digitalization and Innovation.
MOU between Enterprise Singapore and the Investment Promotion Agency of Qatar, focused on fostering private sector partnerships.
Singapore acknowledged Qatar's accession to the Treaty of Amity and Cooperation in Southeast Asia, highlighting Qatar's growing engagement with the region. Both sides reaffirmed their commitment to maintaining peace, security, and prosperity in the region, while supporting an ASEAN-centered, open, inclusive, transparent, resilient, and rules-based regional architecture based on international law.
During the meeting, Qatar's Investment Promotion Agency (IPA) presented investment opportunities, particularly Qatar's semiconductor industry and its manufacturing and logistics ecosystem. Singapore's Smart Nation and Digital Government Office (SNDGO) outlined Singapore's Smart Nation strategy and AI development journey.
The 8th Meeting concluded with an agreement to convene the 9th HLJC in Doha at a mutually convenient time, to be arranged through diplomatic channels.