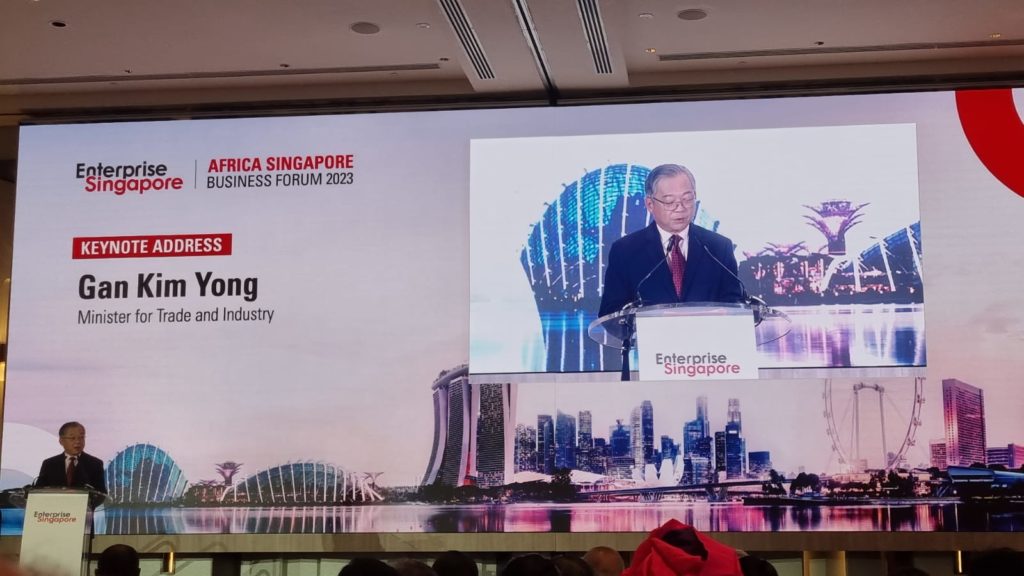 Minister Gan Kim Yong emphasizes open regionalism and collaboration between Africa and Singapore, highlighting trade, investment, and partnership prospects at the Africa Singapore Business Forum.
Minister Gan Kim Yong, the Minister for Trade and Industry, delivered a keynote address at the 7th edition of the Africa Singapore Business Forum, focusing on the importance of open regionalism and collaboration in tackling global challenges and promoting economic growth. The event, held in Singapore, brought together delegates from Africa and Asia to discuss trade, investment, and partnership prospects between the two regions.
Minister Gan expressed his appreciation for the attendees and highlighted the forum's role in strengthening Africa-Singapore relations. The Africa Singapore Business Forum has evolved into a platform where industry leaders exchange insights, facilitate partnerships, and foster connections between the growing economies of Africa and Southeast Asia.
Addressing the critical need for cross-regional cooperation, Minister Gan acknowledged the complexities posed by geopolitical conflicts, pandemics, protectionism, and climate change. He emphasized the interdependence of the global economy and underscored the significance of collaborative efforts spanning regions to effectively address these challenges.
Minister Gan shed light on the African Continental Free Trade Area (AfCFTA), a notable initiative aimed at establishing an integrated market within Africa. While recognizing AfCFTA's potential, Minister Gan encouraged African businesses to explore opportunities beyond their continent to ensure sustained global connectivity and economic progress.
Turning attention to Southeast Asia, Minister Gan highlighted the region's economic potential and ongoing endeavors toward regional integration, including the ASEAN Economic Community. He mentioned the Regional Comprehensive Economic Partnership (RCEP), a substantial free trade agreement encompassing ASEAN member states and several other nations. Minister Gan commended ASEAN's approach of "open regionalism," designed to enhance economic prosperity and security through expanded trade and investment associations with external countries.
Minister Gan highlighted Singapore's role as a pivotal trade hub between Africa and Asia. He noted that Prime Minister Lee Hsien Loong's visits to African nations aimed to bolster bilateral relations and foster business collaborations. With its status as a global business and financial center, coupled with its strong connectivity, Singapore offers an ideal environment for African companies seeking expansion.
Regarding Singaporean businesses' involvement in Africa, Minister Gan revealed that around 100 Singaporean enterprises are active across various sectors in 40 African countries. He emphasized the importance of Singaporean firms exploring opportunities across Africa's diverse landscape, including manufacturing, logistics, digitalization, and sustainability.
The address also touched on Singapore's investments in Africa's sustainability initiatives, such as carbon credit cooperation and landscape restoration projects. These endeavors align with Africa's growing emphasis on sustainable practices and environmental preservation.
Minister Gan unveiled several initiatives aimed at enhancing connectivity between Africa and Singapore. These include investment protection agreements and capacity-building courses tailored for African trade negotiators. He stressed the value of collaboration between Singaporean companies and African SMEs in establishing sustainable trade relationships.
Minister Gan left the audience with two key messages: the significance of open regionalism for governments and the need for businesses to seize opportunities and expand into each other's regions. He expressed optimism for the future of Africa-Singapore collaborations and reiterated Singapore's commitment to strengthening its relationship with Africa.