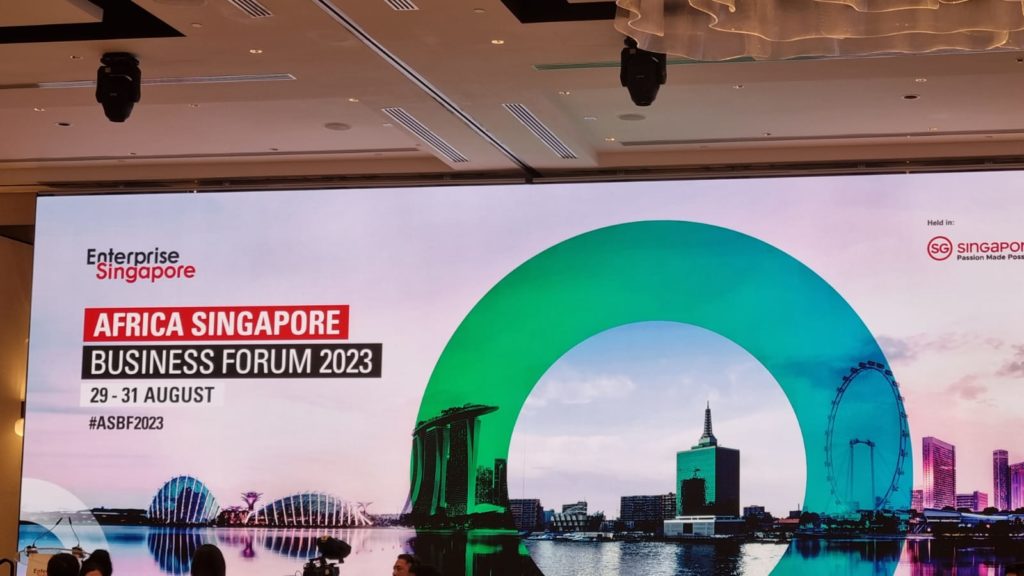 Bilateral trade between Singapore and Africa sees 15% annual growth while Singaporean companies increase investments, backed by collaborations and agreements, fostering economic ties.
Economic relations between Singapore and Africa are on an upward trajectory, with bilateral trade in goods experiencing an impressive annual growth of approximately 15% between 2019 and 2022, culminating in a total trade value of S$19.4 billion in 2022. This growth signifies the expanding collaboration between the two regions. Singaporean companies are also demonstrating a heightened interest in Africa, with their combined investments totaling S$32.1 billion by 2021.
Mr. Tan Soon Kim, Deputy Chief Executive Officer (Global Markets) of Enterprise Singapore (EnterpriseSG), noted that Singaporean companies are increasingly recognizing the value of diversifying their operations into more distant markets like Africa. This year, EnterpriseSG organized a series of activities, including business missions, webinars, and workshops, spanning sectors such as retail, healthcare, fintech, ICT, and logistics. These initiatives have provided benefits to nearly 400 companies. Remarkably, the number of projects facilitated by EnterpriseSG in 2023 has already surpassed the total for 2022.
Signaling the strong interest in Africa's growth prospects, the 7th edition of the Africa Singapore Business Foundation witnessed the signing of five agreements aimed at trialing and scaling the production of biochar. Biochar, a sustainable alternative to conventional fertilizers, is set to enhance soil quality and crop yields for over 30,000 partnering farmers.
EnterpriseSG plays a significant role in fostering business partnerships between Singapore and Africa. Through their Overseas Centers in Accra, Johannesburg, and Nairobi, they offer guidance to Singaporean companies venturing into the African market. Their engagements with both governmental bodies and private sector players facilitate a pipeline of trade and investment opportunities. Additionally, they regularly host webinars, roundtable discussions, and business missions to enhance companies' understanding of the African market.
The recent ratification of the Kenya-Singapore Bilateral Investment Treaty further solidifies the commitment of both nations to creating an enabling environment for business growth and investment. This treaty is expected to promote increased investment flows between Singapore and Kenya while safeguarding the interests of investors from both countries.
Africa Singapore Business Forum (ASBF) 2023
From August 29 to August 31, ASBF 2023 is themed "Driving Africa's Growth through Digitalisation, Manufacturing, and Sustainability." The event is anticipated to host over 500 business and government leaders from 40 countries. The program includes keynote speeches and discussions that shed light on transformative shifts in Africa's business landscape and potential avenues for collaboration.
The ASBF event features insights from industry leaders covering Africa's fastest-growing segments, including manufacturing, digitalization, and the green economy. This knowledge exchange is complemented by 12 country investment panels focusing on regions such as East Africa, West Africa, Southern Africa, and North Africa.
The event also serves as a platform for partner organizations, including the Singapore Business Federation, Singapore Manufacturing Federation, and others, to hold Africa-focused events and meetings.
Business Agreements and Collaborations
Several business agreements and collaborations have been inked between Singaporean and African companies:
Robust International Pte Ltd – Tramés Pte Ltd – Adatos Pte Ltd: The companies have signed an MOU to collaborate on deploying AI solutions for agricultural insights and logistics management in Nigeria..
NivéSal Pte Ltd – Sky 40-40 Company Ltd: The partnership aims to establish manufacturing operations in Ghana for sustainable building materials.
NivéSal Pte Ltd – Kenyan Investment Authority (KenInvest): The MOU aims to develop a Manufacturing-in-a-Box solution to support SMEs in Kenya with manufacturing operations.
NivéSal Pte Ltd – Jasco Investments Ltd: The collaboration involves establishing a cement manufacturing unit in Sierra Leone.
DFINITI Technologies – PE Energy Limited: This MOA appoints PE Energy as DFINITI Technologies' sales agent in Nigeria for industrial thermal and electric solutions.
GreenA Consultants Pte Ltd – Conseil National de l'Ordre des Architectes de Côte d'Ivoire (CNOA): The MOU formalizes a partnership to collaborate in green buildings, city development, and infrastructure projects.
CrimsonLogic Pte Ltd – Government of Malawi: The contract aims to implement the National Single Window system to streamline import and export processes.
DP Architects Pte Ltd – Centum Real Estate: DP Architects will provide design consultancy services for an office tower development in Kenya.
The Ascott Ltd – Salaam Properties: The contract involves Ascott's management of serviced apartments in Djibouti under the Citadines brand.
Olam Agri – Agrimax: The collaboration involves a trial of the Agrimax biostimulant in Cote d'Ivoire to improve cotton farming.
April Pearl Pte Ltd – Caracal Oil & Gas Services Limited: The contract enables the charter of a liftboat to support offshore operations.
WhatIF Foods – Pond Foundation: This partnership tests the use of biochar in Ghana to improve crop yields and soil quality.
These collaborations underscore the growing interest in expanding economic ties and fostering sustainable business opportunities between Singapore and African nations.