By PIB Delhi | 27 SEP 2023
Prime Minister Narendra Modi commemorated the 20th anniversary of the Vibrant Gujarat Global Summit in a ceremonial gathering attended by key dignitaries including Gujarat Governor Acharya Devvrat ji, Chief Minister Mr. Bhupendrabhai Patel, and other senior officials from the government and industry.
Reflecting on the monumental growth of the summit, the Prime Minister likened it to a small seed that has now flourished into a thriving banyan tree. He emphasized that Vibrant Gujarat, which has evolved from a branding event into a symbol of strong bonds, holds deep significance for both him and the 7 crore citizens of Gujarat.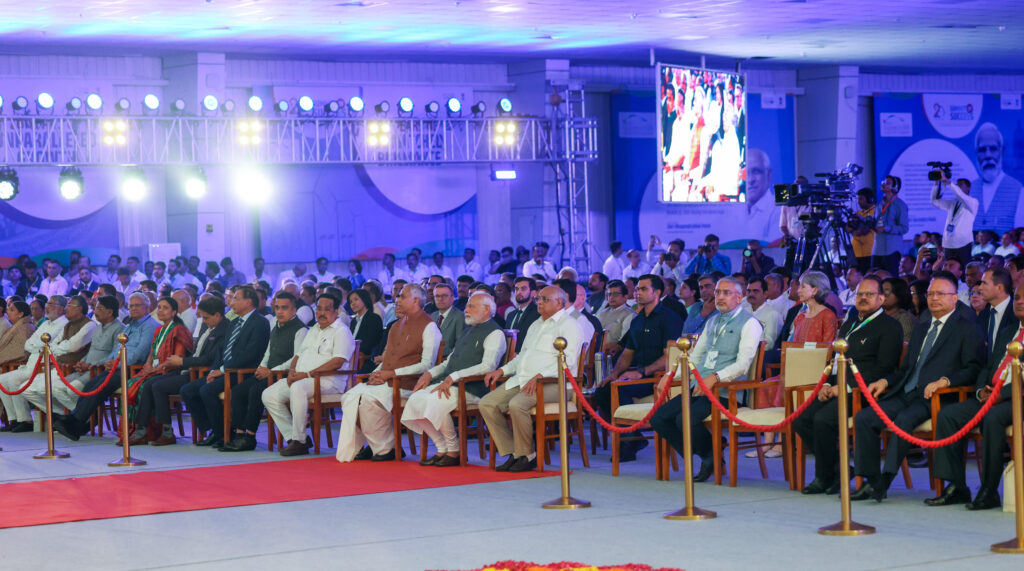 Swami Vivekananda's Timeless Wisdom:

Drawing from the wisdom of Swami Vivekananda, the Prime Minister highlighted the three stages of any transformative endeavor — ridicule, opposition, and acceptance, especially when the idea is ahead of its time. This perspective framed his assessment of the 20-year journey of Vibrant Gujarat.
Overcoming Adversity:

The Prime Minister vividly recounted the challenges Gujarat faced after the devastating earthquake in 2001, coupled with prolonged famine. The aftermath of these calamities, including the collapse of Madhavpura Mercantile Cooperative Bank, brought about a severe economic crisis, impacting the lives of thousands.
Resilience in the Face of Crisis:

During this period, when Prime Minister Modi was a newly elected MLA and relatively inexperienced in governance, he was confronted with the task of steering Gujarat through tumultuous times. The Godhra incident and subsequent turmoil further tested the resolve of the state. Despite dire predictions, he was steadfast in his belief in the potential of Gujarat and its people.
Vibrant Gujarat as a Turning Point:

In response to the challenges, the Prime Minister outlined how Vibrant Gujarat emerged as a crucial vehicle for recovery and progress. It not only showcased Gujarat's resilience but also projected India's industrial prowess to the world. The summit served as a platform to engage with global investors, highlighting the state's transparent governance and policy-driven approach.
The Political Landscape:

The Prime Minister recalled the political environment during the early years of Vibrant Gujarat, noting that the Central Government's indifference posed an additional hurdle. Despite discouragement, foreign investors recognized the value of investing in Gujarat due to the conducive governance and fair policies.
Innovation Amidst Resource Constraints:

With limited accommodation options, the Prime Minister shared how the government worked closely with business houses to accommodate the influx of foreign guests, exemplifying the resourcefulness and determination displayed throughout Vibrant Gujarat's evolution.
The address served as a testament to Gujarat's resilience and the transformative power of strategic initiatives, reflecting not only on the past challenges but also projecting a vision for a vibrant future.