By PIB Delhi | 28 SEP 2023 | Innovation, Economy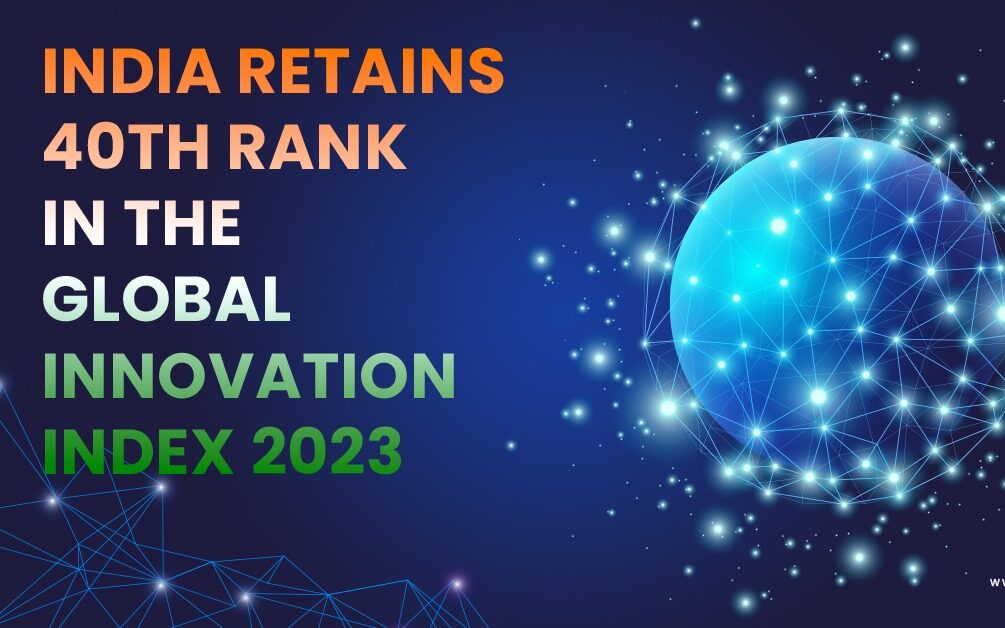 India has maintained its 40th position out of 132 economies in the Global Innovation Index (GII) 2023, as reported by the World Intellectual Property Organization. This marks a significant advancement from its 81st position in 2015, showcasing a consistent upward trajectory in the field of innovation.
Upholding Innovation Amidst Unprecedented Challenges

Innovation has emerged as a cornerstone in India's response to the unprecedented challenges posed by the global pandemic. It is anticipated to play a crucial role in fortifying the country's resilience, aligning with the Prime Minister's vision of Atma Nirbhar Bharat (Self-Reliant India).
Catalysts of Progress

India's upward trajectory in the GII rankings owes much to its substantial knowledge capital, a dynamic start-up ecosystem, and the commendable contributions from both public and private research institutions. Government departments, including the Department of Science and Technology, Department of Biotechnology, Department of Space, and Department of Atomic Energy, along with entities like the Ministry of Electronics and IT, Department of Telecommunications, Department of Agricultural Research & Education, and Department of Health Research, have played instrumental roles in nurturing the National Innovation Ecosystem. The Atal Innovation Mission has notably expanded this ecosystem.
NITI Aayog's Sustained Endeavors

NITI Aayog has been instrumental in orchestrating national efforts to infuse policy-driven innovation in various domains, encompassing electric vehicles, biotechnology, nanotechnology, space, and alternative energy sources. It has also spearheaded initiatives to broaden the innovation landscape across states and districts. NITI Aayog's vigilance in monitoring and evaluating India's global rankings, including in the GII, has been paramount.
GII: A Global Barometer for Innovation

The Global Innovation Index serves as a reliable instrument for governments worldwide to gauge the impact of innovation on their respective societies and economies. Over time, the GII has established itself as an indispensable policy tool for governments, aiding them in introspecting their current status.
Collaborative Efforts for an Innovation-Driven Economy

The Confederation of Indian Industry (CII) has been a key partner in India's journey towards an innovation-led economy. This year, in collaboration with CII and the World Intellectual Property Organisation (WIPO), NITI Aayog is hosting the virtual launch of the GII 2023 on September 29, 2023.
The launch event will witness the presence of esteemed dignitaries, including Shri Suman Bery, Vice-Chairman, NITI Aayog; Dr. V.K. Saraswat, Member, NITI Aayog; Shri BVR Subrahmanyam, Chief Executive Officer, NITI Aayog; Mr. Daren Tang, Director General, WIPO; Dr. Sacha Wunsch-Vincent, Co-Editor, GII & Head, Economics and Statistics Division, WIPO; Dr. Nausad Forbes, Chairman, CII National Committee on Technology, Innovation & Research, and Co-Chairperson, Forbes Marshall; Professor Rishikesha Krishnan, Director, Indian Institute of Management, Bangalore; and Sh. Alok Nanda, Co-Chairman, CII National Committee on Technology, Innovation & Research, and CEO, GE India Technology Centre.