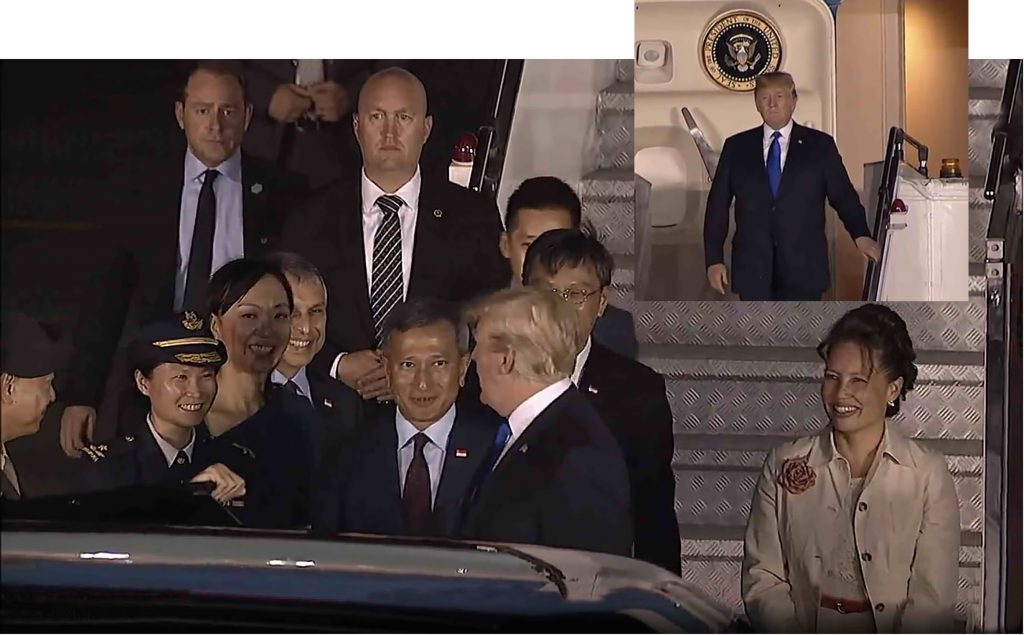 MONDAY, 11th June 2018: Yesterday Air Force One landed at a Singapore military airport with President Donald J Trump arriving for the US-North Korea denuclearization talks that will be held tomorrow where he will meet the leader of the Democratic People's Republic of Korea (DPRK) Kim Jong Un.  The historic meeting might see the the laying of the groundwork for ending a nuclear stand-off between the long-time foes.
President Trump was met by Singapore's Foreign Minister Dr Vivian Balakrishnan at Paya Lebar Airport (pictured above) amidst a tight security cordon placed in the island especially the talks venue at Capella Hotel situated in the resort islet of Sentosa.
The US and North Korea broke off diplomatic relations since the 1950 – 53 Korean War. President Kim arrived in Singapore earlier on Sunday and was also met by Minister Balakrishnan at Changi Airport.
Reactions from Diplomats Here

 

HE Zenon Kosiniak-Kamysz

the Ambassador of Poland to Singapore and Dean of the Diplomatic and Consular Corps: "As diplomats our first duty is to prevent tension and war. Thus, the Trump – Kim meeting means much for the whole world. Peace is important and the significance of this meeting is immense as it may be the first meeting, but it is not the only one and will pave way for peace. Singapore is not the chosen place by "chance"; a lot of background diplomatic work has gone into making this happen here. Singaporeans should be proud that the city state was chosen for this historic meeting, The meeting is finally happening now and it is the first step forward in the right direction."
Accompanying Officials
According to news agency reports, President Kim came together with his top officials including Foreign Minister Ri Yong Ho and Kim Yong Chol, a close aide of Kim who played a major diplomatic role that led to tomorrow's summit. President Kim's younger sister, Kim Yo Jong is also in the delegation.
For the US side, President Trump arrived with Secretary of State Mike Pompeo, National Security Adviser John Bolton, White House Chief of Staff John Kelly and White House Press Secretary Sarah Sanders.
Reuters news story by Steve Holland and Jack Kim published yesterday reported that President  Trump who was in Canada on Saturday, said any agreement at the summit would be "spur of the moment," underscoring the uncertain outcome of what he called a "mission of peace".  He also said the talks would be more about starting a relationship with Kim for a negotiating process that would take more than one summit.
A Singapore Ministry of Foreign Affairs had also issued a statement yesterday that Prime Minister Lee Hsien Loong had a separate meeting with Chairman of the State Affairs Commission of the DPRK Kim Jong Un on Sunday and will meet today President Trump during their visit in Singapore for the US-DPRK Summit.
HE Karsten Warnecke,

Ambassador and Executive Director, Asia-Europe Foundation: "Just the fact that the meeting between the North Korean leader Kim Jong Un and the US President Donald Trump is taking place is a good thing and a positive step in contributing to world peace. It takes several rounds of well-prepared meetings and skilled diplomacy to generate a meaningful and lasting success. This usually requires expertise, clear objectives, patience, and confidentiality. There have been many officials working hard behind the scenes to make this meeting happen. Many countries have a vested interest in the outcome and have been facilitating negotiations for months through back channels."
HE Ngurah Swajaya

, Ambassador of Indonesia to Singapore: "Dialogue and negotiation are crucial guiding principles when seeking peaceful settlement of disputes. Therefore, we should give every opportunity of the upcoming meeting and negotiation between President Trump and Chairman Kim to succeed. A successful outcome of the Summit, in accordance with international objectives, would contribute significantly to maintaining regional peace and stability. And a peaceful region will contribute greatly towards enhancing the peoples' prosperity."
HE Flávio Soares Damico

, the Ambassador of Brazil in Singapore: "We hope that the Trump-Kim Summit will provide a much-needed breakthrough on the tense situation in the Korean Peninsula. Singapore has every reason to take pride in hosting another important meeting to advance the cause of peace and the promotion of disarmament of arms of mass destruction."