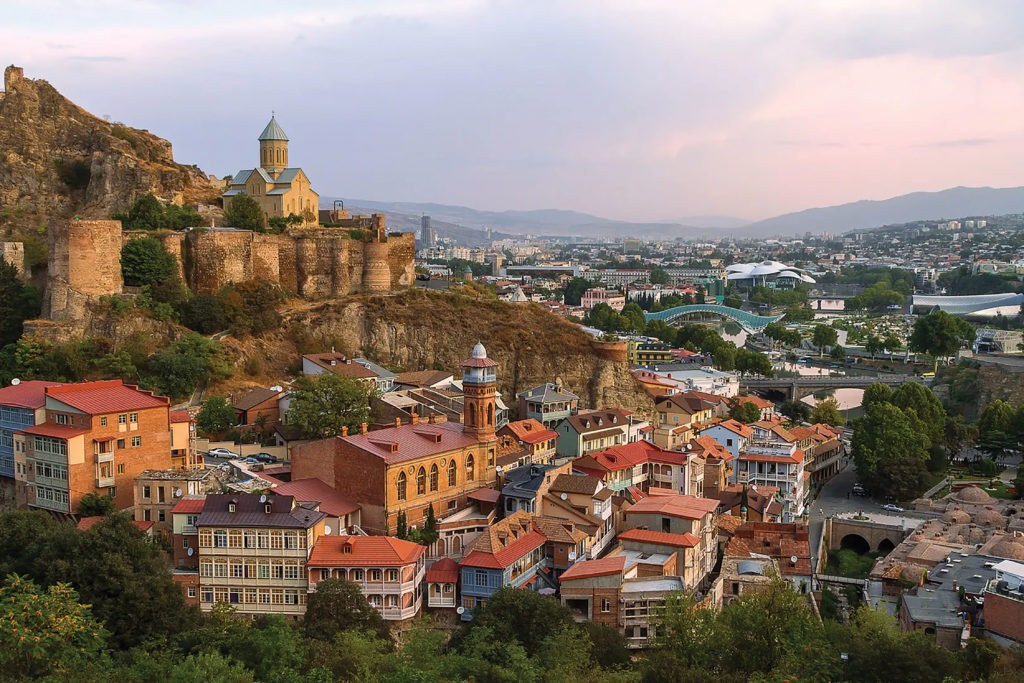 Along with its accessibility its extensive economic reforms, down-sized tax burdens and long-term investment, have transformed Georgia into an emerging powerhouse of stability for doing business
STRADDLING the intersection that binds Europe to Asia on the ancient Silk Road, Georgia, formerly a Soviet republic in the South Caucasus, has evolved into a flourishing independent entity. Given its exceptionally strategic geographic location it offers access into Europe for landlocked Central Asian countries trading minerals, machinery and transport equipment. Its trade agreements too have been an advantageous component for providing access to these markets.
Tourism
Leveraging on its stunning natural beauty, its deep-rooted cultural heritage and ethnic richness as a tourist destination. It even has its own unique alphabet and language, which is spoken only in Georgia.
The warm hospitality of its people and unique culinary offerings are an added allurement for visitors. Populated by early humans circa 1.7 million years ago, Georgia is said to be the home of some of the oldest inhabitants on the continent of Eurasia. The most people concentrated area in Georgia is the narrow valley which nestles between the Greater Caucasus mountains in the north and the Lesser Caucasus in the south and along the coast of the Black Sea to the west.
As we travel around its beautiful expanses Its historic past summons us back to medieval times when Georgia was a powerful kingdom right up to the 13th century, followed by long period of Turkish and Persian rule, up to the 91th century when it was annexed by the Russian Empire. There was another brief spell in time when it gained independence from 1918 till 1921 when it became part of the Soviet Union. on November 19, 1989 Georgia declared its sovereignty, and independence on April 9, 1991.
Tourists can savour myriad activities, ranging from mountain treks to swimming in the sea amid the country's richly diverse natural landscape.
The picturesque villages scattered around the slopes of the Caucasus Mountains, Mt Shkhara, the highest point in Georgia at 5,068 m, the centuries old wine-growing region of Kakheti., the atmospherics of the monasteries and the Old Town of Tbilisi , Georgia's capital city, with its worn cobble streets and the beautiful beaches lining the Black Sea along its western flanks, are some of its most well-know attractions.
Unmissable treats are visits to the ancient stone towers of Svaneti and the highest settlements in Europe to the beaches and nightlife of Batumi, there is something inspiring and exciting for everyone. For thousands of years traders and adventurers have visited Georgia via the historic Silk Road.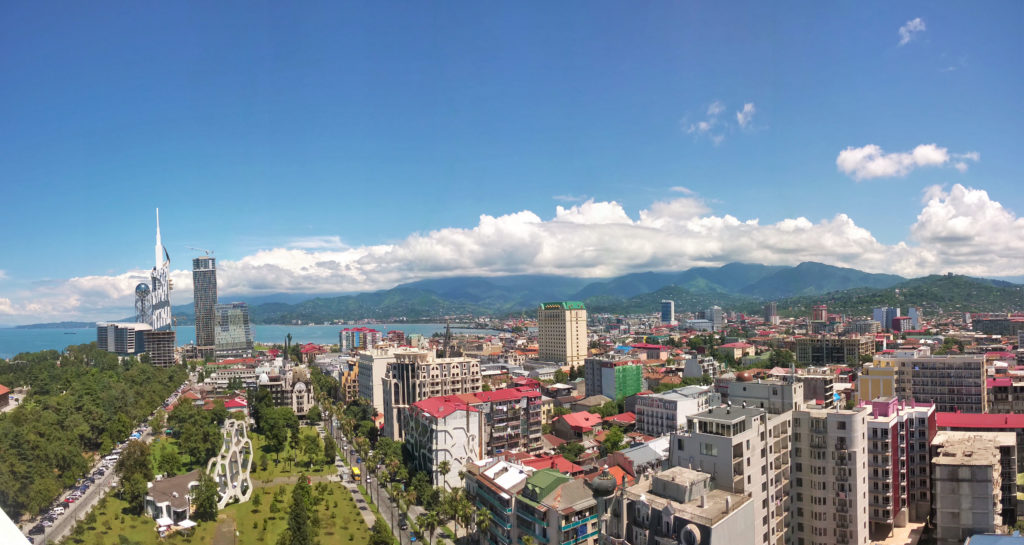 Trekking enthusiasts can head for the glorious Juta and Mount Chaukhebi at 2,550 m. This area is one of the highlights in Georgia for mountaineering lovers. Khevsureti, a remote mountainous region with majestic highlands is a magnet for nature lovers.
The beauty of Georgia's cultural roots is that they are richly mirrored its many architectural monuments, including many monasteries and churches, its ancient tradition of fine metalwork of the highest technical and aesthetic standard dating back to the 1st and 2nd millennia BCE reflected even today in those masterpieces of cloisonné enamel and repoussé work, notably icons, crosses, and jewellery.
Not many visitors are aware that Qvevri, a traditional Georgian wine- making technique tradition has attracted many international accolades: in 2013, UNESCO awarded the wine- making method 'Intangible Cultural Heritage' status. In May 2021, Qvevri was also conferred the status of 'Protected Geographical indication' by the National Intellectual Property Center of Georgia.
With such a rich, diverse cultural backdrop, it comes as no surprise that the country has a booming tourism industry. Indeed, tourism is one of the most dynamically developing sectors of Georgian economy with significant potential for further development
In support of the growth of the tourism sector, post-pandemic, the Georgian government has introduced a new incentive programmed for the hotel industry. These measures include co-financing of interest rates for new projects, franchise and management contracts, as well as consultancy services.
Georgia has continued to invest in tourism infrastructure, including the diversification of tourism products.
Economy
The subtropical region of the Kolkhida Lowland near the shores of the Black Sea was once a massive marshy swamp. A huge development project resulted in draining it and an afforestation programme set in place. Today this region is of prime importance for cultivation of subtropical and other cash crops.
The Georgian economy is largely driven by agricultural pursuits and a mature industrial sector. Agriculture accounts for at least half its GDP. The labour-intensive crops, such as tea and citrus fruits have proved to be highly profitable, making up for the difficulty of working the land.
Agriculture
Tea plantations occupy more 60,000 hectares and are equipped with modern picking machinery. The vineyards constitute one of the oldest and most important branches of Georgian agriculture. Orchards occupy some 320,000 acres throughout the country. Significant commercial crops include sugar beets and tobacco. The perfume industry is supported by the production of essential oils such as geranium, rose, and jasmine. While grains, including wheat, are important, the supply is insufficient for Georgia's needs so wheat needs to be imported.
Industry
Given the excellent supply of fuel and power the foundation of Georgia's industrialization stands on solid ground. With its nucleus at the restructured Tqibuli mines Georgia's coal industry is one of the oldest mineral extraction industries. Production is on the rise with deposits located at Tqvarchʿeli and Akhaltsʿikhe.
Georgia's machine-building industry is a huge powerhouse of production with a wide spectrum of products, spanning everything from electric railway locomotives, heavy vehicles, to earth-moving equipment to lathes and precision instruments. Amongst the specialized products are tea-gathering machines and anti-hail devices for the county's plantations.
The chemical industry is involved in producing mineral fertilizers, synthetic materials and fibres, and pharmaceutical products. Construction developments support local raw materials, supplies the country with cement, slate, and many prefabricated reinforced-concrete structures and parts.
Investment
Since the government's anti-corruption campaign in the early 2000s, the country has created a favourable business environment that is conducive to conducting business with low risks. Georgia has plenty to offer to foreign investors. Foremost, the country has one of the lowest taxes globally. Coupled with a strong national infrastructure, including easy access to financial and global markets, the country is generally considered attractive to foreign companies.
After regaining independence in 1991, the country went through a challenging period. Since then, it has made a huge transformation following effective reforms in economic policies and governance, which has boosted its economic resilience and living standards.

Many Milestones Achieved
The Georgian government has unveiled its ambitious aspirations to become one of the best investment locations in the world. These have been reflected in various international rankings, as follows:
+ Georgia ranks 7th in Doing Business 2020 report by the World Bank.
+ According to the Heritage Foundation, Georgia's economy was the 12th freest in the "Index of Economic Freedom 2021".
+ According to the latest ranking of Kerney's Global Services Location Index (GSLI 2021), Georgia was number 19th among 60 countries.
+ According to "Economic Freedom of the World 2021" report by Frazer Institute, Georgia's position was 5th amongst 165 countries.
+ According to the "Corruption Perception Index 2020" by Transparency International, Georgia ranked 45th place amongst 180 economies with the score of 56.
+ According to the World Bank and PriceWaterhouseCoopers (PwC) report, Georgia has one of the lowest tax burdens. The effective tax rate amounts to 9.9%, which is one of the lowest globally and ranks 3rd in the world.
+ In February 2022, Standard and Poor's (S&P) Global Ratings reaffirmed Georgia's credit rating at BB and outlook to stable from negative.
+ Also in February 2022, Fitch affirmed Georgia's credit rating at BB and stable credit outlook.
+ In September, Moody's affirmed Georgia's sovereign credit rating at Ba2 with stable outlook.
+ According to Fitch, S&P and Moody's, Georgia has a track record of cooperation and strong support from international financial institutions, which support policy credibility, continued reform momentum and reduce financing risks.

International Trade
Georgia's trade revolves around exports such as metals, fertilizers, and nuts. Imports include machinery, foodstuffs, and pharmaceuticals etc. Its biggest trading partners include Russia, Turkey and China, but there's significant trade with the neighbouring Caucasus region as well as eastern Europe
Georgia offers easy access to most major European, Central Asian and Middle Eastern markets. As a result of targeted trade liberalisation efforts, Georgia has free trade agreements with the European Union (DCFTA), the United Kingdom, Turkey, China (including Hong Kong), Ukraine, the EFTA (European Free Trade Association) and Commonwealth of Independent States countries, which have opened up customs and import tariff-free access to consumer markets with a 2.3 billion population. Georgia also enjoys Generalized System of Preferences (GSP) regimes with the USA, Canada and Japan, which provide an additional 490-million consumer market.
Georgia is also a regional transit hub, offering significant distribution channels through a newly expanded transportation infrastructure — three international airports, two ports and two oil terminals on the Black Sea, a massive deep-water port project in development (with a capability to serve Panamax size vessels), upgraded highways, and an internationally connected railway (connecting China and Turkey). This rail network, which is part of China's Belt and Road Initiative, allows goods to travel between the countries between eight to 10 days. Notably, Georgia is also part of the Middle Corridor, Lapis Lazuli, TRACECA, and the Black Sea- Caspian Sea corridor.
Logistics Hub
The country is the midst of a technological transformation. Digitalisation is a necessity, which Georgia acknowledges as an important tool to improve the country's attractiveness as a transport and logistics centre in the region.
Opportunities
Georgia's economy also has great growth potential for foreign investors. Some of these industries include manufacturing, agriculture and food processing, hospitality and real estate, logistics, and information technology (IT), amongst others.
A sector that has been identified for huge growth potential is energy. In particular, the country's renewable energy sector holds great promise: it can generate considerable power from a myriad of renewable sources, including hydro, solar and wind.
Another sector that is likely to draw major interest from foreign investors is agriculture. Georgia offers a lot of investment potential in the agricultural sector: the country is suitable for growing hazelnuts, apples, blueberries, cherries, mandarins, peaches, persimmons, and tomatoes, amongst others.
Many MNCs have evinced interest in exploring the country as an international destination for outsourcing services given its geographic location, talent pool as well as a significant cost arbitrage. Services commonly provided include multilingual customer interaction (call centres), IT services and remote technical support, financial and accounting, architecture, design and engineering. Prominent MNCs which have chosen use its outsourcing services include Concentrix, Majorel, Evolution Gaming, CMX Solutions, Asseco, EPAM Systems, Olmait, Flat Rock Technology, Exadel, amongst others.
Georgia's government has also recently introduced new BPO incentives for investors. By investing a minimum of US$1.5 million in business services delivery projects and hiring 200 employees, foreign companies can receive up to US$250,000 in grants from the country's state agency. The funds will help offset costs related to staff training and infrastructure upgrades. The workforce in Georgia has deep technological knowledge. The government continues to invest in to keep its labour force up to date on skills in the technology sector. For example, the Innovation and Technology Agency (GITA) has implemented an upskilling programme for 3,000 IT specialists.
With a new roadmap to attract FDI, Georgia will continue to leverage on its easy access to Asian and European markets, its stable economic environment anda liberal trade regime.