IN Diplomacy Publisher & Editor-in-Chief Ms Nomita Dhar's interview with Ambassador-at-Large HE Ong Keng Yong, who headed an international conference in June drawing on the teachings of major religions and their leaders to counter global challenges from terrorism (see page 4). He spoke about diplomacy here comparing past and present. The former Secretary General of ASEAN is currently Executive Deputy Chairman of the S. Rajaratnam School of International Studies (RSIS) and is also Director, Institute of Defence and Strategic Studies; Head of International Centre for Political Violence and Terrorism Research
Thank you Ambassador for starting off our Stalwarts series of insight interviews of leading Singapore diplomats. You have been enjoying such an illustrious career and are also well-known for your wry wit. What made you choose to become a diplomat?
I was in law school and there were 146 others in my class. I realised I would still have to compete with them after graduation. Fortunately, there was a career talk on joining the Singapore foreign service in 1978. The team from the ministry was very good and convinced me to give it a shot.
I also thought that with Singapore being a small country that focusses on international trade and global business, it would make sense to me to have a career in international affairs and diplomacy. So I joined the Singapore Ministry of Foreign Affairs in 1979. At that time, there were only a few law graduates recruited by the Ministry (he smiles); most were from history, political science, arts and humanities backgrounds. It has been an enriching career, which both my wife and I have enjoyed very much … and so here we are!
Where have you been posted overseas?
The first was four years in Saudi Arabia (two of them in Jeddah and two in Riyadh). It was a good place to work for men but women have to rely a lot on their husband, father or brother to get around then. It was a relatively pleasant posting as that time there was little or no terrorist or security issues. Next was Malaysia (from 1989 to 1991). While Singapore and Malaysia enjoyed close relations, operationally it was not an easy posting as there were many demands from the governments on both sides. But there are many other dimensions in the relationship. We are close because many of us have relatives on both sides of the borders and we have a significant amount of trade and investment in each other's countries. Also, at that time Singapore had only about 30 diplomatic missions throughout the world and a Singaporean abroad in a country without our embassy could, and often, go to the Malaysian embassy if they needed consular help. This is another reason why we are so close! When we have problems in countries in Africa, for example, where we do not have an office, our consular department reaches out to its Malaysian counterpart. This is really very extraordinary! This is one thing I believe quite sincerely: despite all the political to-ing and fro-ing, Singapore and Malaysia are working together in a practical way across a very wide spectrum, whether it is in diplomacy, business or culture and so on.
Another example, we often share common interests and our diplomats discuss with each other to adopt common stands when we go to international conferences such as WTO, WHO or UN meetings. Generally, I have found Singaporean and Malaysian civil servants approach the issues of the day and policy matters from a relatively common and principled foundation. Why? I guess we used to be one country and both experienced the same British colonial heritage. We operate in the English language and the jargon, nomenclature and processes are more or less similar.
After Malaysia, we went to the USA which was a very different kind of operational environment. It was an open and transparent society and you have to be on your feet all the time responding to questions from the media or any interested party. You have to do a lot of PA (public affairs).
In countries such as Malaysia and Saudi Arabia you might be quite reticent about whatever you were doing or about sharing your opinions. In the capital of the United States in Washington DC you cannot be reticent. If you are, nobody will come and talk to you. If you can spin a yarn and always have a line ready in your head for any question, you will do well there. In other words, become a talking head and that's when you get exposure and recognised.
After the US, I returned to Singapore before going off to become the High Commissioner in India for two years starting in 1996. I was asked by the Prime Minister of Singapore at that time, Mr Goh Chok Tong, to be of service to him and I cut short my posting in India to come back to join the PM's office as his press secretary in 1998. I really enjoyed my posting there as India had been a multi-sensory experience. If you go there with a negative attitude asking yourself "Why must I be here?' you will not enjoy it. If you go there to see the different facets of life and do different things in life you will find you have no time to cover everything!
Did you enjoy your stint in India?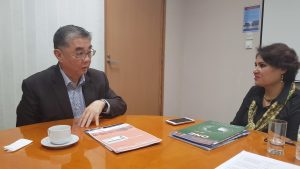 I was there when India was  opening its  economy to the world and the people were trying to get used to the new economic reforms. Singapore was then also heavily investing in India, especially in Bangalore and I remembered when it  got too hot in Delhi we enjoyed going to the garden cities of Bangalore or Pune which at that time had nicer weather and were less populated and polluted. Many say that India is not just a country, it's more like a continent. When you approach it from that perspective, a place where there are so many different cultures and types of activities, different territories and communities, I have always found it a wonder how all of that can be kept together and working as one nation.

 How has Singapore evolved through the years from the standpoint of its foreign service?
Our foreign policies were very much shaped by Singapore's founding fathers – the late Prime Minister Lee Kuan Yew and his cohort of ministers. The good thing about Mr Lee and his team was that they treated the world as it is. They did not try to change the world; they were not under any illusion that they could do that as  Singapore was only a small country of over 700 sq km.  Next, if anyone wanted to work with us, we responded positively and we would work together so we could make friends with everybody.
I had worked in a division at the Ministry of Foreign Affairs that dealt with what we then called the 'third world countries' (what we might call today the emerging economies). At that time there were more than 60 states – we covered Africa, Latin America, Southeast Asia and we learnt much from having this positive approach of making friends with all countries.  We worked through a bilateral or multilateral context (e.g. through the UN or Commonwealth).   Going to the next level, we had the  bigger powers.  Singapore's  approach  was  to live with the Americans, Chinese, Indians, Russians and Europeans. We learnt about what these countries would like to do with Singapore. We zeroed in on those things that were practical and doable. We went first for the low hanging fruits. Once you harvested these, you could aim for bigger things! Till today many of these general principles in our policy remain the same.
We also recognize bilateral and multilateral relationships are very complex things but we work together to get better results. ASEAN is a very important part of Singapore's foreign policy. When we were growing up in the Ministry of Foreign Affairs in the 1970s and 1980s, ASEAN was not yet a community and did not have a charter. Today, ASEAN activities are very intense, and we have more than a thousand meetings every year connected with ASEAN.   It is a dramatic change from the  sectoral coverage of ASEAN 20-30 years ago.  In 2019  almost every part of the Ministry of Foreign Affairs has something to do with ASEAN.  For example, we have ASEAN-EU, ASEAN-China, ASEAN-India dialogues and summits. It's overwhelming.
What are the other striking changes taking place in diplomacy today?
Today we have to rely on a lot of technology. In the old days when we travelled with the ministers we carry this little box that we called the 'Baby' which we struggled to use to send classified telex or telegrams. Nowadays, almost immediately, you not only can send messages but large volume of information, audio-video clips and photos easily with a handphone. This type of technology has already intruded into diplomacy but the concern always is how secure are such types of communications. How confidential are discussions that take place between two leaders in so-called closed door meetings? So we have to now spend some time also making sure information remains protected until ready for open release.
Finally more importantly, again in the old days, right up to the 1990s, foreign affairs was truly 'foreign'. Few people knew what was going on round the world. Our general population was not really that concerned about the details of what had  happened in South Africa or in Chile. Now with the growth of social media and the internet, everything we diplomats do in a foreign country is readily accessible to Singaporeans. If they do not like what they observe, we get immediate feedback. Sometimes that makes the job of our policy makers even more difficult.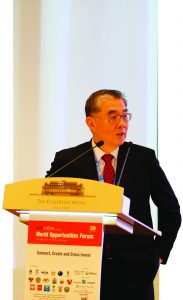 Many consider Singapore as a success story; as an insider do you think so?
Yes, I think so. We are successful and that is why many wish to hob nob with us. We are successful because we problem-solve all the time. We have the ability to assess a particular situation and ask how we can improve it. In the process of improving it, many foreign investors like it and they come. I think many Singaporeans have not appreciated this fully – that the success of Singapore goes back to one fundamental thing – that we are useful to somebody else. When we are useful to somebody else, people will come and set up their business and homes in Singapore and maintain contact with  our small city-state. They link us through their networks and the story of Singapore gets spread even more around the world. We must always remain open and foreigners be welcomed here. I do not think Singapore can survive if it is xenophobic.  We have no natural assets except our own human resources. We gather talent, adapt to the changing environment, and make something better for ourselves and those who value us.  We are relevant and useful.  This will ensure the survival of our small country.
CAREER HIGHLIGHTS
    Mr Ong continues to hold the position of Ambassador-at-Large at the Singapore Ministry of Foreign Affairs. He is also Singapore's non-resident High Commissioner to Pakistan and non-resident Ambassador to Iran. Mr Ong has been the Chairman of the Singapore International Foundation (SIF) since 2015. Mr Ong was High Commissioner of Singapore to Malaysia from 2011 to 2014. He served as High Commissioner of Singapore to India and concurrently Singapore's Ambassador to Nepal from 1996 to 1998. Mr Ong served as 11th Secretary-General of ASEAN (Association of Southeast Asian Nations), based in Jakarta, Indonesia from January 2003 to January 2008. Mr Ong started his diplomatic career in 1979 and was posted to the Singapore Embassies in Saudi Arabia, Malaysia and the United States of America between 1984 and 1994. From September 1998 to December 2002, he was Press Secretary to the then Prime Minister of Singapore, Mr Goh Chok Tong, while holding senior appointments in the Ministry of Information, Communications and the Arts, and the People's Association in Singapore. From 2008 to 2011, he served as Director of the Institute of Policy Studies (IPS) in the Lee Kuan Yew School of Public Policy at the National University of Singapore. Mr Ong graduated from the then University of Singapore with a LLB (Hons). He studied at Georgetown University in Washington D.C., USA, and graduated with a MA in Arab Studies.