Singapore convened the first International Conference on Cohesive Societies (ICCS) to drive global collective action for peace and harmony, with King Abdullah II of Jordan delivering the keynote address
HIS Majesty King Abdullah II ibn Al-Hussein of the Hashemite Kingdom of Jordan delivered the Keynote Address at the ICCS, bringing his substantial experience as a global leader in promoting interfaith understanding and dialogue across religious communities. His Majesty has led a number of important international initiatives aimed at promoting tolerance and peaceful coexistence. Among these critical interventions are the Amman Message, the UN World Interfaith Harmony Week, and the Common Word Initiative. His Majesty King Abdullah was received by Singapore President Madam Halimah Yacob at the three-day conference. Both heads of state addressed the conference, which was convened at an especially urgent time for dialogue, understanding and collaboration.
Stressing the importance of interfaith efforts, His Majesty King Abdullah II had said, "A dialogue of respect is the rock-bed of all societies. Attacking and excluding others, insulting other peoples and their faiths and convictions – this is no way forward. The future lies in unity and respect, not division and stereotypes."
Under the theme "Many Communities, One Shared Future", the ICCS served as a platform for dialogue on the complex challenges that are widening divides within societies across the globe, and encourage collective action to bridge these gaps. Organised by the S. Rajaratnam School of International Studies (RSIS), with the support of the Ministry of Culture, Community and Youth, the ICCS was held at Singapore's Raffles City Convention Centre.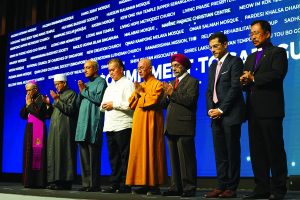 Ambassador Ong Keng Yong, Executive Deputy Chairman of RSIS said, "This is the first time we are hosting such a dialogue and exchange in Singapore. Singapore is a multi-racial, multi-religious society, and we work hard to keep our country peaceful and secure. At the same time, we are part of the global community, which faces challenges posed by increased connectivity, intensifying identity politics, and infinite technological development. The Conference is a platform for constructive dialogue, to ultimately strengthen mutual trust and understanding across communities." President Halimah, who has championed continuous efforts in building cohesive societies, as well as the sharing of ideas on how to do so, said, "The ICCS will be a platform to facilitate mutual learning among our communities internationally. The purpose of the Conference is clear – to address the challenges to social harmony and ensure that we continue to strengthen the cohesion within our societies. We live in a world increasingly fraught with conflict and danger. The social fabric of many communities is stressed by extremism, exclusivism and polarisation. It is therefore important for us to grow trust across communities. This will always be a work in progress, so it is an effort we must constantly invest in. I thank His Majesty King Abdullah II ibn Al-Hussein of the Hashemite Kingdom of Jordan for accepting my invitation to deliver the keynote address at the ICCS."
Jordanian King: Three Areas for Special Attention
From King Abdullah's Keynote Address:
"…the dynamism I see here is urgently needed to tackle the world's single most important threat—the attack on interfaith harmony, mutual respect, and trust. And I say "single most" because every global challenge in this 21st century demands we resist hatred and exclusion. Economic growth, peacemaking, protecting the environment, global security, inclusive opportunity – all these critical goals require that we cooperate, and combine our strengths to our common benefit. We need to defend this global social cohesion with all our might. And allow me to suggest three areas of special attention."
"First, let us gather our forces, the billions of people on earth who seek peace and harmony. And I'm pleased that two Jordanian initiatives, The Amman Message and A Common Word, have inspired positive exchanges worldwide. Jordan also sponsored a UN initiative, the annual World Interfaith Harmony Week, to encourage far-reaching dialogues of mutual respect. And I congratulate Singaporeans for your sterling participation over the years, with a wonderful focus on young people."
"A second priority must be to take advantage of the tools of the modern world.Now extremists have manipulated today's global connectivity to plot, recruit, arm, and publicise their dark atrocities. We must do better." "In 2015, seeking a new paradigm for international cooperation in global security, Jordan initiated the Aqaba Process. At the heart of this ongoing effort is addressing the narrative of hate wherever it is found. Dialogue between governments, civil society, and the technology sector has been central. And we are seeing results. In fact, as we have seen time and again, we all do better when we speak to each other, and work collectively."
"A third priority is to commit for the long term. We face a complex and evolving threat. Meeting it demands an holistic approach addressing security and also the issues that extremists exploit. And that means investing in inclusive, sustainable development, so that all people—especially the young people—can share in opportunity, fighting the war of ideas to combat divisive ideologies, and then responding to the world's unprecedented refugee crisis."
President Halimah: Singapore Experience From President Halimah Yacob's speech on the opening day of the ICCS:
"There are many paths to social harmony. Our national journeys are unique, and we see great value for lessons and experiences to be shared, and better understood in our own countries."
"For Singapore, this Conference is important because social cohesion is of existential importance to us. We are a small city-state, with no natural resources save our people. We mark Singapore's Bicentennial this year, a key turning point of our history. Forging unity and drawing strength from diversity has always been, and will continue to be, part of the Singapore story."
"Singapore, along with all countries, faces a common challenge of overcoming the forces of division. We can do better with more ideas, inspiration and partnerships. There is much we can learn from each other's beliefs, practices and experiences, in our effort to build cohesive societies from many communities, and move together towards a brighter shared future for all."
ICCS SPEECH & SUMMARY
For the full address by King Abdullah II, please click here.
For Summary of Keynotes of the International Conference on Cohesive Societies sessions on 21 June 2019, please click here.