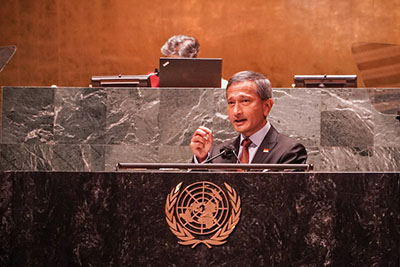 Singapore's National Statement at the General Debate of the 76th Session of the United Nations General Assembly in New York, 25 September 2021
MINISTER for Foreign Affairs Dr Vivian Balakrishnan delivered Singapore's national statement at the General Debate of the 76thSession of the United Nations General Assembly (UNGA) on 25 September 2021.
Minister Balakrishnan underscored that multilateral cooperation is essential to overcoming the challenges of our global commons. He outlined four key areas which require urgent action – public health, climate change, oceans, and digital transformation. On COVID-19, Minister Balakrishnan emphasised that expanding access to vaccines by scaling up production and distribution is an immediate priority. On climate change, Minister Balakrishnan underscored the need for a sustained and ambitious global response to the global threat, and looked forward to substantive outcomes at the upcoming26thConference of the Parties (COP-26) to the United Nations Framework Convention on Climate Change in Glasgow in November 2021.
On the oceans, Minister Balakrishnan noted that next year will mark the 40thanniversary of the adoption of the UN Convention on the Law of the Sea (UNCLOS) and it is an opportunity to reaffirm Parties' commitment to UNCLOS as the primary legal instrument for oceans governance.
On the digital revolution, Minister Balakrishnan spoke of the need to enhance multilateral cooperation to leverage digital technologies for sustainable development, and close the digital divide. He highlighted the need for a global framework to maximise the opportunities and address the challenges posed by digital transformation, and a global digital architecture that is open, inclusive, inter-operable, and multi-stakeholder. Singapore will support efforts by the UN to advance efforts in this respect.
Minister Balakrishnan alsoannounced the launch of a technical assistance package called "FOSS for Good" to mark the 30th anniversary of the Forum of Small States (FOSS), which Singapore established in 1992. The programme will commence in 2022, and it will provide an avenue for Singapore to support the unique development priorities of FOSS Member States.
---
On the Sidelines UNGA 76
At a door stop interview following Dr Vivian Balakrishna's address at the UN rostrum in New York for the 76th General Assembly – his thoughts on US-China relations
SINGAPORE'S Foreign Minister Dr Vivian Balakrishnan's answer to the question by Yeo Chun Hing of Lian He Zao Bao on what he thought of US President (Joe) Biden and Chinese President Xi (Jinping) speeches at UNGA (UN General Assembly)
Minister: I listened to the speeches from both (President) Biden and President Xi. I think they both gave very careful speeches. For instance, President Biden said you know we must not, we have to be careful not to tip from competition – responsible competition – into conflict. President Xi said, well, one country's success does not mean failure on the part of another country.
In a sense, I think they are both setting up the scenario, so that there can be both competition and cooperation, whilst hopefully avoiding conflict. Now, having said that, I think we are still in the very early stages of this strategic rebalancing, readjustment, recalibration of the relationship. You cannot assume that things will always be smooth sailing, and nothing can go wrong, or that you cannot actually end up with another de facto another Cold War or even sometimes, a hotspot.
This is something which I think everyone is aware of (and) concerned with, clearly on the part of Singapore and many other small nations in the world. If there is real trouble between the two superpowers, we are all going to be affected and affected severely. Let us see how this evolves. On our part, and I think I would say on the part of all the other countries and regions of the world, we have indicated that we believe in multilateralism, we believe in a rules-based world order. We continue to believe that trade, investments, common standards, level playing fields – these are the formula for peace and prosperity for the long term.
We hope that even as the superpowers feel their way around each other, they will still subscribe to this model of multilateralism in today's world. After all, that really is the raison d'être for the United Nations.
I think especially now, in a post-COVID-19 world, it is essential for people to get together to meet face-to-face, have conversations – both private as well as public, build reservoirs of trust, cooperation, and hopefully get into a habit where we can collectively deal with common challenges of the world, which include the pandemic, which include climate change, which include the digital revolution.The more we can get into a habit of solving problems collectively, instead of causing problems, the better for all of us.