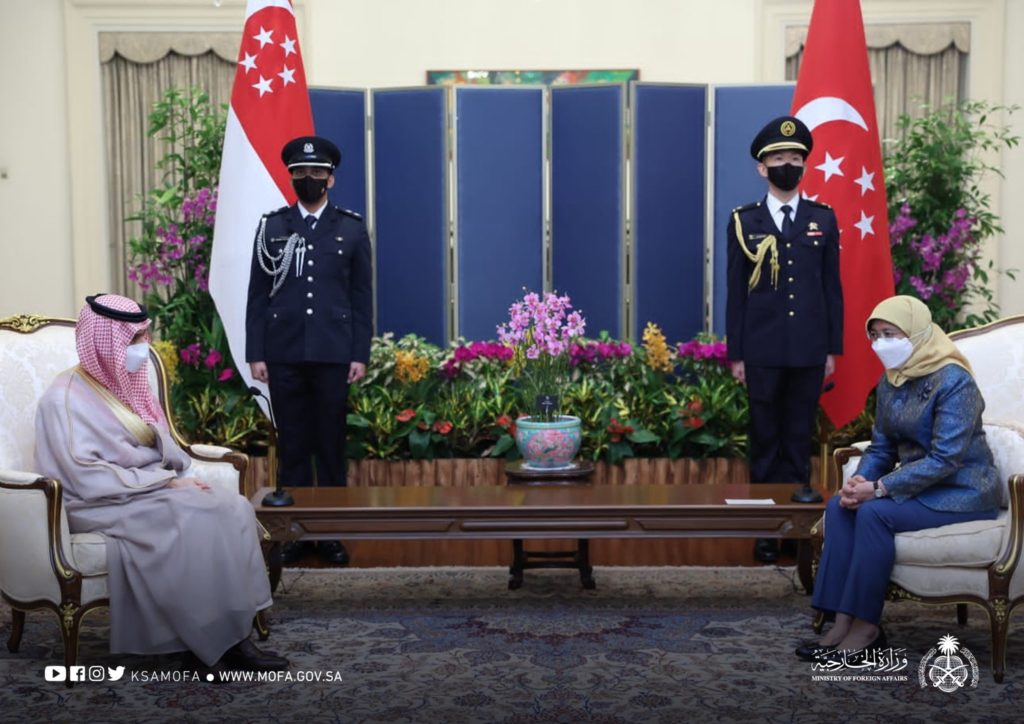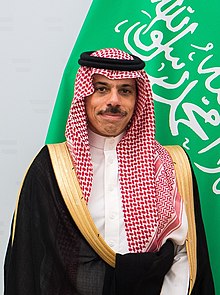 THE Kingdom of Saudi Arabia's (KSA) Foreign Affairs Minister, His Highness Prince Faisal Bin Farhan Al Saud arrived in Singapore on January 13, 2022 on his maiden official visit, at the invitation of Minister for Foreign Affairs Dr Vivian Balakrishnan. The longstanding relations between Singapore and Saudi Arabia were underscored by the visit which comes at a time when the two nations are celebrating 45 years of diplomatic relations between this year. Prince Faisal called separately on President Halimah Yacob then, Prime Minister Lee Hsien Loong at the Istana.
During the course of the reception, Prince Faisal conveyed the greetings from Custodian of the Two Holy Mosques King Salman and Crown Prince Muhammad bin Salman, Deputy Prime Minister and Minister of Defense, to President Yacob, the government and the people of Singapore.
In response the Singaporean President conveyed her warm greetings and appreciation to the Custodian of the Two Holy Mosques, the Crown Prince and to the Saudi government and people. She also said she welcomed the inaugural Saudi-Singapore Joint Committee (SSJC) meeting held in Riyadh last month.
President Halimah congratulated Saudi Arabia for its successful management of the haj pilgrimage and reiterated Singapore's request for an increased haj quota when it is resumed for Singaporean pilgrims.
Bilateral Discussions On…
Discussions took place on the relations between the Kingdom and Singapore, and opportunities to enhance cooperation between the two countries in all fields. Discussions also took place on a number of issues of common interest, and matters related to the most prominent regional and international developments. Special  attention was paid to the efforts of the two countries to protect the planet, and the Kingdom's announced "Green Saudi Arabia" and "Green Middle East" initiatives.
During his visit, Prince Faisal also met Minister Balakrishnan and Minister in the Prime Minister's Office, Second Minister for Foreign Affairs and Second Minister for Education Dr Mohamad Maliki Bin Osman. The Ministers agreed that there was scope to deepen bilateral cooperation. Both countries have also collaborated on issues of mutual interest at multilateral fora. The Ministers also had a good exchange of views on regional developments in the Middle East and Asia.
---
Prince Faisal Calls on…
PRIME MINISTER LEE HSIEN LOONG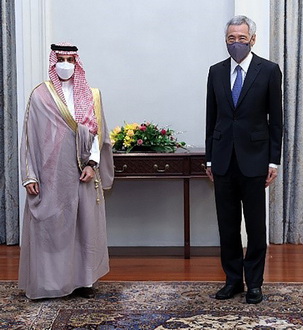 The Prime Minister of the Republic of Singapore, Mr. Lee Hsien Loong, received the Minister of Foreign Affairs of His Highness Prince Faisal bin Farhan bin Abdullah, on 13 January, 2022, during his official visit to the capital, Singapore.
The two held talks on ways to enhance bilateral cooperation to support international peace and security. They both stressed on the importance of increasing economic cooperation and providing all facilities to investors in the two countries, which will be reflected in the development and prosperity of both countries.
PM Lee and Prince Faisal also confirmed the stepping-up of bilateral engagement, including through the SSJC, which provides a useful platform to strengthen economic cooperation in support of Saudi Arabia's Vision 2030. PM Lee also agreed that there was scope for companies from both countries to explore further opportunities.
---
Minister for Foreign Affairs Dr. Vivian Balakrishnan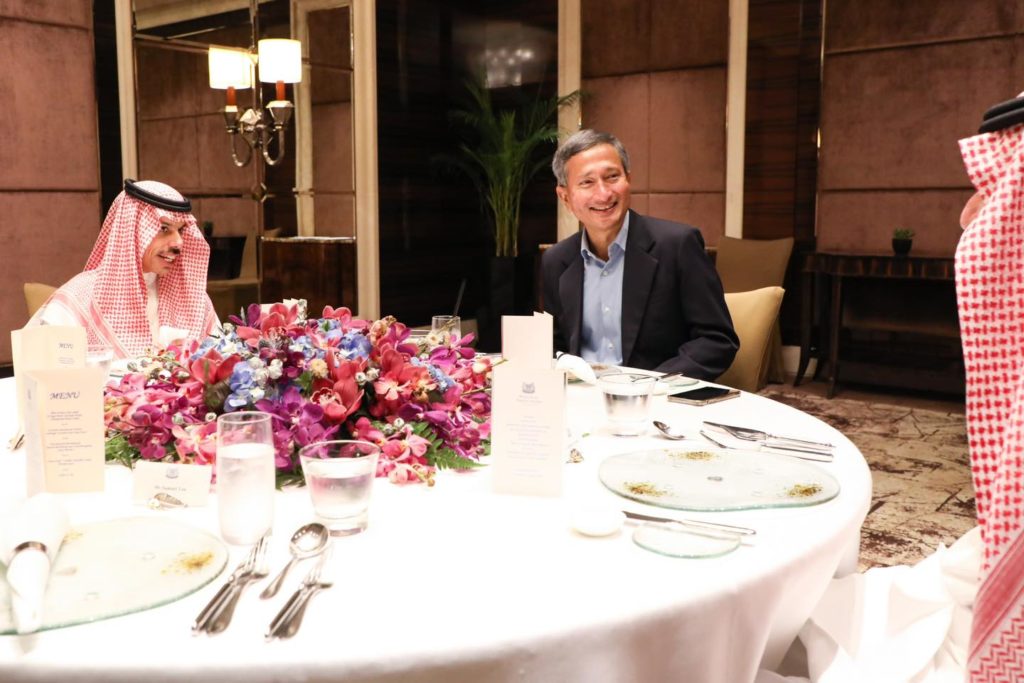 Dr Balakrishnan while reaffirming the on-going engagement with Saudi Arabia shared:
"Delighted to host a good friend, Saudi FM Prince Faisal Bin Farhan Al Saud. We last met in New York in September 2021. This is his introductory visit to Singapore as FM. Timely as 2022 marks the 45th anniversary of diplomatic relations!
We reaffirmed our warm bilateral relations, and discussed how we can deepen cooperation. I thanked Prince Faisal for Saudi Arabia's invitation for Singapore to attend the G20 meetings in 2020 under its presidency.
We discussed the challenges of living with endemic COVID-19 and how to facilitate safe cross-border travel. I know many Muslim Singaporeans are keen to visit Saudi Arabia for the Haj or Umrah. Hope that Singapore's request for an increase in Haj quota can be positively considered."
---
Minister for Social and Family Development Masagos Zulkifli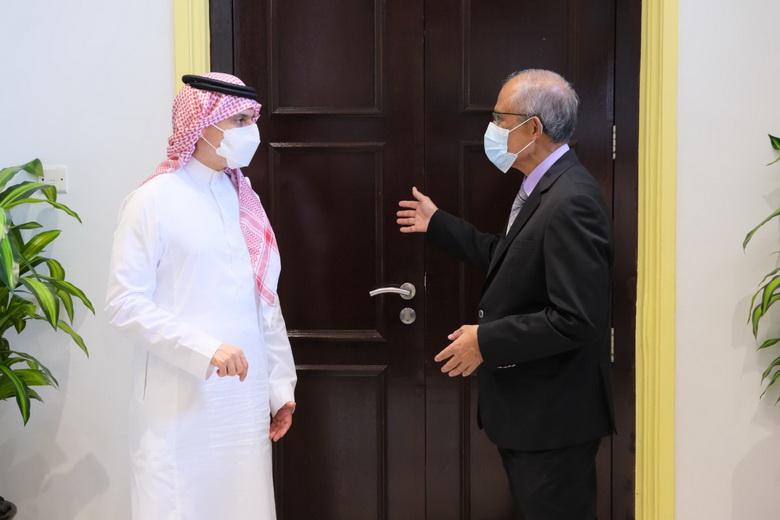 Prince Faisal met Minister for Social and Family Development Masagos Zulkifli, who is also Second Minister for Health and Minister-in-charge of Muslim Affairs. Minister Zulkifli shared his thought on this meeting.
I had the pleasure of meeting Saudi Foreign Minister His Highness Prince Faisal bin Farhan Al-Saud during his introductory visit to Singapore. Our countries share good bilateral relations. Many Singaporean Muslims travel to Saudi Arabia every year for their haj pilgrimage and some to pursue tertiary Islamic education.
As more people are getting vaccinated, we have seen more travelling overseas, including Singaporean Muslims who wish to perform their Umrah and Haj. I discussed with HH Prince Faisal on the Kingdom's preparations and arrangements for the upcoming haj season, including on haj visas. May Allah SWT grant our prayers so that more Singaporean Muslims can perform the Haj.
I also shared that Muis will be organising the International Conference on Communities of Success (ICCOS) later this year, which will bring together scholars from around the world to build a body of knowledge and find solutions to contemporary challenges for Muslim minority communities within multi-cultural and secular societies. I asked HH Prince Faisal's for his support to encourage scholars who are experts on Fiqh Al-Aqalliyyat from Saudi Arabia to join us and participate in the discussions at ICCOS.
I look forward to more collaborations between our two countries, and to visiting Saudi Arabia again!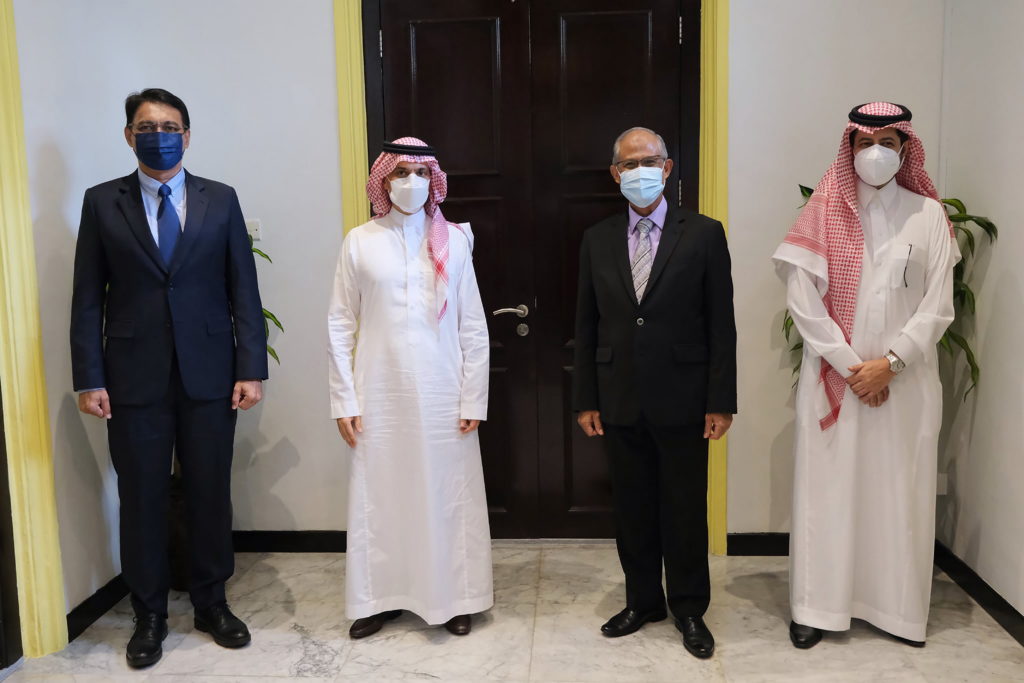 Photos: Singapore Ministry of Foreign Affairs (Michelle Koh), KSA Ministry of Foreign Affairs, Singapore Ministry of Cu;ture and Information and Ministry of Social and Family Development.