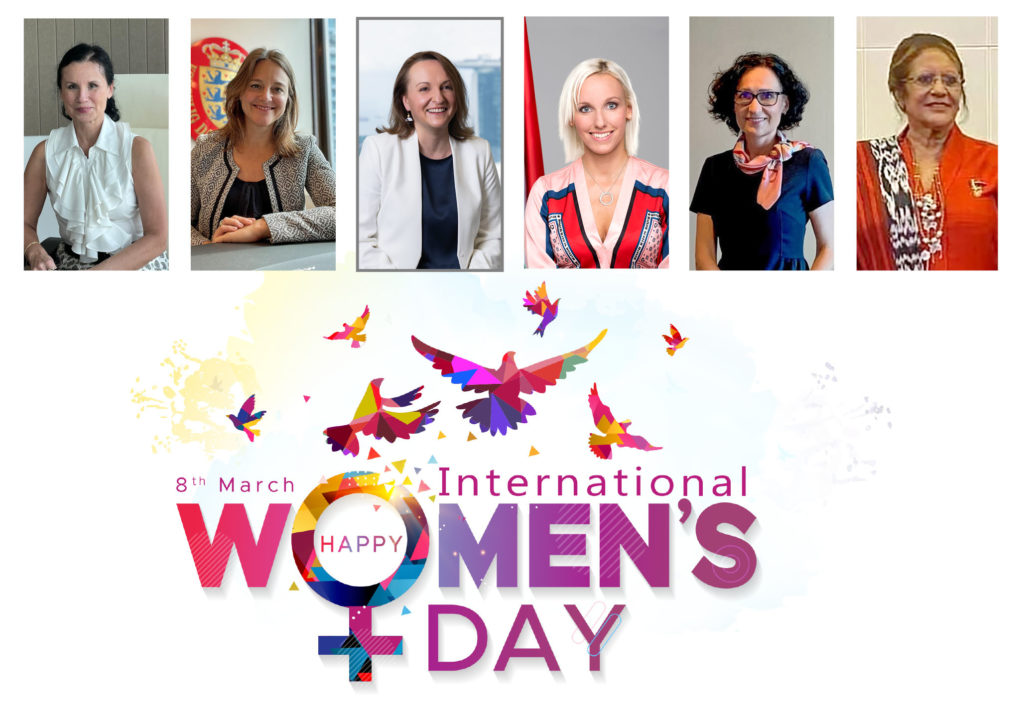 IN Diplomacy celebrates INTERNATIONAL WOMEN'S DAY 8th March 2022 by inviting six outstanding diplomats to share their stories about life as a woman diplomat representing their country. What they find most satisfaction in their chosen profession, the challenges and how it has been (so far) looking after their careers and families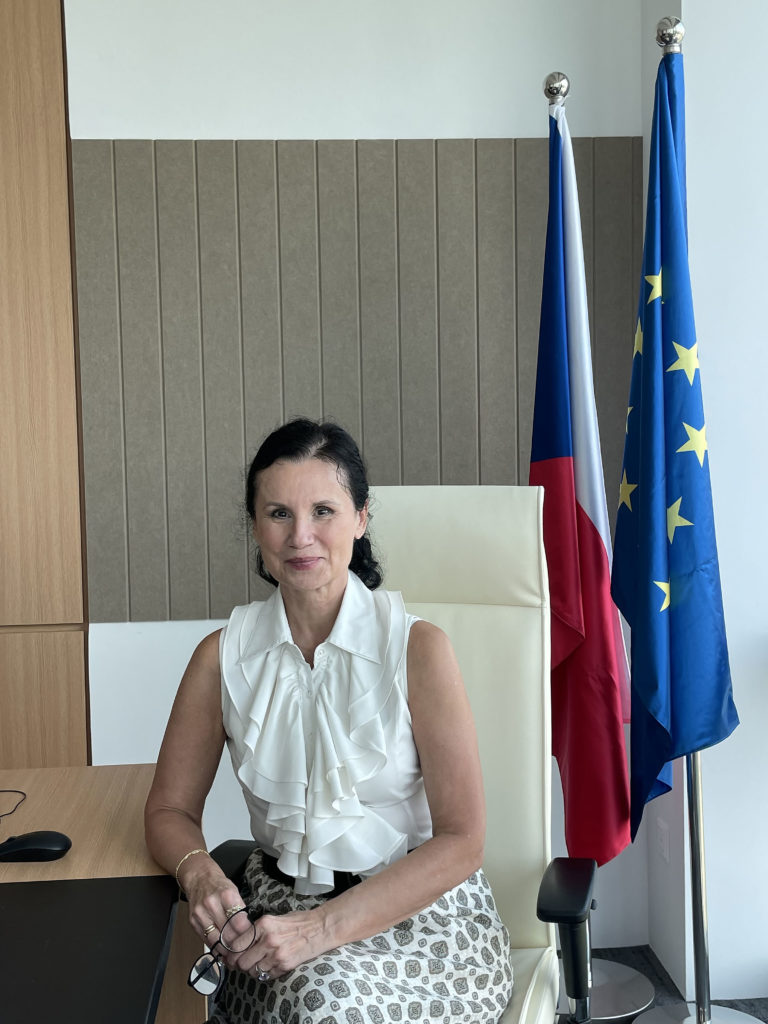 ▶ H.E. DR MICHAELA FROŇKOV
Czech Republic Ambassador to Singapore

WORKING in the diplomatic service is a wonderful opportunity not only to discover other countries, cultures and nations, but also to be able to take an active part in negotiating and building a better place to live for everyone. Getting to know, understand and respect people from different parts of the world, while presenting your country and promoting its views and projects in bilateral relations or in the wider international environment, remains the main goal and engine of my work.
If I should focus on the important area of the diplomacy, that brings me the most satisfaction and also the happiest moments, it is cooperation and help of my country in health services. The Czech Republic has a high level of credit in this area and is therefore able to be very effective where doctors or other health professionals are needed. I was thus very pleased to have the opportunity to actively organize the free assistance of our doctors and nurses in my previous places of posting, in Morocco and Lebanon. Whether it was the demanding heart surgery of newborns, cataracts or enabling medical care in hard-to-reach mountain areas, their implementation has always filled me with great satisfaction. It is unforgettable to be present at the thanks of happy parents or elderly people who can see clearly after a long time, moreover, knowing that none of them could afford such difficult surgery financially.
Of course, political discussions, negotiating agreements, preparing visits between political leaders, making contacts, analyzing work or organizing cultural events seem to be more related to successful diplomacy than cooperation in such a specific area as health care. In the general consciousness, it rather belongs to the relevant institutions or ministers. From my point of view, however, it is a very concrete involvement in the life of the country, in which I work, and a very concrete help in the sector, which is definitely the most important for everyone.
Nevertheless, diplomacy also has its downsides. It is not just about working and living often far from your home, nor about the need to quickly get acquainted with an unknown and often very different environment, nor about the knowledge that you establish work and friendships mostly only for a limited time of your posting, but above all about being far from your loved ones.
In my case, when my husband has his own firm in Prague and therefore cannot accompany me on my missions, as well as my sons, who already have their own families and their work, there are moments of sadness and loneliness, which I sometimes find hard to bear. I have to admit quite openly that I can continue to do my job in peace and satisfaction mainly due to the existence of applications such as WhatsApp, Skype or FaceTime. Although, of course, none of them replace the physical presence of my family, they certainly make moments of loneliness easier.
---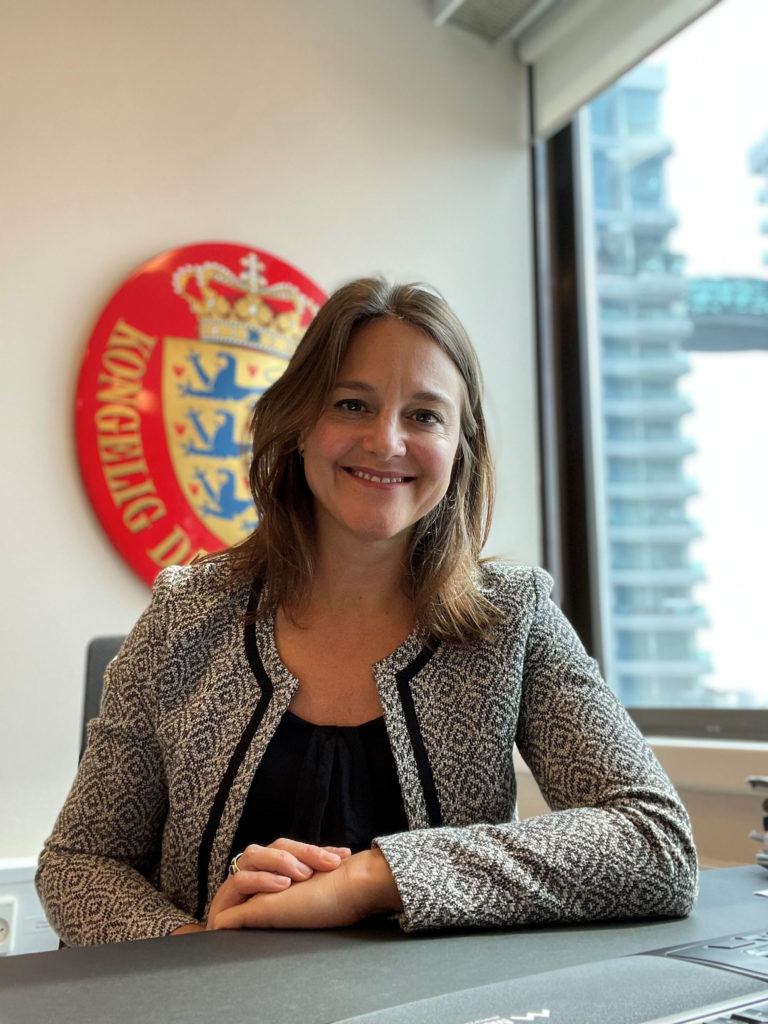 ▶ H.E. Sandra Jensen Landi
Ambassador of Denmark to Singapore

THE number of women in diplomacy is increasing and I am always happy when I have an opportunity to welcome another woman in the diplomatic group. However, we see in larger meetings that we are still a minority. During my career, I have found myself to be the only woman in a full meeting room so many times that I stopped counting. Luckily, it is becoming rarer and more women are moving up the ranks.
A diplomatic career can be very exciting, especially for those of us who thrive in encounters with other cultures. However, it can be a difficult career to pursue from a family perspective. It is difficult to be a spouse of a diplomat and have to reinvent yourself in a new country every 3-4 years, especially if the spouse has a career of his/her own. In the Danish Foreign Service, this was for a long time only a challenge for female diplomats, because the male diplomats primarily had wives without careers of their own, as was the norm in society. Today, dual careers are common in Denmark, which means that men and women in the Foreign Service share this challenge and it has become an obstacle to the mobility of all Danish diplomats. It is recognised as a legitimate challenge, but there are no easy fixes in a job, where you have to shift around the world. Luckily, digital developments – and Covid-19 – are helping as it is becoming easier to work from a distance and thus easier for spouses to bring a job with them to new destinations. In order to find a balance in my own dual career household, my husband and I have taken turns in following each other's jobs to new destinations and made some sacrifices along the way, but it is not always easy to make it all add up.
I have looked to many role models through my work life for guidance and inspiration. For a long time, I thought that many of the Danish female ambassadors who paved the way in earlier generations could only do so by adopting the demeanour of men. That was discouraging to me. It has since changed and there are now several senior colleagues I look to for inspiration.
We need both men and women in diplomacy. Not just because it would be silly to only draw talent from one gender, but also because we often have access to different information. I have for example worked in countries with traditional gender roles, where I could more easily obtain information and perspectives from women groups than my male colleagues could. A key aspect of diplomacy is about obtaining and analysing information, so it is important to have access to a variety of sources and perspectives.
I am trying to support younger women in my own Foreign Service through mentoring and by eyeing opportunities, where I can support their career. I think it is important to be a wind in the back of younger women for the gender imbalances to keep improving.
---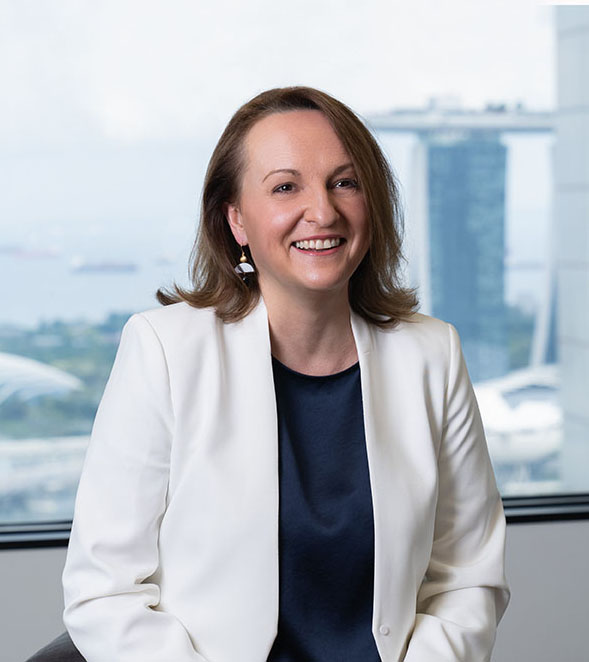 ▶ H.E. Iwona Piórko
Ambassador of the European Union to Singapore

THESE are difficult times. My thoughts go out to families in Ukraine who are showing immense courage. We hear stories of heroism that inspire. Of Ukrainian women and girls defending their homeland and fighting for universal values of freedom. They are not alone and never will be. This is a defining moment where we see the free world speaking with one voice.
During war, women and girls are the most vulnerable to exploitation and violence. We need to ensure that their rights and safety are upheld even more in such circumstances. At the same time we need to ensure women's meaningful participation in peace and security efforts. According to UN statistics, when women participate in the peace-making process, the resulting agreement is 35% more likely to last 15 years or longer.
Women play an essential role in maintaining stable and secure democracies. Women are agents of change in society, and the strongly held view in the EU is that in order to transform economies and societies, women and girls must be empowered.
Promoting gender equality and empowering women and girls is a priority for us in the European Union.
It is a fact – When women succeed, communities succeed.
Studies show Gender equality has strong, positive impact on Gross Domestic Product (GDP) per capita. By 2050, improving gender equality would lead to an increase in EU (GDP) per capita by 6.1 to 9.6%, which amounts to €1.95 to €3.15 trillion.
Last March – before International Women's Day – the European Commission adopted a new Gender Equality Strategy for 2020-2024, which addresses a number of critical issues that currently undermine equality and have an impact on women. This includes: work- life balance, pay transparency and the gender pay gap, violence against women, and gender balance in decision making.
Today several European governments are led by women. The participation of women in the work force in general is rising steadily. And I am proud to say that, among the 18 European Ambassadors here in Singapore, seven are women. We also have, at European and at national levels in the EUs Member States, ambitious policies in place to promote gender issues.
I have been personally privileged to learn from exceptional women in leadership, having served in the Cabinets of EU's former Foreign Policy Chief Federica Mogherini and more recently in the Cabinet of Executive Vice-President of the European Commission for a Europe for the Digital Age Margrethe Vestager. I am grateful for everyday lessons in female leadership.
However, gender equality cannot be achieved by women alone or by focusing exclusively on women. Gender equality concerns both women and men and change in this area requires the involvement of men as well as women. Both in Europe and in Singapore men have taken up significant roles in promoting equal economic independence for women, closing the gender pay gap, advancing gender balance in decision making, ending gender based violence, and sharing equally in the distribution of power and influence. But we are not there yet and should not get complacent. We need to ensure all voices are represented. This is why initiatives such as yours are ever so important to reflect on ways to improve gender equality and raise awareness about it.
---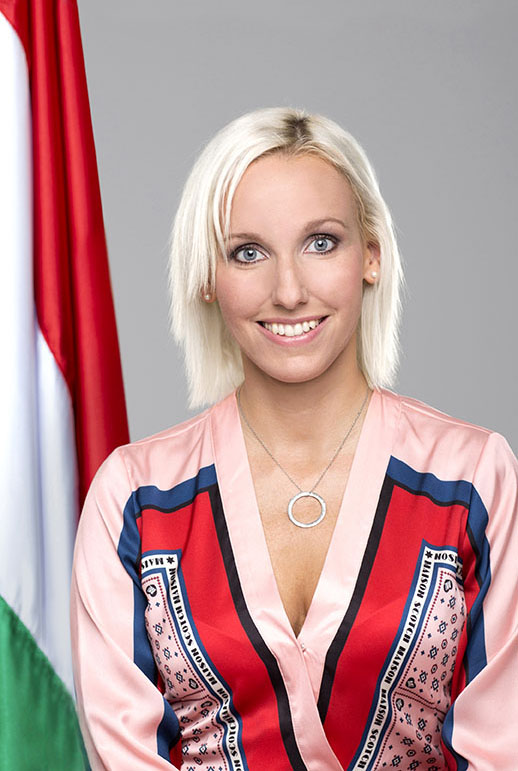 ▶ H.E. Ms. Judit Pach
Ambassador of Hungary to Singapore

IN Hungary we have 21 women ambassadors and 5 consul generals which are numbers growing every year.Personally I was appointed at the beginning of this process and back then the numbers were much more in favor of men. In 2015 I was the youngest ambassador AND a woman.
Before becoming an ambassador I was in other leading positions in the administration and everywhere I experienced that there are still some stereotypes which women need to face, but there are also several advantages and possibilities which we can use.
Although I personally still experience sometimes, that my partners tend to take me less serious due to my age and my gender, but I truly believe that this at the same time is a huge possibility and a great advantage.
If we think of it, strategically it's always better to be underestimated. Although one might often experience a struggle to prove oneself, but at the same time there is more chance to amaze and to overwhelm and to make a lasting impression.
Also when it comes to lasting expression I believe that women have a much bigger toolkit than men. Fashion diplomacy is something which needs to be taken seriously and women have a much broader toolkit to formulate messages with their looks. Nowadays when social media and photo and video contents are important tools of diplomacy, fashion diplomacy and self-branding are inevitable. I remember that throughout my career I always experienced that in the mass of middle-aged male ambassadors in dark suits everyone remembered the young blonde Hungarian ambassador in the colourful dresses.
In diplomacy building connections, establishing a good network and gathering information are necessary and as a woman, one can tap into different resources. Women's circles, spouses are a great source of information and women are in general more emphatic and usually tend to sense unspoken or hidden information more often than men. I often gathered information or organized important high-level meetings with the help of the spouse of an influential person.
There are several other reasons why women excel in the field of diplomacy and it's always a personal choice who is using which available tool and how they operate in their own field. However it is great benefit for young girls that nowadays they see more and more women in diplomacy. Not only because this is strongly encouraging them to consider working in this field, but also because women in diplomacy are role models who are modelling different types of behaviours and decision making processes.
Having more and more women leaders in the spotlight showcases lot of different types of leadership to which it is easier to relate. I'm very happy to see that more and more different kind of women can forge their own way to be successful leaders in diplomacy.
---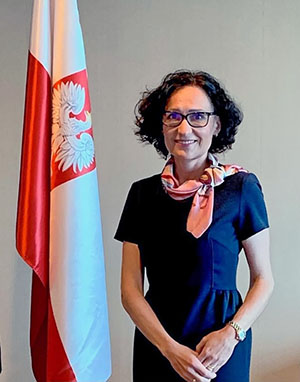 ▶ H.E. Magdalena Bogdziewicz
Ambassador of Poland to Singapore

There is no better time to reflect on the position of women in demanding work environments than the March 8th International Women's Day. Securing equal access to the top positions among men and women should be however our everyday concern.
The data reflect the general acceptance for an active leadership of women in the professional, public and political life in Poland, and the diplomatic service is not much different in this regard. While for a woman to reach a high rank is still mostly a matter of personal abilities and determination, there are systemic solutions in place to support women empowerment. Specific concerns relate to the socio-cultural norms and the work and family balance, most boldly exposed when it comes to overseas assignment.
In my home country women were granted voting rights as early as in 1918, just two weeks after Poland regained independence. This was a strong message consolidating women's public roles and reflecting the acceptance for their civil rights in a society. In the dysfunctional communist economy one salary was not in enough to raise a family which sends – as a popular slogan had it – "all women on the tractors".
Poland's transition to democracy and free market in the 90's opened new paths to develop individual entrepreneurial spirit and establish a privately own company. Women in Poland seized the opportunity in large numbers and throughout the years rose to SME's CEOs. In 2020 Poland was ranked the 5th best country in the world for female entrepreneurs. For years, we have engaged in promoting the UN Women, Peace and Security Agenda and since Russia's invasion on Ukraine, Poland has welcomed over one million of refugees from war-torn Ukraine, mostly women and children.
Today Poland fares well in rankings reflecting women's position and rights in the workplace. The employment rate stands today at 65% for women and 79% for men. Statistically, women are better educated (56% have attained tertiary education) and Poland's gender wage gap, measured by the OECD, stands at 11.75%, below the average among advanced economies. Women currently hold 29% of the seats in the Parliament, and since the 90's Poland has had three female Prime Ministers and two Speakers of the Parliament.
In 2021 Poland was ranked in the 10th place in "The Economist's Glass-ceiling index" for the quality of the environment for working women in the OECD countries. The 2022 "Women in the Boardroom: A Global Perspective" report situates Poland among countries that saw the most notable increases and has reached nearly a quarter of board seats held by women.
We do our part at the diplomatic service in promoting the policy of equal chances and implementing good practices. Polish Foreign Ministry, as a part of the civil service, was quick to adopt in 2012, along its anti-mobbing framework, also a non-discriminatory policy, as well as establish in 2015 a coordinator position in charge of equal treatment. A Person of Trust is chosen every couple of years to help solve issues that might arise at the work place. Training on non-discriminatory policy has also become an immanent part of professional development path.
In fact it has often been the MFA paving the way with forward looking, women-friendly solutions. Partially working from home arrangements have been available for junior or independent positions since 2010, mobile communication – since 2004, and a room where mothers or fathers can take care of young children while performing duties opened in the headquarter in 2014. In addition, recently adopted Act of Foreign Service introduced more flexibility for the Head of Mission's spouse to continue professional career when companying the spouse abroad. This should serve as a strong incentive for a larger pool of female candidates to aspire to top diplomatic ranks.
While the gender parity is not a goal in itself, securing women's active contribution in the most demanding and most prestigious capacities, along with continuous emphasis on merits and dedication, benefits the organization indisputably. Women in diplomacy are often perceived as hard working, down to earth with strong multitasking capabilities; yet, they are not being proportionally promoted to the most senior ranks. Why is it so?
According to many international surveys the most challenging issue women in diplomacy face is the balance between work and family and the perceived necessity to sacrifice one over another. This popular socio-cultural, often self-imposed misconception leads to a disproportional number of highly capable women settling down in mid-level managerial positions. Often, we tend to prioritize professional satisfaction within the comfort zone over the pursuit of more prominent, but certainly more risky positions and exposures that entails strong competition.
Moving abroad and expanding responsibilities is a privilege but it also requires several adjustments by the diplomat and the entire family. While we have to respect individual career preferences we should also work on broadening the choices women have, to actively tap into women's potential, for their benefits and the organizations themselves. Therefore we should do both: as a society continue to seek greater involvement of men in family issues (and Poland is well advanced in this respect, offering up to 1 year of parental leave that can be split or shared by both parents) and further invest in raising awareness and tutoring aimed at strengthening women's eagerness to seek and accept greater responsibilities. Allowing areas largely dominated by one gender to form does not serve the effectiveness purpose, as it impairs the ability to approach tasks form different angles.
Therefore, as much as I grew uncomfortable with male-only large conference panels or business dinners, I am not in favor of discussing women's issues among women exclusively. Support circles might be helpful to vent out the frustration, network or exchange experience, but are not the best place to advance the cause. Making a change against or without or our male colleagues being part of the conversation, is neither possible nor applaudable .
Based on my personal experience, the most valuable direct support a woman diplomat aspiring to high level assignments gains is twofold – first, coming from her close social circle of family or friends. Most critical however is a direct message of encouragement coming from the male superiors. It not only reinforces self-confidence but first and foremost sends a strong message of commitment to give way to more female colleagues in the top positions.
When I joined the Foreign Service over 20 years agothe vast majority of the leadership positions both in the headquarter and abroad were occupied by men, while women were mostly employed in the administrative, supporting roles, with a few notable exceptions. As of today 37% of directors' and deputy directors' posts in the HQ are held by female colleagues. The numbers are not so high though, when it comes to diplomatic posts' heads, and oscillate around 20% for women ambassadors. At the same time women represent 27% among consuls generals and 50% of Polish Institutes' directors.
Changing socio-cultural norms and the work culture requires time and effort. Transparency and awareness raising, along with facilitation of professional mobility, tutoring and empowerment courses set the path ahead. I am confident we are on the right one. I am proud to have climbed the diplomatic ladder from the very bottom, learning diplomacy is a team work that requires excellence and passion, as well as the virtue of humility and respect.
In the group of 16 future diplomats who had passed the entry examinations to the MFA in Warsaw back then in 1998 there was an equal number of male and female colleagues. Over 20 years later 4 man and 3 women have earned the honor of serving as Poland's Ambassadors abroad. A number of international trainings, two foreign postings on two continents, a director's stint at the HQ, several inspiring bosses and colleagues, one supportive husband and three wonderful children later, I'm am privileged to be among them and represent Poland in Singapore.
It's important that we recognize the challenges women still have in the society and workplaces, appreciate the achievements and stimulate the progress, to create supportive environment for a growing number of female leaders in business and the civil service, in sync with the leading theme of 2021, designated as the "Year of Celebrating Singapore's Women".
---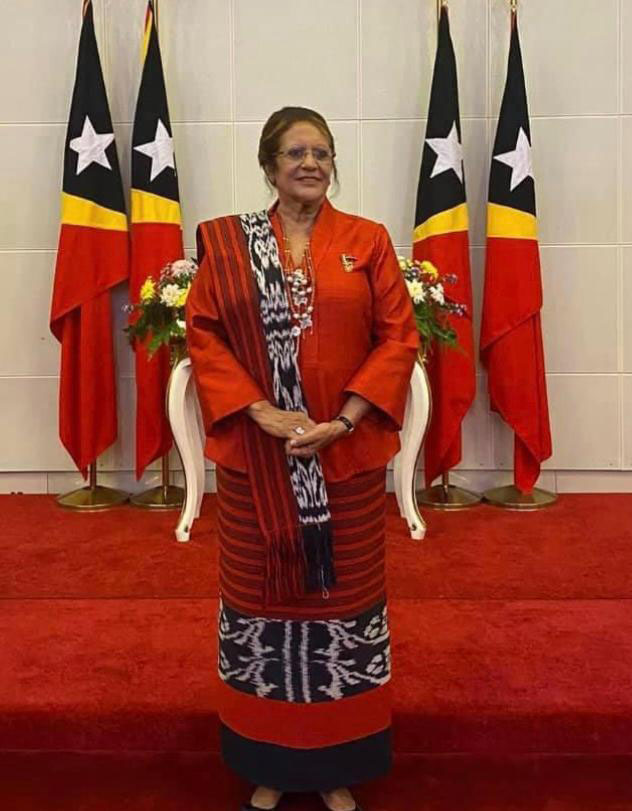 ▶ H.E. Natália Carrascalão
Ambassador Democratic Republic of Timor-Leste to Singapore

Women have been taking more relevant positions in politics and diplomacy. It has been a long and consistent journey that has shown that conciliating a demanding professional life, family and personal life continues to be a great challenge for women in Diplomacy, as for all women with demanding professional lives.
I was born in Timor-Leste, to a Portuguese political exiled father and strong and humble woman from the luxurious mountains of my small country. Timor-Leste is a developing country, that has been independent for over 20 years. It's rich in traditions and culture, natural resources and a touristic gem in the brewing.
During the period that Timor-Leste was under Indonesian Administration, I embraced a political career, in Portugal, and served 3 terms as a member of the Portuguese parliament. Throughout this time, I was able to work for the Portuguese development and represent Timor-Leste and bring further attention to its fight for independence.
With this background and with a strong belief that we all have a part in helping Timor-Leste develop to its full potential, I have become an Ambassador in 2009, after holding diverse political and public roles and offices, both in Timor-Leste and in Portugal.
Becoming the third woman to be nominated Ambassador of the Republic of Timor-Leste has brought me a great honour and the sense of mission to not only represent my country but women in Diplomacy. Conciliating a demanding career in Diplomacy with personal life and family life has presented its challenges. However, with dedication, perseverance and support from the family, I have always managed to feel that both my professional and life missions have been successful.
Quite often I have found myself far away from my husband and son, in distant countries, but always close and in sync with them and my country, which has given me the satisfaction of having achieved my career goals in a world where women are still underrepresented, 25%.
It has been my challenge and victory to be able to achieve a recognised professional, political and diplomatic career (have been graced with 2 medals of honour distinctions by H. E. President Anibal Cavaco Silva in Portugal and by H. E. Peace Nobel Laureate Jose Ramos Horta in Timor-Leste), with many sacrifices in a Man's world.
International affairs should reflect societies as a whole, and women bring an invaluable share of this representation of our modern societies.
---