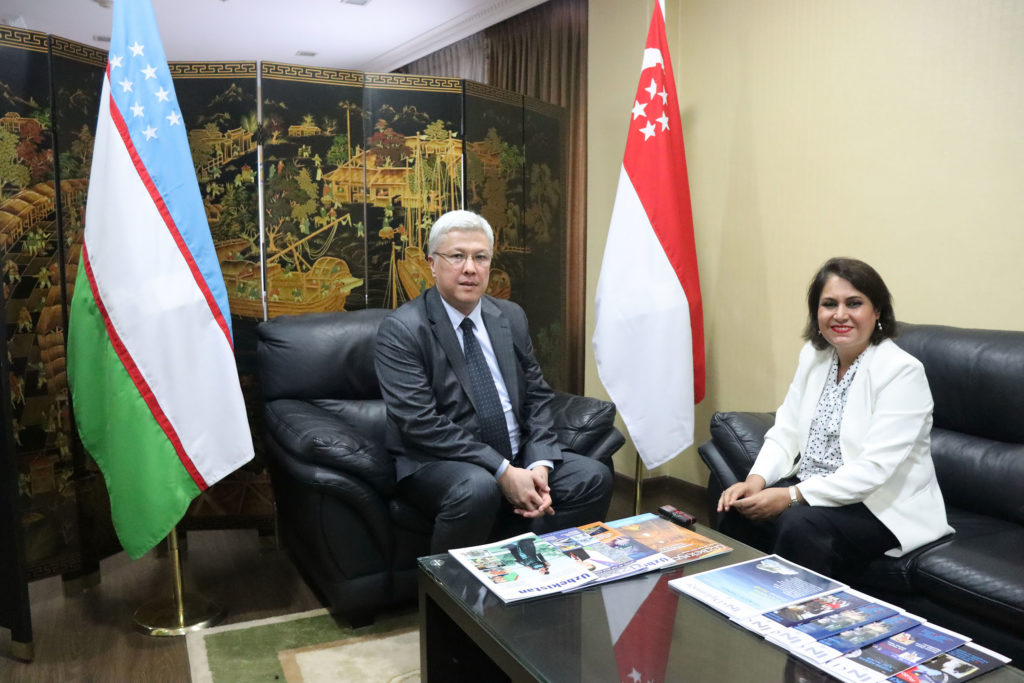 The Ambassador of the Republic of Uzbekistan has represented his country in Singapore since 2018 and was recently appointed the Dean of the Diplomatic Corps in Singapore. In an interview with IN Diplomacy's Editor-in-Chief Ms Nomita Dhar, he speaks of the strong ties between the two countries and fresh areas of collaboration as well as his plans and initiatives following his new appointment
WE are honoured to have this discussion with you, particularly since you have just been chosen as the Dean of the Diplomatic Corps. How does it feel?
This is my first posting as an ambassador, and I never expected to be appointed the Dean representing the esteemed diplomatic corps in beautiful Singapore. For me, it's both a challenge and a huge opportunity. ​
The pandemic had put everything on standstill. Now that things are normalizing, what are the fresh responsibilities this new role brings?
First, the opening of borders and easing of restrictions. The Singapore government did a commendable job of taking care of the diplomatic corps during that very difficult period, ensuring that we were constantly updated on the latest developments and that we felt very safe here during that period.
Now we need to double the speed to make things happen between various embassies and countries represented here in Singapore. ​
​
Recollecting the COVID-19 period, how did you work with your diplomatic colleagues to ease issues that arose due to the pandemic?
This was mostly done online. We had zoom meetings, not only within the diplomatic corps and with friends, but for all communications with Singapore's ministry for foreign affairs, which did a commendable job of periodically briefing us on news and the measures being taken by the government during the pandemic. ​
The only exposure people have to diplomats and their roles are when they apply for a visa. What measures will you take to widen this knowledge gap between the embassies and the public We will work first toward enhancing bilateral relations between Uzbekistan and Singapore, we wish to strengthen the existing strong ties between the two countries. We support each other every time on the bilateral level and also within international institutions.
Before COVID-19, we exposed Singaporeans to Uzbek culture through various events including a fishing show at Sentosa. During the pandemic, we did shows online primarily on culture and also did photo exhibitions of our prominent crafts.
This month, we are undertaking another round of online exhibitions and inviting the diplomatic corps and government officers, also other staff of our embassy. We will also enhance the level of cooperation by arranging some official government-to-government discussions. Even before Covid-19, we sent government delegations from Singapore to Uzbekistan, and Singapore also kindly accepted our various invitations on the DPM and ministerial level, when we had fruitful discussions on bilateral issues.
These are B2B meetings, initiatives on investment, and trade but it's also people-to-people contact. You are key to informing the public about your people, culture, and collaborations. Yes, the Uzbekistan embassy is the link to the Singapore government and G2G.
This simplifies things for most people. For instance. what do I go to the embassy for? What information can I find? And how do they enhance business opportunities? ​
Yes. The Uzbekistan President Mr. Shavkat Mirziyoyev is also pushing diplomacy forward and embassies are open and flexible on economic discussions. This is for both the government and the private sectors.
As the new Dean, what is your role, and what is expected of you during your term?
My primary role is to support my colleagues, accelerate the embassy activities, and at the same time arrange joint events, with our friends from the government, business, and social circles and represent our country in some forums on the bilateral side and maybe some from the regional side. Also, to strengthen social activities in Singapore.
What are your plans for restarting these?
We will bring together members from embassies and consulates. This will be both a social gathering and a platform for discussions on bilateral issues between countries to discuss new ideas on deeper engagement, cooperation, and collaboration with Singapore in this new post-COVID-19 era.
A lot is going on in international geopolitics, and not everything can be solved by discussions. How can you collectively work towards giving a better direction to the issues humanity faces right now?
I feel this is best done through negotiations, collaborations, and a joint effort by all at the bilateral and the multinational level. Every country wants to help to maintain stability. As ambassadors, we need to work to enhance cooperation with Singapore on various international issues at both the bilateral and multinational levels. ​
​
You have been here since 2018. What is your impression of Singapore? If given the opportunity to replicate something from here, what are the things that you would want to take back to Uzbekistan? And in reverse, beyond culture, what can Singapore learn from Uzbekistan?
​We have many such opportunities. First, the smart city projects are very effectively implemented here in Singapore. This is the synergy of modern infrastructure and old history with new and green tech. Here the transfer of technical know-how from Singapore would help.
We have already initiated change in cities like Tashkent, Samarkand, and Bukhara, and are working on the modernization of airports, railways, and other transportation modes. Singapore's smart city transportation system is being effectively adopted in Uzbekistan and easing the traffic situation.
As for the reverse, Singapore can decide what it would like from Uzbekistan. We would like visits to historical sites in Uzbekistan like the ancient cities of Samarkand, Bukhara, , . Some of our ancient monuments are protected by UNESCO as well. There are many areas where we can fill gaps in cooperation.
What are your favourite places in Singapore?
I like nature, and despite the commendable synergy between nature and developed structures, for me, the untouched forests here in Singapore are the most unique. You feel real nature, you feel near the earth. Resorts in Sentosa can also be visited for a rest in the evening when the temperature drops..
We are a country of foodies. We love our food. Has any of our cuisine grown on you?
Uzbeks too love their food and are open to new cuisines. We have Asian, Chinese, and European cuisines available. When I visit a country, I look at trying out the country's unique dishes. In Singapore, for instance, it's chilli crab. Other items like chicken rice are similar to our cuisine but the way it is cooked here is different.
There is a popular perception that ambassadors only go to high-end places to eat. Have you tried our hawker food?
Hawker food has a certain authenticity, and yes, I do visit various hawker centres near the embassy.
Before coming to Singapore, where were you, and what memories do you have of those countries you served?
Before Singapore, I served as a counsellor for some time in Japan and Indonesia. Two big and different countries from a cultural point of view, and their position. Singapore is huge and has a long history. I have come to meet may hard working and knowledgeable people here. What has touched me is the fact that these people who are both from the government and the private sector, try to do their best to develop the country.
A little about your personal life…
I am married with three children and three grandchildren!