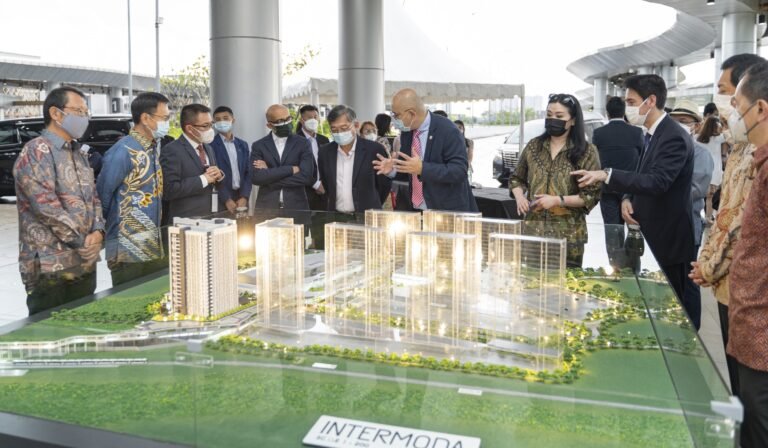 Singapore's Minister for Trade and Industry (MTI) Mr Gan Kim Yong's trip aimed to deepen strong bilateral economic relations and closer cooperation with Indonesia. The Minister also presented a speech at the Singapore Business Federation (SBF) GlobalConnect@SBF business event in Jakarta
DURING the 3-day visit starting from 29th May 2022 Minister Gan Kin Yong said: "Singapore and Indonesia share excellent bilateral economic relations. Indonesia is a key market for Singapore businesses looking to venture overseas. We will continue to work closely with the Indonesian government to deepen our bilateral economic ties and help our businesses explore new opportunities in Indonesia." He called on Minister of Investment Mr Bahlil Lahadalia, Minister of Energy and Mineral Resources Mr Arifin Tasrif, and the Head of the Nusantara National Capital Authority Mr Bambang Susantono. At the meetings, both sides expressed interest in deepening bilateral cooperation in the areas of energy, infrastructure development, and the digital economy.
On 31st May 2022 the Trade and Industry Minister also met several Singapore business representatives based in Jakarta as well as business representatives from Indonesian companies in the financial, energy and tech sectors. In his speech there he said: "Despite the COVID-19 pandemic, we have achieved several important milestones in the past two years, including the entry into force of the Singapore-Indonesia Bilateral Investment Treaty and the Avoidance of Double Taxation Agreement to introduce greater clarity and certainty for businesses". He also commended SBF on the launch of its latest initiative the 'Landing Pad Programme' for Singapore-based companies to be introduced to the Indonesian market (see following box story).
SBF Landing Pad Programme Pilot
As the GlobalConnect@SBF business event held at Singapore Enterprise Centre @ Jakarta SBF also piloted its "Landing Pad Programme", designed to provide companies with a tailored immersion experience to accelerate their potential of securing partnerships and sales in the market. The programme will also provide ongoing support for these businesses to help them accelerate their international journey.
First Ever Multimode Transportation Area in Greater JKT
Mr Gan also visited Bumi Serpong Damai (BSD) City in South Tangerang, where he toured the Transit-Oriented Development (TOD) facility that would serve as an important connection node between Tangerang and Jakarta. Sinar Mas Land, together with Mitbana, a consortium of Mitsubishi Corporation and Surbana Jurong, welcomed Minister Gan and Ambassador of Singapore to Indonesia Mr Anil Kumar Nayar to the TOD area developed by the two companies in Bumi Serpong Damai or BSD City. This first multi-modal transport complex will offer access to multiple public transportation options including bus, rail, and park-and-ride facilities to enhance last-mile connectivity and reduce congestion from the BSD area to Central Jakarta. One of the officials on hand to meet them, Mr Michael Widjaja, Group Chief Executive Officer of Sinar Mas Land, said: "Singapore and Indonesia have always been close friends and this is exemplified in the partnership between Sinar Mas Land and Mitbana. Our partnership with Mitbana gives us the opportunity to understand urban development standards and practices from Singapore and explore ways where we can introduce smart, sustainable and holistic urban solutions to uplift communities and businesses in Indonesia."
SINGAPORE MTI TRADE NOTE: Indonesia is Singapore's 6th largest trading partner, with bilateral merchandise trade reaching S$59.1 billion in 2021, a 21% increase from last year. Singapore has also consistently been Indonesia's top source of Foreign Direct Investment (FDI) since 2014. In 2021, the total value of Singaporeoriginating investments in Indonesia amounted to S$12.8 billion, accounting for 14.9% of Indonesia's total FDI.