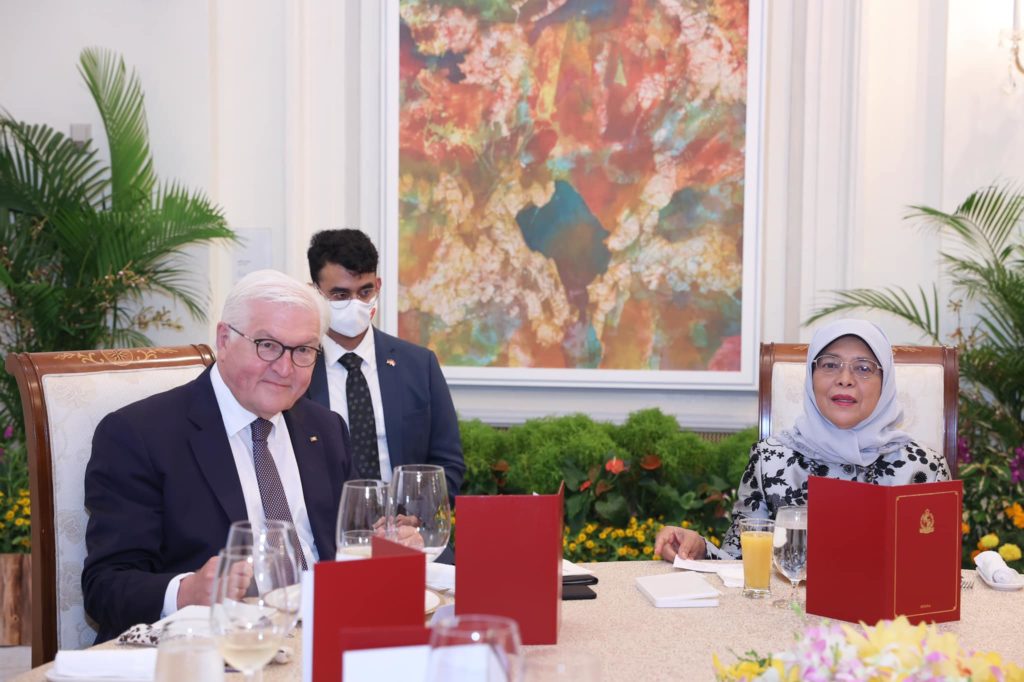 AFTER two years of travel restrictions and now with the transition to an endemic phase of COVID-19 and reopening of borders, many of Singapore's close partners from other parts of the world have resumed their visits to Singapore. In June Dr Frank-Walter Steinmeier, Federal President of the Federal Republic of Germany visited Singapore from 14th to 15th June 2022.
During his Working Visit he participated in political talks, expert discussions, and toured several institutions across the island. One of the highlights was the Business Roundtable meeting attended by Singapore and German companies here. He was welcomed by the Minister for Transport and Minister-in-charge of Trade Relations, Mr S Iswaran, who noted there are more than 2,000 German companies in Singapore and the Island Republic. The Minister said Singapore continues to welcome German companies to use the island as a launchpad to access opportunities in the region. He also wanted to highlight two new areas of growth that are related to Sustainability and Digitalisation. He said Singapore is now active in pursuing Green and Digital (see box story below) Economy Agreements with many countries.
EU-Singapore Digital Partnership (EUSDP)
Minister S Iswaran highlighted that Singapore has been actively pursuing a Digital Economy Agreement strategy which includes the EU-Singapore Digital Partnership that is currently being developed. He said Singapore is working with the EU towards an EUSDP that is:
■ Ambitious in establishing high standards that would surpass Singapore and the EU's existing initiatives, such as the G7 Trade Ministers' Digital Trade Principles and WTO JSI on E-Commerce;
■ Comprehensive in scope, to address the full spectrum of digital issues;
■ Tangible in supporting concrete projects and use cases that would benefit businesses and citizens.
Also accompanying him at the Roundtable were Ms Anja Hajduk, State Secretary of the German Ministry for Economic Affairs and Climate Action, Mr Norbert Riedel, German Ambassador to Singapore, Mr Jens Ruebbert, President of the Singaporean-German Chamber of Commerce and Industry.
President Steinmeier also had separate meetings with Singapore's Deputy Prime Minister and Minister for Finance Lawrence Wong in his capacity as Acting Prime Minister, and Minister for Foreign Affairs Dr Vivian Balakrishnan. They took stock of bilateral relations, and exchanged views on global and regional developments, particularly the situation in Ukraine as well as the global energy and food crises.

The German President also called on President Halimah Yacob at The Istana on 15th June 2022. President Halimah said: "Singapore and Germany are both steadfast in our support for a rules-based world order. We enjoy close cooperation in the economic, defence, education, and R&D sectors, and are keen to explore further collaboration in the areas of cybersecurity, climate change, and digital economy."
During his 2-day visit to Singapore, President Steinmeier also visited the ACM (Asian Civilisations Museum) and the National Gallery Singapore. The German Embassy in Singapore in a wry note in a Facebook post on the visit by the President said the ACM's Tang Shipwreck exhibit there is an important peek into history a thousand years ago when Southeast Asia was a thriving location of commerce, and exchange of goods, cultures and ideas as well as supply chain disruptions – "Very much like today."