MOUs COVER AREAS SUCH AS TOURISM, INTELLECTUAL PROPERTY, SUSTAINABILITY AND MEAT TRADE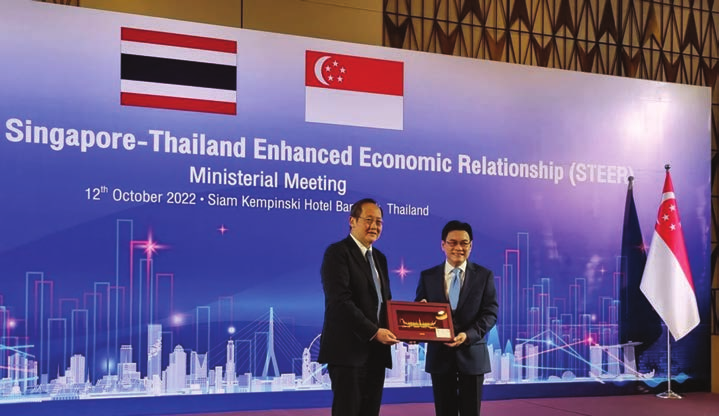 THAILAND and Singapore recently signed a series of agreements on a variety of economic issues, strengthening trade and investment cooperation between the two countries.
Ministers from Thailand and Singapore oversaw the agreements at the sixth Singapore-Thailand Enhanced Economic Relationship (STEER) ministerial meeting held in Bangkok in October 2022. The agreements touch on a number of issues, including trade and intellectual property, and stand to further expand the increasingly close economic relationship between Thailand and Singapore.
The STEER ministerial meetings signed or oversaw the signing of one memorandum of cooperation (MoC) and four memoranda of understanding (MoU). The agreements are either between government agencies, industry associations, or private companies. They are summarized below.
Intellectual property The Intellectual Property Department of Thailand and the Intellectual Property Office of Singapore signed an MoC and the Implementation Workplan 2022–2024 to deepen bilateral cooperation on intellectual property. As part of the cooperation, the two sides will establish a pilot bilateral Collaborative Search and Examination (S&E) program to help entrepreneurs and innovators in Thailand and Singapore obtain faster intellectual property protection.
Meat trade The Thai Broiler Processing Exporters Association (TBA) and the Meat Traders Association of Singapore (MTA) signed an MoU on the trade of poultry. Namely, the two entities agreed to cooperate on chilled and frozen poultry meat and other processed products and to facilitate trade and flexible import regulations.
Additionally, the Swine Producers and Processors for Exporting Association of Thailand (SPEA) and the MTA signed an MoU on the trade of pork. This agreement promotes cooperation on chilled and frozen pork, as well as expanding sourcing networks and improving product quality.
Sustainability Thailand's Kaset Thai International Sugar Corporation (KTIS) and Singapore's Evercomm and Bureau Veritas (BV) signed an MoU on tracking initiatives related to environmental disclosure, compliance reporting, net zero roadmap generation, and verification of carbon credits.
Electric motorbikes Thailand's PTT Oil and Retail (PTTOR) and Singapore's SLEEK EV signed an MoU on exploring the two-wheelers electric vehicle and motorcycle business, as well as related opportunities.
Tourism The ministers agreed to establish a Cruise Tourism Task Force, with a view to developing a roadmap on bilateral initiatives to drive cruise tourism between Singapore and Thailand. The two sides are aiming to finalize the composition of the task force team by December 2022. Thailand's Ministry of Tourism and Sports (MOTS) and the Singapore Tourism Board will collaborate to create the Terms of Reference of the task force.
Deepening economic ties The new agreements signed by Thailand and Singapore represent ongoing bilateral cooperation in a number of fields, from trade to regulation. In addition to the agreements summarized above, the ministers agreed to deepen their bilateral engagement in several other areas. These include trade and investment facilitation, air transport and tourism cooperation, digital economy, innovation, and sustainability.
The agreements are just the latest in a series of deals between Thailand and Singapore. In June 2022, the two countries signed an MoU to cooperate on the digital economy. This MoU stressed collaboration in eight areas; namely:
* Digital transformation
* E-commerce
* Fighting fake news
* Big data and cloud services
* Personal data protection
* Cyber-security
Thailand and Singapore had previously signed an MoU on the digital economy in July 2021. This MoU emphasized cooperation in enhancing digital connectivity, promoting cross-border data flows, developing tech talent and manpower, cooperating on cybersecurity, and exploring collaborations in emerging technologies such as artificial intelligence and 5G internet.
Complementary relationship Thailand and Singapore have highly complementary economies, which explains the momentum in their bilateral relations. Singapore is Southeast Asia's premier financial centre and a popular base for foreign investors to station their regional headquarters. Thailand, meanwhile, is the second largest economy in ASEAN and a key export manufacturing country.
In 2020, Singapore was the largest foreign investor in Thailand, investing US$1.8 billion. In total, Singapore had US$24.9 billion in direct investment stock in Thailand at the end of 2020, concentrated in financial and insurance services, manufacturing, wholesale and retail trade, and real estate.
In 2021, Thailand and Singapore had S$34.1 billion (US$24.8 billion) in bilateral trade, representing a 3.6 per cent year-on-year increase. Through the first half of 2022, bilateral trade reached S$21.6 billion (US$15.7 billion) – an increase of 31.9 per cent over the same period the previous year.
Key Thai exports to Singapore include gems and jewelry, unwrought gold, refined oil, circuit boards, computer equipment, and components, and other industrial products. Singapore's exports to Thailand are driven by computer equipment and parts, chemicals, refined oil, circuit boards, jewelry, gems, and bullion and gold.
The nature of the agreements indicates the Thai government's openness to adopting some of Singapore's best practices to promote investment and efficient regulations. Progressively closer ties between the two countries stand to improve Thailand's capacity to upgrade its economy towards innovation and services, while Singapore and foreign investors headquartered there will benefit from access to a strategic hub that links countries in Asia.
Above written by Alexander Chipman Koty for ASEAN BRIEFING From Dezan Shira & Associates
www.aseanbriefing.com