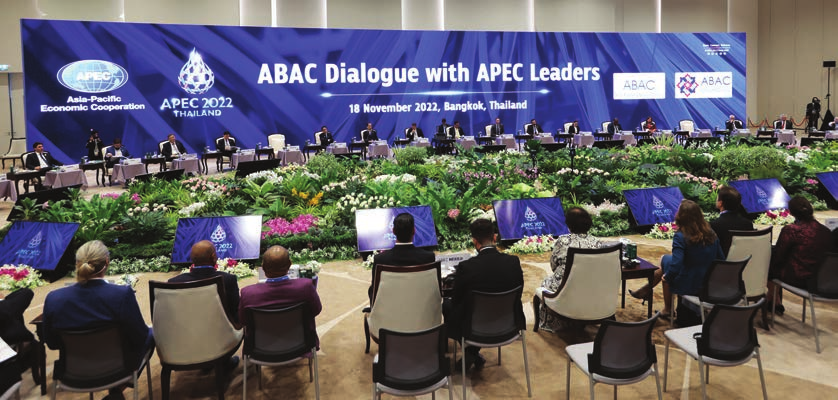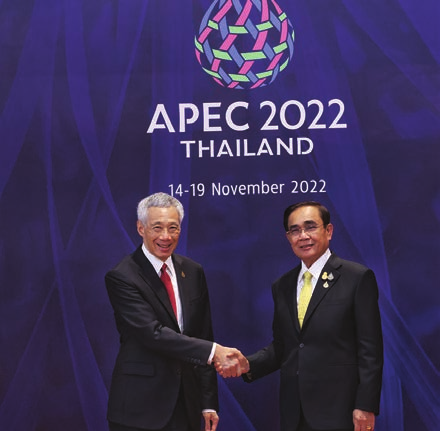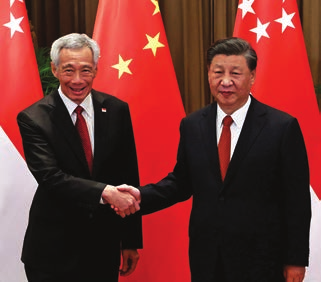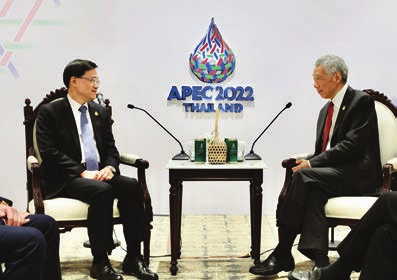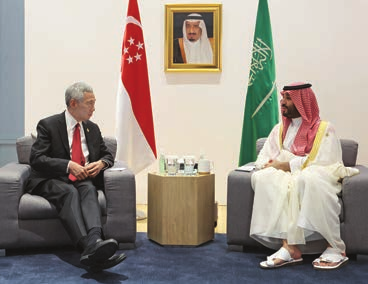 (Top left): Prime Mnisters of Singapore and Thailand Lee Hsien Loong and Prayut Chan-o-cha resp. (Second row): Some of Prime Minister Lee's meetings on the sidelines of APEC 2022 (from left): China's President Xi Jinping, HRH Crown Prince Mohammed Bin Salman of Saudi Arabia and Hong Kong Chief Executive John Lee (Photos: MCI / Betty Chua)
PRIME Minister Lee Hsien Loong attended the 29th Asia-Pacific Economic Cooperation (APEC) Economic Leaders' Meeting (AELM), chaired by the Prime Minister of Thailand Prayut Chano-cha, from the 17th to 19th November 2022 in Bangkok, Thailand.
APEC Economic Leaders discussed ways to accelerate the recovery of the global economy through the promotion of balanced, inclusive, and sustainable growth, as well as trade and investment, including leveraging innovative approaches such as the Bio- Circular-Green (BCG) Economy Model. While in Bangkok, Prime Minister Lee also held bilateral meetings with other APEC Leaders on the sidelines of the AELM.
Following his visit to Bangkok, the Singapore Prime Minister said that "Today free trade is under stress and globalisation is on the wane. Rivalry and distrust between major economies have grown. But globalisation and economic cooperation have served us well. They now have to be moderated by other valid concerns, but they remain important if our economies are to prosper.
"APEC's core objective must still be trade and investment liberalisation and facilitation. The green and digital economies are bright spots with great potential for win-win cooperation. Singapore will work with APEC member economies and others to push for free and open trade and investment, to enhance both our prosperity and our security in a troubled world."
Leaders Declaration
At the end of the AELM, the leaders from the 21 economies represented at the meeting issued the 2022 Leaders' Declaration which affirms the APEC Leaders' long-standing commitment to promote strong, balanced, secure, sustainable and inclusive growth as well as their commitment to realise the APEC Putrajaya Vision.
In their declaration they said that they are determined to uphold and further strengthen the rules-based multilateral trading system. They welcomed progress this year in advancing the Free-Trade Area of the Asia-Pacific. They will strengthen APEC's standing as the premier economic forum in the region and as an incubator of ideas.
The Leaders also endorsed the Bangkok Goals on the Bio-Circular-Green (BCG) Economy — a comprehensive framework to further APEC's sustainability objectives. Leaders will advance these goals in a bold, responsive and comprehensive manner, merging existing commitments with new aspirational ones.
They will meet again in the United States of America in 2023. Leaders also welcomed Peru's offer to host APEC in 2024 and the Republic of Korea's offer for 2025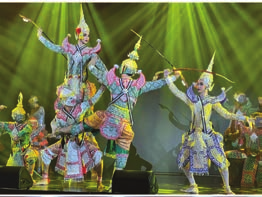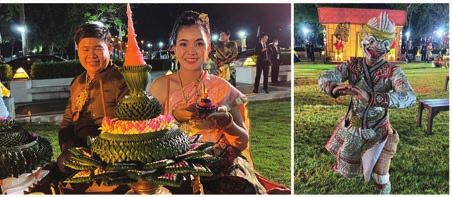 Thai culture and hospitality was on full display for APEC guests with performances on the grounds of the event venue. Photos: PM Lee Hsien Loong