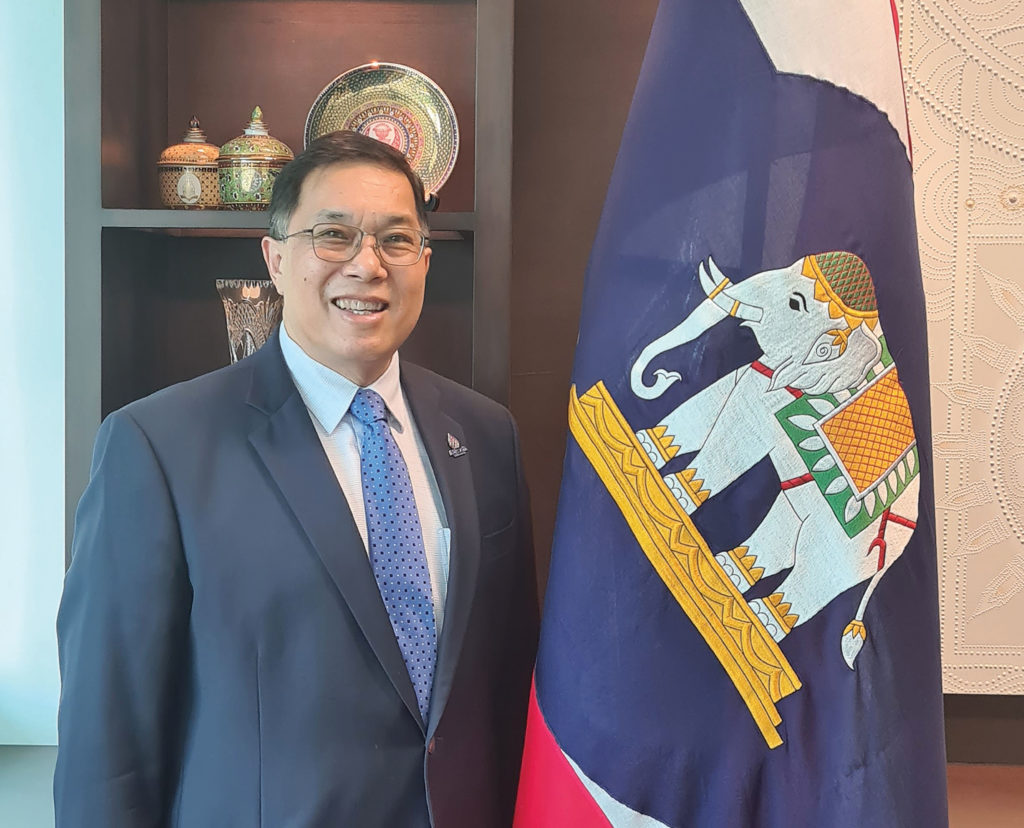 The Thai Ambassador to Singapore shares his candid views on a wide range of topics that touch on the state of Thai-Singapore bilateral ties and flags potential growth areas for Singapore to consider
Please share with us the significance of this National Day and how you plan to celebrate it.
Thailand has always been a Kingdom. We have always been independent from any western colonisation. That's why our King's Birthday and the National Day are on the same day. Furthermore, because of the love for King Rama IX, the late King of Thailand, we have also made Thai National Day the Thai Father's Day. Thailand, as everyone knows is a constitutional monarchy and thus, our nationhood, our love of the King and the King as a father figure are all celebrated on the same day. Thai ambassadors are also appointed by the King. Around the world, our Embassies and Consulates-General host an internal ceremony where Team Thailand members pay their respects and pledge allegiance to the King.
In Singapore, would there be any other ceremonies or celebrations to commemorate this?
Apart from the Thai National Day Reception, where both Thai nationals and foreign Friends of Thailand are invited, we have another formal ceremony for civil servants, members of the Royal Thai Armed Forces and Thai public corporations who are a part of the Team Thailand in Singapore to pledge our allegiance to King Rama X and pay our respects and remembrance to King Rama IX. Even though we are now under the reign of King Rama X, the Thai National Day is still celebrated on 5 December, the birth date of the Late King Rama IX.
The relations between Thailand and Singapore are many and this is especially clear in trade and investment. Can you comment on the current status of bilateral ties between the two countries?
As everyone knows, we have just come out of COVID-19, so bilateral visits had dropped off at the time of the pandemic. However, since my arrival in Singapore eight months ago at the end of March, I have already received 34 delegations of different levels, including the legislative branch, the executive branch and from the private sector. Prime Minister Lee Hsien Loong was in Thailand for the 29th APEC Economic Leaders Meeting. That was a significant visit. Even though we have our bilateral relations, we also have our multilateral relations. I would say that ASEAN, APEC and the UN would be the primary avenues, although there are many other avenues. Most of our visits and interactions are probably conducted through ASEAN channels because we are both part of the ASEAN Community. Thus, ASEAN shapes our relationship and keeps us close.
We recently had the STEER meeting in Bangkok, which is the Singapore –Thailand Enhanced Economic Relationship mechanism. It is one of the bilateral frameworks of our relationship. An area that was emphasised was Information Technology (IT), which covers digitalisation, because Thailand and Singapore share thinking in terms of digitalisation of governance and enhancing the daily lives of our citizenry. For example, we have the crossborder e-payments initiative. Now, Thai nationals can use their PromptPay e-payment system in Singapore and Singaporeans can use PayNow in Thailand. Recently, at the ASEAN Summit in Cambodia, it was agreed to broadened this initiative to five ASEAN Member States. Singapore also wishes to conclude a digital economy partnership agreement with Thailand. The Thai side is taking a little time to study all the obligations. Another topic that we are discussing is the attainment of the 2030 Sustainable Development Goals and Carbon Credit Trading. Two other areas emerged after COVID-19; one was to enhance trade in foodstuffs, which includes certifying Thai food processors/manufacturers so that Singapore has more choices should it need to broaden its sources of food. Cruise tourism is also an emerging area of collaboration. People want to cruise to new and different places and that is something Thailand is also interested in. I see this as a growth area, not just for Singapore, but also for Southeast Asia. Regional cruise tourism is coming to Southeast Asia and it will be the next big thing in the region.
In bilateral trade, what are the strongest areas you estimate there will be fresh growth and where Singapore investors and business should be?
Singapore is Thailand's 8th largest trading partner and Thailand is Singapore's 9th largest trading partner, so I think we are on par. Our trade is at USD 25 billion, which is quite satisfactory, because I have been posted to much larger countries where the trade value is half of this. Thailand's major exports to Singapore are gems and jewelry, refined petroleum, circuit boards, computers and parts. Post-COVID-19, food items are on the rise. From Singapore, Thailand imports computers and parts, chemicals, refined petroleum, integrated circuits, gold, gems and jewelry. This is complemented by our trade in in the services sector, including tourism.
Can you give us some idea of how Singapore and Thailand view each other for businesses?
Compared to the height of COVID-19, our activities are now back to normal in terms of business visits and the number of Thai businesses being reopened in Singapore; and you will see more of this.
One area of growth in Thailand I would like to highlight for Singaporeans is real estate, both commercial and residential. Thai real estate availability and values are on the rise and yet it remains comparatively more affordable than in Singapore. There are already Singaporean companies that are exploring opportunities in this area. I would also like Singaporeans to consider opportunities arising from our Eastern Economic Corridor (EEC) initiative. In the past, Thailand's last industrial boom came out of the Eastern Seaboard Project for petrochemicals-based industrialisation and ports. Now it's the EEC where Singapore can help us with 5G infrastructure and digitalisation. The EEC is going to take Thailand to the next level in terms of digitalization, aviation and future foods, helping to secure our future for the next decades.
Singapore and Thailand are close in many areas. We have a cultural affinity. This is why I would like Singaporeans to be invested in our future. That said, it will also be part of ASEAN's future, because when we grow, we grow together. And, the areas as we are interested in from Singapore are 5G, digital infrastructure and smart cities. Smart cities are a Singaporean initiative in ASEAN and this would resonate well in Thailand's EEC.
In terms of business movements and so on, there have been a lot. Singapore has been very clever to organise a lot of MICE events to coincide with the opening up of the country after the pandemic. Singapore and Thailand are very similar in terms of our actions, but Singapore is just a little quicker and better. Singapore opened up post-COVID-19 a week before Thailand, but beyond opening up, Singapore organized a lot of MICE events that attracted a lot of international clienteles, including Thai companies and business people. This happened because Singapore is a regional and even a global hub. Now Thailand is also organizing more activities. I think both counties are safe for travel, but of course, we have to be careful in the cool season. In general. our two countries are moving in the same positive direction post-COVID-19.
About 200,000 Thais have visited Singapore after it opened up. Our Tourism Authority of Thailand (TAT) informs me that 400,000 Singaporeans have visited Thailand. I think the situation is very good and TAT is trying to ramp up more tourism from Singapore with new areas to visit and experiences to offer.
Please tell us something about the Thai Festivals that used to be held in Singapore.
People have been asking about the popular Thai Festival, which used to be a big annual event on Orchard Road, and has been missing for the past three years. However, all governments have suffered to some extent from the economic costs of COVID-19 and have trimmed back budgets. So this year, we have had to combine two events – the Thai Festival and Thai Boxing (Muay Thai); so the festival is called, "Thai Festival 'Muay Thai' 2022" and was held on 4-6 November. It was a scaled-down version, but people still had a good time. The important thing is that we have to move on with life. We cannot wait for things to go back to what they used to be or wait for perfect normalcy. Muay Thai was another revelation to me. I learnt that there are 50 gyms in Singapore which teach Thai boxing or have something to do with it. I discovered that our colleague the female Director-General of the Southeast Asia Directorate II at the Ministry of Foreign Affairs of Singapore loves Muay Thai and asked me to invite her to the festival, so I invited her to be the Guest of Honour to inaugurate it! So that's a powerful thing. You never really know how 'soft power' will make its presence felt, whether its Thai cuisine or Thai boxing or others.
We always have cultural shows at our festivals and events. This year we had Thai dancing from the south of Thailand called 'Nora', and the people of Malay descent recognised it. And this is how we can use the shared cultural heritage to tie all our ASEAN Member States together as part of one Community. We may be separate countries, but in fact, our shared culture flows through the ASEAN region.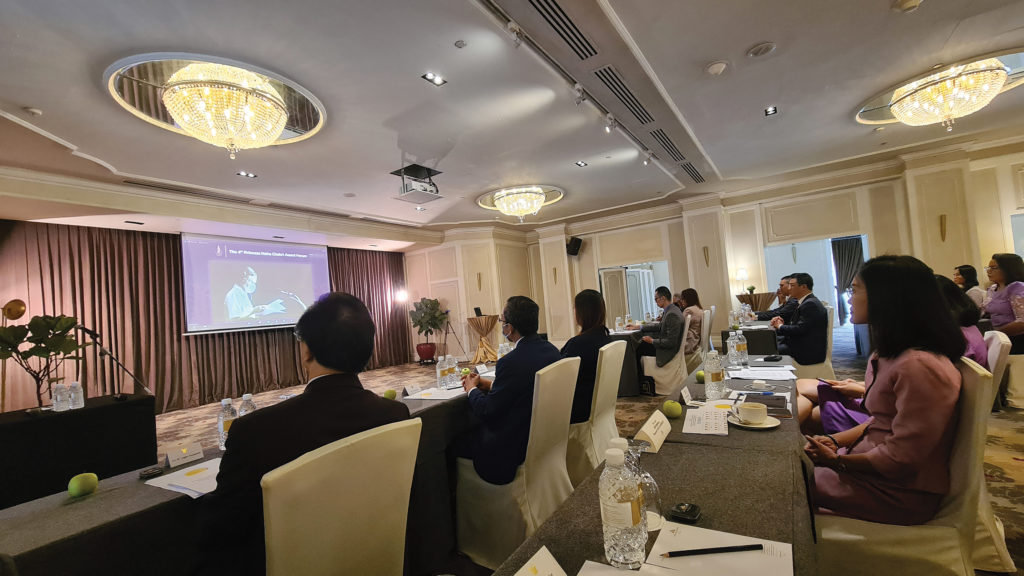 Tell us something about the Princess Maha Chakri Award in the ASEAN context
The Princess Maha Chakri Award was initiated in 2015 and the coverage is all the ASEAN Member States and Timor Leste. The important purpose is to give due recognition to the value of teachers and their contribution to the future well-being of our society. It is something Princess Maha Chakri Sirindhorn initiated to recognise a group of people whose value to society is not always recognized enough. The way we have done it is to have a seminar in Bangkok where the awardees can share their best practices, while the seminar is also broadcast via live video feed to other ASEAN capitals and Timor Leste, to give wider recognition to those teachers who have been recognised internationally, so they can get more domestic support for their work.
Can you share some thoughts on the situation in Myanmar?
Many people ask me about the Myanmar situation; more specifically, they ask me to help them understand our position on issues like Myanmar and Ukraine. I can also acknowledge that sometimes our position is also a source of wonderment in ASEAN. So, I would like to see more dialogue within ASEAN and with our partners to understand where we come from, because, I believe we subscribe to the same principles – territorial integrity, non-violability of territorial integrity and sovereignty. But I would like to see more opportunities for people to sit and talk, as did happen to good effect at the recent ASEAN and G20 Summits and AELM. Some meetings that we were meant to have, have been postponed to a later date. I think these postponements may or may not be related to some of these issues, so that's why I always welcome people coming up to me and asking me to explain Thailand's position. In the end, we still may not have the same position, but at least I hope they will understand where we are coming from.
From our side, I would like us to see how we can use our positive intentions, our empathy, our being friendly with all, to more affect, to use these good intentions, to actually deliver some concrete results to resolve some problems, while also getting the understanding of our friends. That's one thing I would like to do. The other thing is that I mentioned to the President of Singapore when I presented my credentials that Singapore is a fount of knowledge, and I stand by that–meaning that if you have problems relating to the future–the economic-socio future, the social future of your country, the answers are in Singapore, because it is a very forward-looking country; sometimes you look as far as 50 years, 40 years, 30 years, 20 years ; so if you come to Singapore–observe, talk to the right people, then go back and implement that, you don't have to reinvent the wheel.
In Thailand we take a bit more time, that's why I have mentioned issues which Singapore has tabled, and Thailand is taking more time to think about it. We are always thinking about the future. I would like us to (1) choose what we want to do, and (2) act more quickly. We had 33 Thai delegations over the past seven months, now even if half of them can decide quickly and implement it, it will be for the betterment of Thailand. Since we are all ASEAN and it will be better for Singapore and ASEAN, as well. The other last point I would like to see as well, the way Singapore has been set up, its focus on Republic Day, and the formation of the republic. But sometimes people forget Singapore has existed before it became a republic and the ties between Thailand and Singapore predate Singapore becoming a republic. The Royal Thai embassy building and the land were bought for King Rama V by Tan Kim Ching who was Thailand's first Consul and then later Consul General, in Singapore. The King, who used to come and stay in an earlier building here, a house called Hurricane House, came to Singapore to observe what modernization was like; under the British, there was communication, administration etc, which helped him with his foreign policy and helped Thailand avoid being colonised by western powers. Members of the Tan family later married into the Thai royal family. Tan Kim Ching even helped recruit Madame Anna Leonowens, the English governess for King Rama IV's children. She wrote a book which became a play and then the movie 'The King and I'. This wasn't all fiction. It actually happened. I want people to know that we are family and that we have roots here in Singapore, and every day in Thai society, and the people who marry into Singapore families, that we have these ties.
What are the other aspects of Thai culture that are not familiar to Singaporeans?
Thailand is the perfect Yin and yang for Singapore life; because everything here is at the top here, whether it's in terms of development, in terms of availability, in terms of earnings. All that can make you worn-down, so sometimes you need to go somewhere and unwind and Thailand has emerged as one of the favourite destinations to do so for Singaporeans. People talk a lot about Thailand and what to do there; they go there for the beaches etc, but I think there are other touchpoints. Thailand is bigger than Bangkok; one can go to the South, the Northeast, cross over to Laos… go beyond the usual places one visits. Thai movies are very popular. There's the Golden Village Entertainment in Singapore which shows a lot of Thai movies and I go there to observe what the audience has to say, when they walk out after the movie. People talk about 'soft power'; we cannot pre-judge or define what it is; but we must respect it. When you go to Thailand, you must go beyond the principal cities, also explore Thai culture, which differs from region to region (north, central, south, southeast. Singaporeans now do that. We have lots of history and culture and in Singapore people are getting to value that. There are a lot of nature reserves, museums, we are friendly towards each other, that is why it's a good place to detox from the fast pace of life in Singapore.
How safe is Thailand to travel now?
The health standards of Thailand and Singapore, based on my observations are very similar if not the same. Both our countries are very safe and quite advanced and in tune with the times in this regard. Thailand needs to be quicker than Singapore.This is very important for us as before Covid we had 40 million tourists. The measures taken for our health standards are very important. Our SHA standards for tourism, for hotels and restaurants that serve tourists hospitality standards are in place; there is no quarantine period now, just as in Singapore. Let's keep the Covid cases low in Thailand and Singapore and all the ASEAN countries, so we don't need to start those conversations of that period again!
What is the Singapore environment like as a diplomatic posting?
People are quite envious if you are posted to Singapore as it's already a first world country; it's not a developing country. It's a first world posting; but, what I find there is some stress from money matters because the cost of living is relatively high. This is also because post-Covid with tighter budgets with all governments than before. The economic situation is such so inflation is up in Thailand now, tighter budgets and cost of living can lead to stress. I understand from my colleagues they have problems finding accommodation, as rents are higher. I have never been to a posting where I have to think so much about money. But, I believe we have to find a means to relieve that stress. I hope the economy will be better and things will improve and this will eventually fade away.
What about the relationship between Thais and Singaporeans?
Things are very positive between Thais and Singaporeans, more than compared to 20 years ago from what I observed when I was here in Singapore. Thailand is on the minds of Singaporeans when they want to go somewhere. They love the food, Thai movies, Thai boxing, a lot of shopping and there are a lot of intermarriages. Also, what I learnt and which many people don't know is that Singapore NIS training is conducted outside in other countries, one of them is Thailand. I want many touchpoints of 'soft power' between the two countries to keep things positive. There may be matters where we don't see eye to eye on some important issues, but with all the positive touchpoints I feel we can sit down and talk things out.
Are there any projects that you have in mind to do here during your tenure?
It's not a big project, but I would like to install a statue of King Rama V in the pavilion in the embassy as he underpins the relationship between Thailand and Singapore. It's possible it could happen during my tenure, maybe or later. We can remember what he has done for Singapore -Thailand relations.
Do you have a message for National Day?
Thais and Singaporeans are closer than we realise. I didn't know this till I came here. Going forward, we can complement each other; we can be an antidote to Singapore's stress, because of its high-strung living. Whereas, Thailand can learn from Singapore, what we need to do in the future and how we can do it quickly; Singapore can be that powerful partner. And with this complementarity, we can together help drive ASEAN. So it's a great partnership. I want Thais to realise the value that we have in the friendship with Singapore, and for Singaporeans to feel Thais are your friends. We can be on among your AEAN partners and can do important things together, and Thailand can be your backyard and we can achieve important things together.