IN June this year Singaporean Prime Minister Lee Hsien Loong flew to Kigali, Rwanda to join leaders of over 50 Commonwealth countries who were meeting for the first time in two years, as the COVID-19 pandemic had put in abeyance the 26th Commonwealth Heads of Government Meeting (CHOGM) which was held from 23rd to 27th June 2022.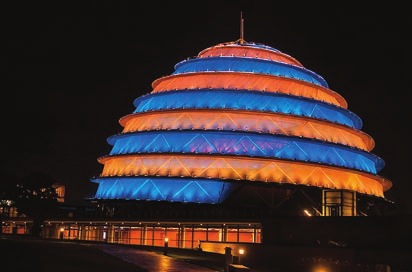 PM Lee was accompanied by Minister for Foreign Affairs Dr Vivian Balakrishnan; they were also scheduled to have bilateral meetings with other Commonwealth leaders on the side-lines of CHOGM. Prime Minister Lee stayed back in Kigali for an official bilateral visit from 26 to 27 June 2022, and also took the opportunity to call on President Paul Kagame.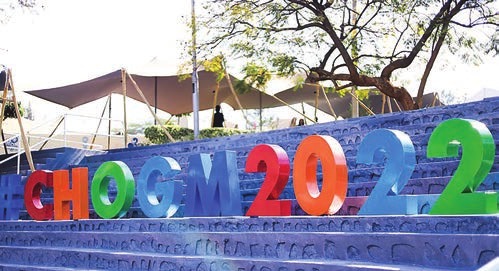 The 26th CHOGM was themed: 'Delivering a Common Future: Connecting, Innovating, Transforming'. HRH The then-Prince of Wales, the new Chair-In-Office and President of Rwanda, H.E. Paul Kagame, the Commonwealth Secretary-General, the Rt Hon Patricia Scotland QC, and outgoing Chair-In-Office, the Rt Hon Boris Johnson MP, and now former Prime Minister of the United Kingdom attended the meet. The Commonwealth Connection Sharing his views on how countries or members with great economic strength benefit from the Commonwealth as a body compared to smaller economies PM Lee said: "The Commonwealth is an association of countries…We work out where we can cooperate, where we can help one another, where we can find win-win opportunities to collaborate, and we do so." That said, he also pointed out: "But there is a lot of other cooperation which goes on between Commonwealth countries, because we know we are fellow Commonwealth members and therefore we work informally together with each other. That is the value of the Commonwealth. With that branding, we are both Commonwealth countries, there is a certain, I would not go on to say shared values, but certain commonality in a broad approach and mindset, which means if I work together with you, I think it is likely to go somewhere. That is very valuable." The most valuable development assistance really, he elaborated, was in terms of developing technical capabilities, human resources and uplifting the education of the people. "This is this way the Singapore Cooperation Program is designed, and particularly the Singapore-Africa Partnership Package," he said.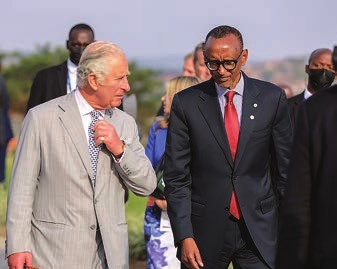 Singapore-Africa Ties PM Lee highlighted the growing strength of Singapore-Africa ties over the decades. "Our Government-to-Government cooperation has increased, with regular visits between our officials and leaders. More Singaporeans are coming to work here in Africa. There are many bright spots in Africa, and Rwanda is one of the brightest. Singapore looks forward to deepening our cooperation, and increasing trade and investment between Singapore and Rwanda," he said.
He shared how his first official visit to an African country was such a meaningful one. "I am very glad that CHOGM has created the opportunity for me to meet my counterparts in Africa face-to-face, to exchange views and perspectives with each other. I am also deeply appreciative that I have had the chance to learn more about Rwanda, and to further our friendship and bilateral cooperation," PM Lee said in his opening remarks at the joint press conference with Rwanda President Paul Kagame at Urugwiro Village on 27 June 2022.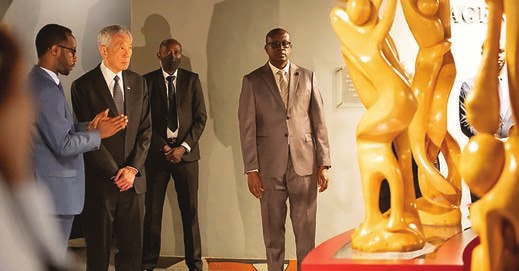 While speaking of the potential for Rwanda and Africa, and how Singapore could play an important role in helping develop such potential PM Lee harked back to his observations from this short visit to Kigali and the sum total of his learnings about Rwanda and Africa he said: "… it is a continent on the move, it is an enormous continent, it has a huge population, it is very diverse, that countries have huge range of economic situations and political environments. And in that complexity, there are multiple bright spots and Rwanda is one of them."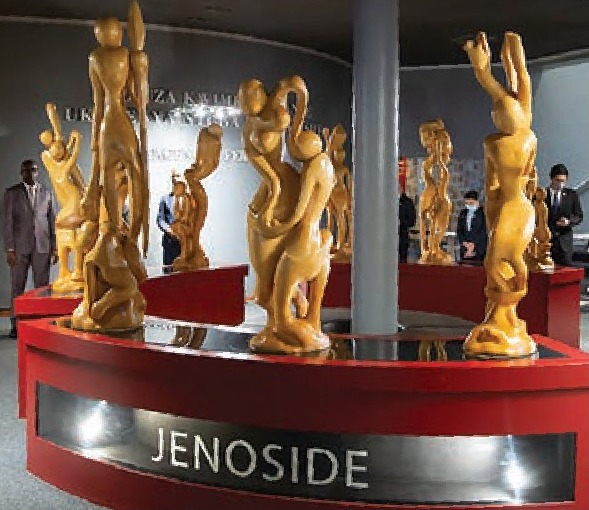 PM Lee spoke about going round the market in Kigali and visiting a wetlands sanctuary for grey crown cranes and meeting Singaporeans who have been living and working in Africa, and many of them in Kigali now for some years. He shared how he got the pulse of the place in the course of these visits: "I have a feel of the place, a little bit. It is tightly run; it is on the move; it is anxious to get ahead. It has had a traumatic pass in the genocide. I visited the Genocide Memorial for Kigali this morning and it is determined to pick itself up beyond that, to reconcile the hurt and to move forward and see hope for the future."
The Prime Minister drew attention to the Gto- G Singapore Cooperation Programme and the Singapore – Africa Partnership Package, which was going to be launched. He shared also how in the non-government sector Singaporean firms are increasingly making their presence felt in Africa and East Africa. "And as I describe, our young people are here, chasing their dreams, going on a path which is up to now, not the traditional path, but they are breaking a new way forward and making a mark for themselves. And I hope more will follow them," PM Lee said.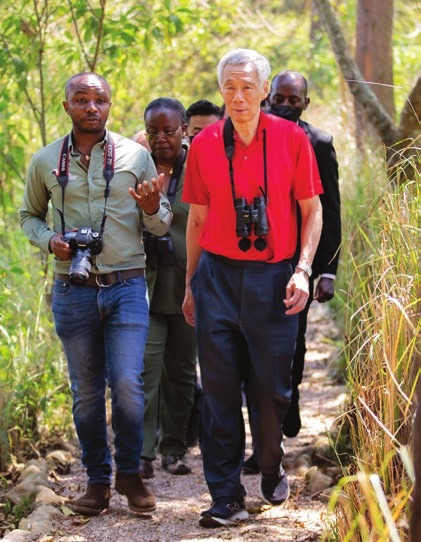 Bilateral & Multilateral Agendas
The meeting between PM Lee and President Kagame reaffirmed the excellent state of Singapore-Rwanda relations, and opened up conversations for other areas for further collaboration. "Both the President and I are committed to advancing our bilateral partnership. We have established good collaboration, including making new initiatives on the digital economy, FinTech, and even judicial cooperation," said PM Lee.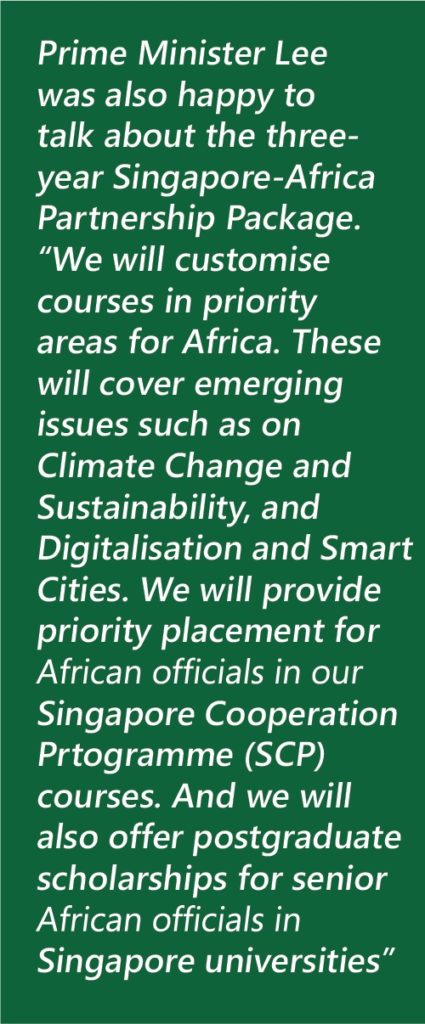 The Prime Minster also touched upon the multilateral front, in which he mentioned how Rwanda and Singapore also have strong collaboration, including at the UN. As both countries serving as members of the Forum of Small States (FoSS) they have been working closely together to advance the interests of small states and strengthen the multilateral Singapore-Africa Partnership Package.
Singapore, PM Lee said, was pleased to share its experience in economic development, human resource development and capacity building with others. It's why it set up the Singapore Cooperation Programme (SCP) in 1992. These programmes have been very well received by officials of African countries.
The Prime Minister was also happy to talk about the three-year Singapore-Africa Partnership Package. "We will customise courses in priority areas for Africa. These will cover emerging issues such as on Climate Change and Sustainability, and Digitalisation and Smart Cities. We will provide priority placement for African officials in our SCP courses. And we will also offer postgraduate scholarships for senior African officials in Singapore universities," he said. It pleased him greatly that this technical cooperation package was launched in Rwanda.