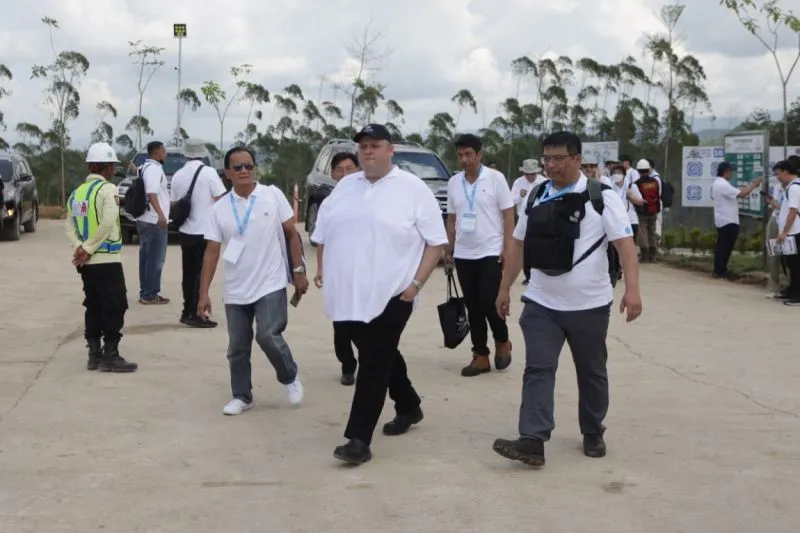 Quantum Power Asia partners with Indonesia and Singapore to develop large-scale solar power projects, aiming to support Nusantara's journey towards becoming a net-zero emission city while attracting significant investments and exporting clean energy to Singapore.
Quantum Power Asia Pte Ltd (Quantum) has expressed its intention to develop and finance large-scale solar power projects in the Indonesian Capital City (IKN) while promoting clean energy technology to support the transformation of Nusantara into a net-zero emission city by 2045.
During his visit to IKN on Friday (2/6), Quantum's Managing Director and CEO, Simon G Bell, confirmed Quantum's readiness to support the development of IKN to the Coordinating Minister for Maritime Affairs and Investment, Luhut Pandjaitan, and the Minister of Public Works and Housing, Basuki Hadimuljono.
"We have witnessed the Indonesian government's commitment to building Nusantara during our visit today. Empowering Nusantara through clean energy is our action in line with Quantum's core principle of 'Indonesia First,'" said Simon G Bell, Quantum Power Asia's Managing Director and CEO, in an official statement on Saturday.
"We are willing to act as a catalyst for the clean energy transition in Indonesia, starting from greening the nickel supply chain at the Indonesia Morowali Industrial Park (IMIP) in Sulawesi to reducing carbon emissions in the mining sector. We do all of this because we firmly adhere to our commitment," added Simon G. Bell.
The business investment visit to Indonesia's new capital location is a collaboration between various institutions in Indonesia and Singapore and serves as a follow-up to the meeting between the leaders of both countries in March.
Participants include selected regional and global companies engaged in energy, transportation, logistics, healthcare, property, and finance.
The entry of large-scale solar power projects for Nusantara will increase Quantum's active projects in Indonesia to over 5 GWp, attracting a direct capital investment of 7 billion US dollars to Indonesia.
In the previous year, Quantum signed a binding term sheet with Nickel Industries Limited to supply their smelter with 500 MW of solar energy as the first phase of a larger 1 GW program.
Quantum is also developing a 3.5 GWp solar power project with a 12 GWh battery capacity to be built in Indonesia, with a direct capital investment of 6 billion US dollars. If approved, the project will supply electricity to the local community in the Riau Islands, with excess clean energy exported to Singapore.
Additionally, Quantum and its subsidiary partner, ib vogt, are preparing for the construction of a 1 GW capacity solar photovoltaic (PV) panel manufacturing plant in Indonesia, meeting the Domestic Component Level (TKDN) requirements.
In line with the "Indonesia First" principle, Quantum and ib vogt have committed to purchasing a minimum of 1 GWp of Indonesian-made solar panels annually for at least three years.
The initial commitment to purchase Indonesian-made solar panels can be increased once solar power plants in Nusantara are successfully developed.
The Singapore clean electricity export project is a key driver for Anantara, a joint venture established by Quantum and ib vogt, to make commitments in accelerating large-scale PV solar production with internationally standardized products in Indonesia.
Both companies have also stated that as the quality, cost, and technological advancements of Indonesian-made panels become globally competitive, partners will also purchase Indonesian-made panels for their international projects in other countries.
The Anantara export project will pave the way for the construction of the first GW-scale solar PV panel manufacturing plant from a tier 1 brand in Indonesia and create a sustainable effect for the expansion of world-class solar PV panel manufacturing in Indonesia.