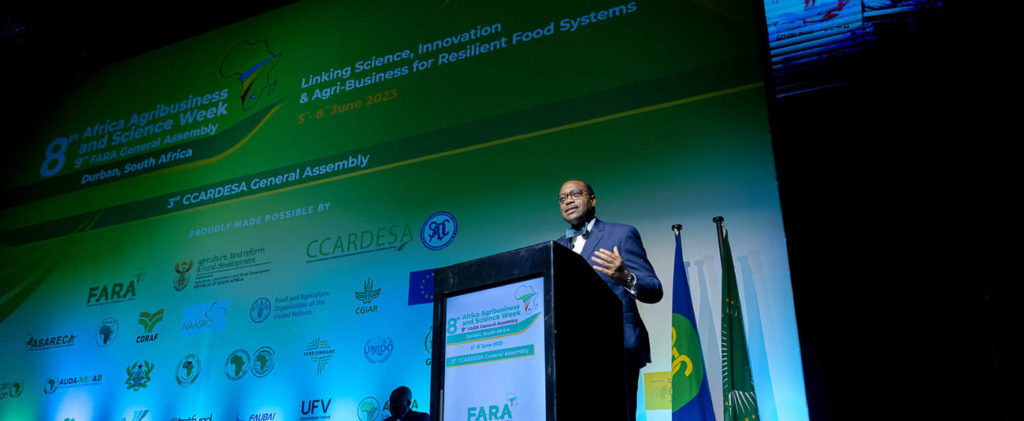 Africa's leaders and stakeholders gather at the Africa Agribusiness and Science Week, where Dr. Akinwumi A. Adesina highlights the continent's potential, urging action and innovation to achieve zero hunger and unlock $1 trillion in value from African food systems.
Africa has the necessary partnerships and technologies to achieve zero hunger, according to Dr. Akinwumi A. Adesina, the President of the African Development Bank. Speaking at the 8th Africa Agribusiness and Science Week (AASW) in Durban, South Africa, Adesina emphasized the need for action and robust financing to drive a more productive and efficient agricultural system. The event, organized by the Forum for Agricultural Research in Africa (FARA) in collaboration with various partners, including the African Union Commission (AUC) and the African Development Bank, brought together stakeholders in agriculture and agribusiness research and innovation.
Adesina stated, "We must pull together the best of science, technology, and innovations to drive a more productive, efficient, and more competitive agricultural system." He highlighted the importance of leveraging these resources to combat hunger in Africa effectively.
Ambassador Josefa Leonel Correia Sacko, the AUC Commissioner for Rural Economy and Agriculture, stressed the urgency of addressing the hunger pandemic, exacerbated by factors such as the COVID-19 pandemic and climate change. Sacko called on Africa to leverage its potential, including science, and take advantage of its youthful population and natural resources. She emphasized the importance of unlocking Africa's potential to not only feed its own people but also contribute to global food security.
Sacko passionately stated, "Let us unlock the potential we have… We should feed Africans and we should feed the world." Her words highlighted the importance of Africa's role in feeding not only its population but also addressing global food security challenges.
Alioune Fall, Chairperson of FARA, highlighted the interrelationship between climate change and agricultural production, emphasizing the need for new approaches to overcome the challenges posed by a changing climate. Fall stated that Africa's young farmers would embrace nature-based approaches if they were accessible, affordable, and supported by technology.
Fall explained, "Africa's young farmers would not adopt nature-based approaches unless they are well packaged, affordable, and technology-serviced." His statement highlighted the need for innovative solutions that are tailored to the specific needs and realities of African farmers.
Adesina outlined the immense potential of African food systems, which could generate $1 trillion in value over the next seven years. He emphasized the need to strengthen and support organizations such as the Consultative Group for International Agricultural Research (CGIAR) and regional research and development institutions like FARA to achieve this goal. Adesina also mentioned the Feed Africa Summit held earlier in Dakar, Senegal, which mobilized $72 billion in support of national compacts for 41 African countries.
Adesina expressed his perspective, stating, "For that to be achieved, we must strengthen and support the CGIAR with a lot more resources, ensure that it works in and delivers for Africa based on our priorities, and support regional research and development institutions, such as FARA and the sub-regional agricultural research organizations." His quote emphasized the need for increased investment and support in agricultural research and development to unlock Africa's potential.
During the event, Adesina presented the 2023 FARA Leadership Prizes for Advancing Agricultural Science, Technology, and Innovation in Africa to notable figures, including Ngozi Okonjo-Iweala, Director-General of the World Trade Organization, and Ambassador Sacko. This recognition highlights their contributions to agricultural development on the continent.
Adesina expressed his admiration for the awardees, stating, "Working with development partners from around the world and the African Union Commission, the private sector companies, and global and national agricultural research centers, we developed Food and Agricultural Delivery Compacts for 41 countries." He acknowledged their efforts and the collaborative approach taken to drive agricultural development in Africa.
The Africa Agribusiness and Science
Week serves as a crucial platform for stakeholders in agriculture and agribusiness research and innovation. Held every three years, it brings together 1,500 participants to assess progress, exchange information, foster business alliances, and identify priorities for joint action. The event plays a significant role in shaping the future of agricultural research and innovation in Africa.
Africa's commitment to leveraging technology, science, and innovation to address hunger and drive agricultural development demonstrates the continent's determination to achieve food security. With collaborative efforts, robust financing, and supportive policies, Africa has the potential to become a global leader in sustainable and efficient agriculture, contributing not only to its own development but also to the well-being of the world at large.