President Joko Widodo's visit to Singapore strengthens bilateral ties, showcases Indonesia's investment potential, and emphasizes sustainability at Ecosperity Week.
On June 7, 2023, Indonesian President Joko Widodo embarked on an under 24 hours working visit to Singapore and Malaysia. The highlight of his Singapore itinerary was his participation as a speaker at Ecosperity Week 2023, a prestigious annual sustainability event organized by Temasek Foundation. President Widodo, along with his wife, First Lady Iriana Joko Widodo, was graciously hosted by Singaporean Prime Minister Lee Hsien Loong and Mrs. Lee for a lunch reception.
This visit marked President Widodo's second trip to Singapore this year, following the Leaders' Retreat in March. Furthermore, President Widodo and First Lady Iriana played host to Prime Minister Lee and Mrs. Lee at the 42nd ASEAN Summit held in Labuan Bajo, Indonesia, in May. Such reciprocal visits underline the strong bilateral relations and cooperation between Indonesia and Singapore.
Ecosperity Week, held at the Sands Expo & Convention Center, brought together an esteemed gathering of investors, government officials, and academics. President Widodo utilized this platform not only to deliver a special address but also to promote investment opportunities in Indonesia. He emphasized key sectors such as energy transition, green infrastructure, and the development of the new capital city, known as Ibu Kota Nusantara. The President's proactive approach to attracting foreign investments aligns with his administration's goal of boosting Indonesia's economic growth and sustainable development.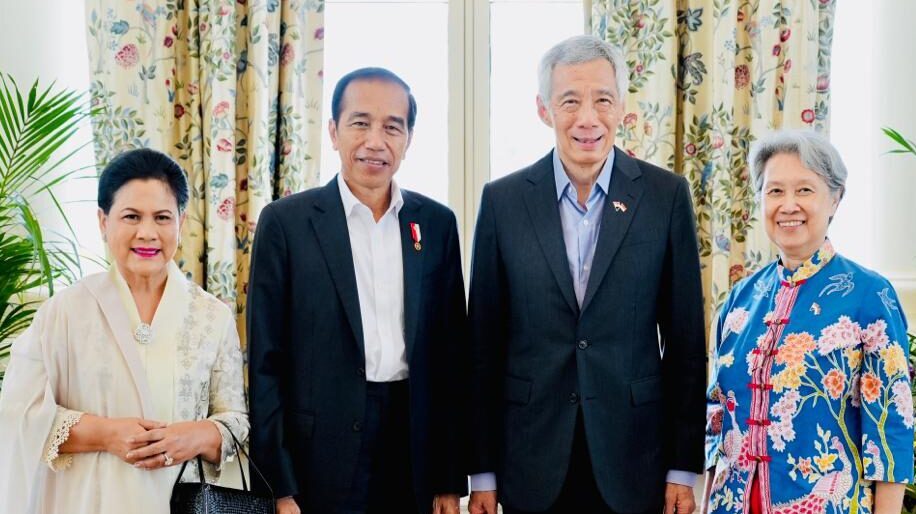 Following his participation in Ecosperity Week, President Widodo and First Lady Iriana had a planned meeting with Singaporean Prime Minister Lee Hsien Loong and Mrs. Ho Ching at the Istana Singapura. The official reception began with a warm welcome as the two leaders and their spouses exchanged greetings. They proceeded to the second floor of the palace, where a sumptuous lunch was served.
Concluding the luncheon, Prime Minister Lee and Mrs. Ho Ching escorted President Widodo and First Lady Iriana to their vehicle. Bid farewell, President Widodo and First Lady Iriana left the Istana Singapura en route to Changi International Airport, where they boarded a flight to Malaysia.
President Joko Widodo's visit to Singapore served as a testament to the enduring friendship and collaboration between Indonesia and Singapore. Beyond diplomatic engagements, his active participation in Ecosperity Week showcased Indonesia's commitment to sustainability and its appeal as an attractive investment destination. The warm reception and meaningful discussions during the visit further solidified the bond between the leaders and their respective nations, fostering an atmosphere of cooperation and mutual respect.
President Joko Widodo Invites Singaporean Investors to Contribute to the Development of Indonesia's New Capital City

During his speech at Ecosperity Week 2023 held in Singapore, President Joko Widodo urged Singaporean investors to seize the golden opportunity to participate in the development of Indonesia's new capital city, known as Ibu Kota Nusantara (IKN). The President emphasized that this was a unique chance for investors to be part of building a future-proof smart city with a nature-based concept.

"I advise you not to wait too long. This is an incredibly attractive golden opportunity in Indonesia, and you can be a part of it," stated President Jokowi during his address on Wednesday, June 7, 2023, at the Sands Expo and Convention Center.

President Jokowi highlighted that Nusantara would be a comfortable place for both business and living. The development of IKN has already commenced, with the construction of essential infrastructure and government centers targeted for completion next year.

"For the private sector, in the initial stage, we have prepared 300 investment packages worth a total of USD 2.6 billion in various sectors such as housing, transportation, energy, technology, and others," he added.

Furthermore, the President expressed Indonesia's commitment to green energy and green industry development. As a first step, the country has established nurseries in two different locations nationwide, with an annual capacity of 16 million seedlings in Rumpin and 15 million seedlings in Mentawir.

President Jokowi also highlighted Indonesia's significant potential in renewable energy, estimating it to reach 434 gigawatts from geothermal, wind, solar, biofuels, and hydro sources. The country boasts 4,400 rivers, including the Kayan River in Kalimantan Island, which serves as a green energy source for the Green Industrial Zone in North Kalimantan.

"This represents a significant potential for green products derived from the green industry, which is currently a priority in downstream sectors, including the manufacturing of solar panels, batteries, and electric vehicles," he elaborated.

After delivering his speech, President Jokowi had the opportunity to visit the Ibu Kota Nusantara exhibition booth. Visitors to the event could explore the development concept of IKN and discover investment opportunities.

Accompanying the President during this activity were Coordinating Minister for Maritime Affairs and Investment Luhut Binsar Pandjaitan, State Secretary Pratikno, Minister of Foreign Affairs Retno Marsudi, Minister of Investment and Chairman of the Indonesia Investment Coordinating Board (BKPM) Bahlil Lahadalia, Head of the IKN Authority Bambang Susantono, and the Indonesian Ambassador to Singapore Suryo Pratomo.
Sourced from Singapore MFA and Indonesian President's page.